The Deceptive Trump, UAE-Israel 'Peace Deal'
Kalandia checkpoint from West Bank into Jerusalem. ,Joe Lauria
The Deceptive Trump, UAE-Israel 'Peace Deal'
Medea Benjamin, Ariel Gold
August 14, 2020
Consortium News
https://consortiumnews.com/2020/08/14/the-deceptive-trump-uae-israel-peace-deal/
Huge breakthrough today," crowed Donald Trump on twitter as he announced the new peace deal between Israel and the United Arab Emirates (UAE). The deal makes the UAE the first Gulf Arab state and the third Arab nation, after Egypt and Jordan, to have diplomatic ties with Israel. But the new Israel-UAE partnership should fool no one.
Though it will supposedly stave off Israeli annexation of the West Bank and encourage tourism and trade between both countries, in reality, it is nothing more than a scheme to give an Arab stamp of approval to Israel's status quo of land theft, home demolitions, arbitrary extrajudicial killings, apartheid laws, and other abuses of Palestinian rights. 

The deal should be seen in the context of over three years of Trump administration policies that have tightened Israel's grip on the Palestinians: moving the U.S. embassy from Tel Aviv to Jerusalem, recognizing the Golan Heights as Israeli territory, and creating a so-called peace plan with no Palestinian participation or input.
While no U.S. administration has successfully brokered a resolution to Israel's now 53-year-long occupation, the Trump years have been especially detrimental to the Palestinian cause. Palestinian leader Hanan Ashrawi wrote on Twitter that with this deal, "Israel got rewarded for not declaring openly what it's been doing to Palestine illegally & persistently since the beginning of the occupation."
Indeed, with Donald Trump at the helm and son-in-law Jared Kushner as the primary strategist, even concessions for Palestinians have been done away with. To add insult to injury, while the deal had been couched in terms of a commitment by Israel to suspend annexation of Palestinian territories, in his Israeli press conference announcing the deal, Netanyahu said annexation was "still on the table" and that it was something he is "committed to."
Thread| The UAE-Israel "peace" agreement in exchange for suspending (not dropping) annexation is a scandal by all measures. Palestine is being used as cover for this deal, which is outrageous and extremely cynical. Ben Zayed should have at least had the decency to not do that

— Nour Odeh #NojusticeNopeace (@nour_odeh) August 13, 2020
UAE in 'Enemy Camp'
Among the most brutal aspects of this period for Palestinians have been the loss of support for their cause in neighboring Arab states. The Arab political party in Israel, Balad, said that by signing this pact, "the UAE has officially joined Israel against Palestine, and placed itself in the camp of the enemies of the Palestinian people."
The UAE has previously held a position consistent with public opinion in Gulf and Middle East countries that the acceptance of formal diplomatic relations with Israel should only take place in exchange for a just peace and in accordance with international law. Back in June, Emirati ambassador to the U.S. Yousef al-Otaiba penned an an op-ed in the Yediot Ahronot newspaper, the Israeli equivalent to USA Today, appealing directly in Hebrew for Israel not to annex the West Bank.
However, by working out an agreement with Trump and Netanyahu to normalize relations, the country has now made itself Israel's partner in cementing de facto annexation and ongoing apartheid. 
The UAE's change from supporting Palestinian dignity and freedom to supporting Israel's never-ending occupation is a calculated move by UAE Crown Prince Mohammed bin Zayed, a shrewd Middle East dictator who uses his country's military and financial resources to thwart moves towards democracy and respect for human rights under the guise of fighting Islamic terrorism. His support for Israel cements his relationship with the Trump administration.
Trump has already gone out of his way to push billions of dollars in arms sales to the UAE, despite opposition from Congress because of high number of civilian casualties associated with the use of those weapons in Yemen.
Secretary of State Mike Pompeo has also defended the UAE from credible reports that U.S. weapons sold to the UAE have been transferred in Yemen to groups linked to Al Qaeda, hardline Salafi militias and Yemeni separatists. The UAE was also stung by revelations of secret prisons it had been operating in Yemen where prisoners were subjected to horrific forms of torture, including "the grill," where victims were "tied to a spit like a roast and spun in a circle of fire."
In Libya, the UAE has been criticized for violating a 2011 UN Security Council arms embargo by supplying combat equipment to the LAAF, the armed group commanded by General Khalifa Haftar with a well-established record of human right abuses. So this deal with Israel gives the UAE a much-needed veneer of respectability.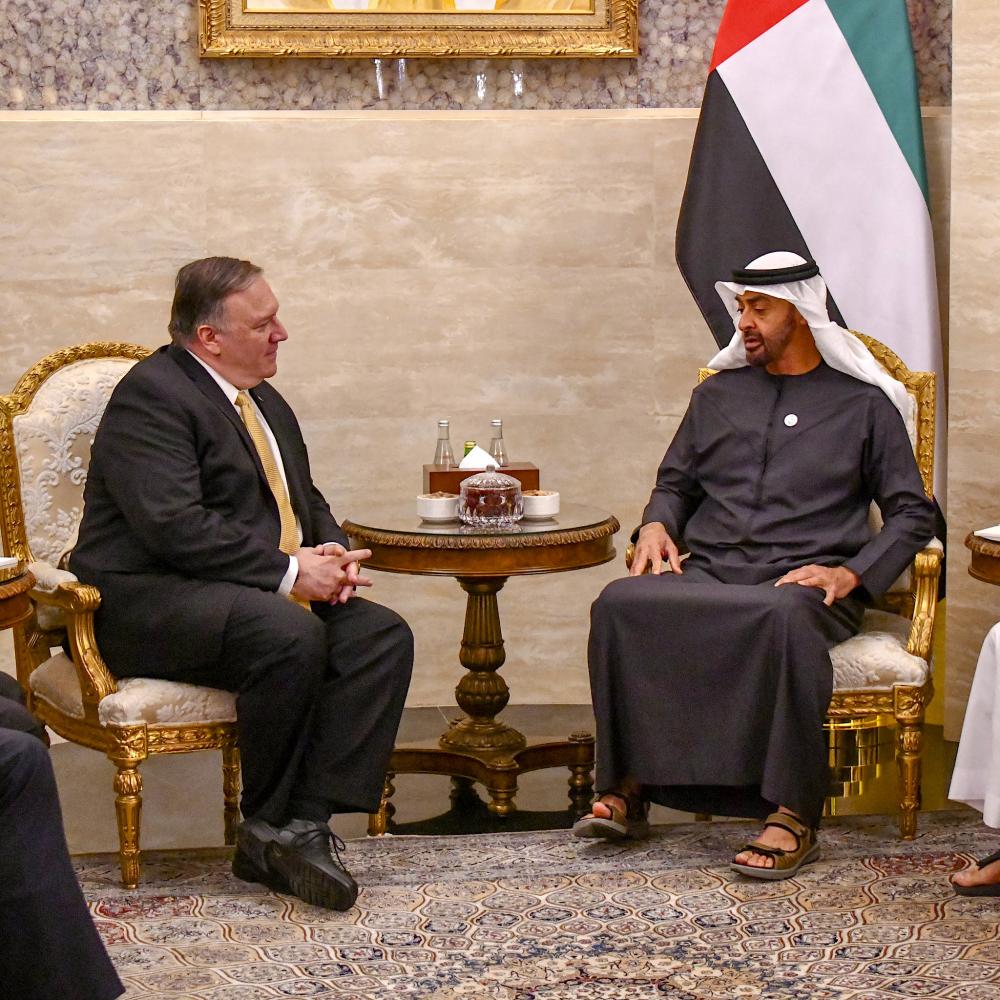 Secretary of State Mike Pompeo meets with Abu Dhabi Crown Prince Mohamed bin Zayed Al Nahyan in Abu Dhabi, United Arab Emirates, Jan. 12, 2019. (State Department photo/ Public Domain)
But it is impossible to understand the impetus for this deal without putting it in the context of the ongoing hostilities between all three countries and Iran. Following the old adage that "the enemy of my enemy is my friend," in recent years Israel has been negotiating with various Gulf states, including the UAE, to push back against Iran's growing influence in the region.
As the communique announcing the Israeli-UAE deal asserted, the U.S., Israel and the UAE "share a similar outlook regarding threats in the region." This dovetails with Trump's anti-Iran obsession, which includes withdrawal from the Iran nuclear deal and his "maximum pressure" campaign designed to force Iran back to the negotiating table to make a "better deal."
In announcing the UAE-Israeli pact, Trump declared with ridiculous bravado that if he wins the elections, he'll have a new deal with Iran within 30 days. Anyone who believes this must be almost as delusional as Trump. 
Biden Boasts
The fact that this agreement between two Middle East countries was first announced thousands of miles away in Washington DC shows how it is more about shoring up Trump's slumping electoral campaign and improving Netanyahu's battered image in Israel than bringing peace to the Middle East. It also shows that Netanyahu and bin Zayed have a stake in seeing Trump win a second term in the White House.
Instead of pointing out the hollowness of the pact, Joe Biden's response was unfortunately to congratulate Israel and the UAE and try to take credit for the deal. "I personally spent time with leaders of both Israel and the U.A.E. during our administration, building the case for cooperation and broader engagement," he said. "I am gratified by today's announcement." 
The normalization of relations between the UAE and Israel, facilitated by the U.S., serves to prop up three repressive leaders — Trump, Netanyahu, and bin Zayed — and will cause further harm to Palestinians. It is both a shame and a sham. 
Medea Benjamin is cofounder of CODEPINK for Peace, and author of several books, including Inside Iran: The Real History and Politics of the Islamic Republic of Iran. 
Ariel Gold is the national co-director and Senior Middle East Policy Analyst with CODEPINK for Peace.
Support Independent Investigative Journalism
Consortium News is made possible through donations from readers like yourself and contributions go directly to support the production, editing, and dissemination of original journalism. Consortium News does not receive corporate/government sponsorships and does not sell advertisements.
When you donate to Consortiumnews, you are investing in ethical journalism. We hold a steadfast commitment to providing compensation to contributing writers for original works of journalism, as well as fact-checking and editing support. And our articles are frequently circulated to other independent news websites, bolstering the availability of strong, journalistically-sound content across the internet.
+++++++++++++++++++++++++++++++++++++
UN Security Council Rejects US Proposal to Extend Iran Arms Embargo
Jennifer Hansler, Richard Roth
CNN
August 14, 2020
https://www.cnn.com/2020/08/14/politics/us-un-proposal-iran-conventional-weapons-rejected/index.html
The UN Security Council rejected a US proposal to extend the conventional weapons embargo on Iran Friday.
With the failure of the resolution, the US is now poised to move to unilaterally trigger snapback sanctions on Tehran -- despite having walked away from the Iran nuclear deal in 2018 -- a potential action that has drawn skepticism and alarm from allies and that experts have warned could spell the end of the landmark agreement.
US Ambassador to the UN Kelly Craft said in a statement Friday the US "has every right to initiate snapback of provisions of previous Security Council resolutions" and "in the coming days, the United States will follow through on that promise to stop at nothing to extend the arms embargo."
The US only drew support for the proposal from the Dominican Republic. Russia and China were opposed while Germany, France, the United Kingdom and eight others abstained.
"The United Nations Security Council is charged with the responsibility of maintaining international peace and security. It failed today to uphold its fundamental mission set," US Secretary of State Mike Pompeo said in a statement Friday.
Under the terms of the 2015 Joint Comprehensive Plan of Action (JCPOA), the conventional weapons ban on Iran is legally set to expire in mid-October. For months, the Trump administration has sought to extend the embargo despite having exited the deal -- a campaign that was predicted to fail.
'Inexcusable'
This week, the US tabled a resolution in the UN Security Council that would rollover the existing embargo indefinitely. US Special Representative for Iran Brian Hook argued it was a "a compromise text."
"We listened to the Security Council members and created a new text that is both reasonable and necessary," he told reporters Thursday.
"The Security Council's failure to act decisively in defense of international peace and security is inexcusable," Pompeo said. "The United States will never abandon our friends in the region who expected more from the Security Council. We will continue to work to ensure that the theocratic terror regime does not have the freedom to purchase and sell weapons that threaten the heart of Europe, the Middle East and beyond."
Behnam Ben Taleblu, a senior fellow at the Foundation for Defense of Democracies, said that the Security Council's decision "absolutely makes the US push to unilaterally snapback all UN penalties much more likely."
"Tehran is sure to mock the failed attempt to rally the international community to pressure the Islamic Republic (of Iran)," he said.
Iran's ambassador to the UN, Majid Takht Ravanchi, criticized potential sanctions. "Imposition of any sanctions or restrictions on Iran by the Security Council will be met severely by Iran and our options are not limited. And the United States and any entity which may assist it or acquiesce in its illegal behavior, will bear the full responsibility," Ravanchi said in a statement.
Trita Parsi, executive vice president of the Quincy Institute, argued that "the arms embargo vote was just a motion the administration believed it had to go through to force the UNSC to snapback sanctions on Iran, a mechanism that only parties to the JCPOA can trigger."
He said "there is a strong case to be made, and the other (permanent Security Council members) will make it -- that the US cannot trigger snapback since it no longer is a participant in the JCPOA."
'Can't have your cake and eat it too'
Trump administration officials have argued that the US has the legal authority to re-impose sanctions on Iran under UN Security Council Resolution 2231.
"Resolution 2231 establishes a fixed term, 'JCPOA participants,'" Hook told reporters Thursday. "That expressly includes the United States in its definition. Resolution 2231 places no other conditions on the eligibility of states that are among the named JCPOA participants. Developments beyond the four corners of Resolution 2231 did not and could not change the United States' right to initiate snapback."
Hook said the US circulated a six-page legal memo on the matter to UN Security Council members Thursday.
The US position had raised eyebrows and scorn among diplomats.
European allies agreed that the potential of weapons flowing in and out of Iran poses a threat, but were furious that the US withdrew from the nuclear agreement but still claimed to be a participant and have the ability to snapback sanctions.
"You can't have your cake and eat it too," said one Security Council diplomat.
China predicted at the Friday meeting that a US attempt at snapback sanctions is "doomed to fail."
Robert Malley, president of the International Crisis Group and former White House negotiator for the Iran deal, said that "the Trump administration's maximum pressure campaign is shifting to minimum diplomacy in pursuit of the same goal: to kill off the Iran nuclear deal or make it that much harder for Vice President (Joe) Biden to salvage it should he win in November."
Experts warned that if UN sanctions are snapped back on Iran, it could serve to destroy the nuclear deal and do even further damage to already inflamed regional tensions. Tehran has reduced its commitments under the agreement, saying it will return to compliance as soon as the US returns to the treaty and lifts its unilateral sanctions against Iran.
"UN sanctions relief is one of the few benefits that Iran still enjoys under the nuclear deal, and without any incentive to continue to comply with even the elements that it is now, it's clear that it will collapse and Iran will exit," Kelsey Davenport, the director for nonproliferation policy at the Arms Control Association, told CNN in April.
---
Jennifer Hansler is a State Department producer for CNN. Hansler tracks the daily and long-term developments from the department for CNN's broadcast and digital platforms.
Richard Roth serves as CNN's senior U.N. correspondent and also covers international stories in New York City.
CNN's Kylie Atwood and Nicole Gaouette contributed to this report.