Sports Strike Spreads - NBA, MLB, WNBA, NFL, MLS, Tennis - Everything We Know About the Sports Strike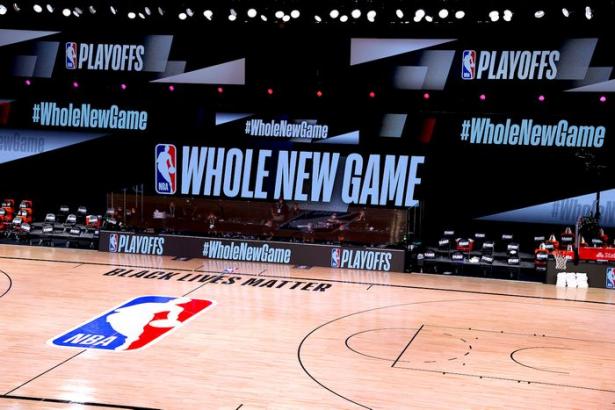 Photo: Kevin C. Cox/Getty Images // New York Magazine,
On Sunday, police in Kenosha, Wisconsin, shot Jacob Blake, a 29-year-old Black man, in the back while his children looked on. Blake's family says he was trying to de-escalate a domestic dispute when police arrived. Officers shot him more than half a dozen times at close range, leaving him paralyzed from the waist down. Kenosha has seen protests every night since.
On Tuesday, one of those turned deadly when a gunman — seemingly embedded with militia members facing off against demonstrators — opened fire, killing two people and injuring another.
All summer, in many parts of the country, protesters demanding an end to racist police brutality have met violent pushback from law enforcement. For many athletic teams, however, Blake's case has proved the last straw. On Wednesday, professional basketball teams threw their weight behind the movement for Black lives, starting with the Wisconsin-based Milwaukee Bucks, which are headquartered just an hour outside Kenosha. In declining to show up for their game, the Bucks launched a strike.

Now, other sports teams and players are following suit. The strike has now spread beyond the NBA to the WNBA, Major League Baseball, Major League Soccer, and tennis. Here's what we know so far.
The Bucks went on a wildcat strike on Wednesday.
The Bucks were scheduled to play in the fifth game of their playoff series on Wednesday night, but come game time, they did not appear on the court. Shortly thereafter, the Bucks put out a statement explaining their absence: "Despite the overwhelming plea for change, there has been no action, so our focus today cannot be on basketball."
The statement, read out by guards Sterling Brown and George Hill, continued:
When we take the court and represent Milwaukee and Wisconsin, we are expected to play at a high level, give maximum effort, and hold each other accountable. We hold ourselves to that standard, and in this moment, we are demanding the same from our law makers and law enforcement.
We are calling for justice for Jacob Blake, and demand the officers be held accountable. For this to occur, it is imperative for the Wisconsin State Legislature to reconvene after months of inaction and take up meaningful measures to address issues of police accountability, brutality, and criminal justice reform. We encourage all citizens to educate themselves, take peaceful and responsible action, and remember to vote on Nov. 3.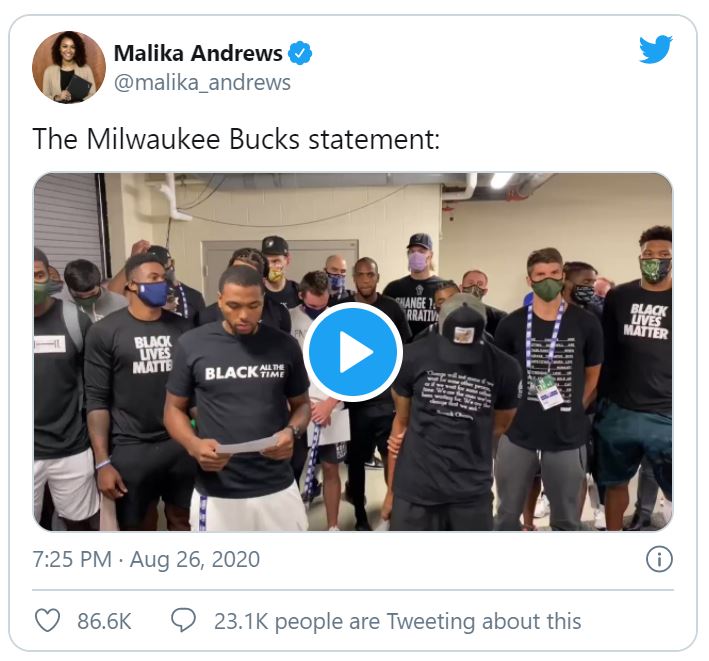 Though these collective actions have been categorized by many, including some of the players and members of the media, as a boycott (withholding one's money from a commercial entity in protest), it's actually strike, in which workers withhold their labor. Specifically, the players are engaging in a wildcat strike: a work stoppage without union approval.
On Wednesday night, three of the Bucks' main owners — Marc Lasry, Wes Edens, and Jamie Dinan — released a statement of support for the strike, writing, "We will continue to stand alongside them and demand accountability and change."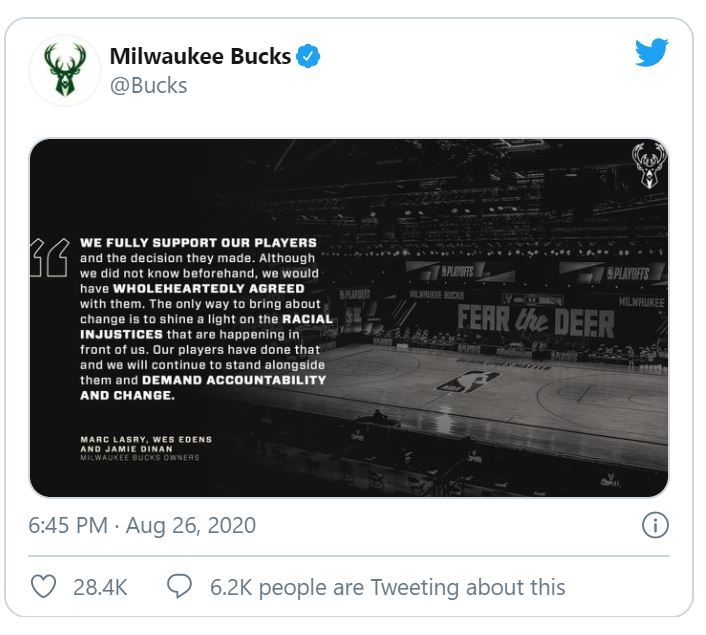 All of Wednesday's playoff games were postponed.
Shortly after the Bucks announced their strike, other basketball teams followed suit. (According to the New York Times, "Players from the Boston Celtics and Toronto Raptors were already deep into discussions about boycotting the teams' second-round series opener Thursday when the Bucks staged their boycott.") The Thunder-Rockets and Blazers-Lakers games were canceled, too, and before long, all the evening's playoff games were postponed.
In early July, as teams returned to the court within an NBA bubble — a protective measure to allow resumed play amid the coronavirus pandemic — they did so with the understanding that the Black Lives Matter movement would not be ignored. "It's never a shut up and dribble situation," Oklahoma City Thunder point guard Chris Paul said in late June. "You're going to hear us."
Now, CNN sports correspondent Coy Wire reports that teams scheduled to start their playoff games on Thursday are signaling their support. "I look at my jersey now, what I see is a black man being shot seven times," Jaylen Brown of the Celtics said of his number on Tuesday, according to Wire. His teammate, Marcus Smart, added: "We tried the peaceful way, kneeling, we tried to protest, we tried to come out here and get together and play this game and tried to get our voice across, but it's not working. So, obviously, something has to be done."
On Wednesday night, the remaining NBA players in the bubble held an emergency meeting, according to reports. The Los Angeles Lakers and the Clippers reportedly both voted to end the playoffs; every other team voted to continue playing. LeBron James reportedly left the meeting early, followed by the rest of the Lakers and Clippers. The votes were not final, though, and the meetings will continue on Thursday.
The WNBA joined the strike as well.
The WNBA also decided not to play, and Elizabeth Williams of the Atlanta Dream delivered a statement as a representative for all of the league's players on Wednesday night.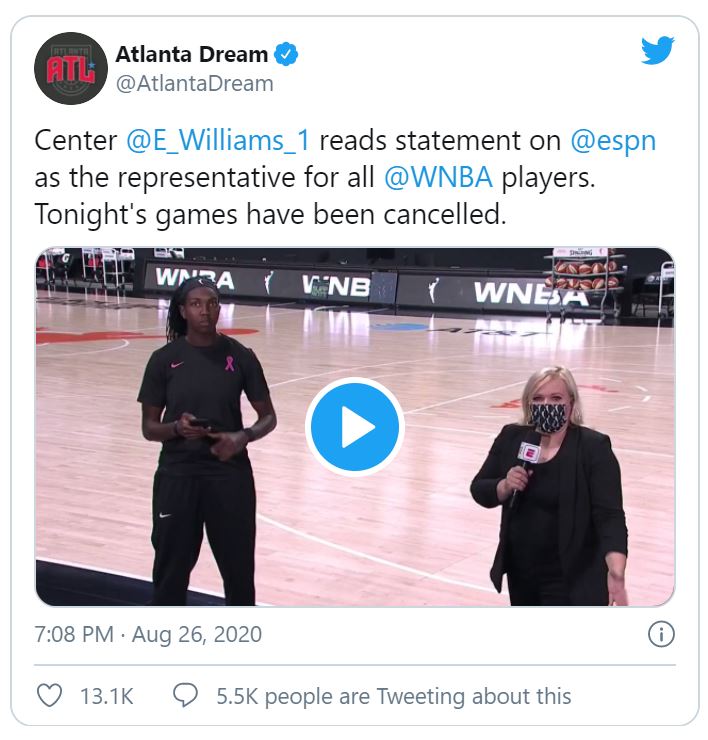 Four teams — the Washington Mystics, Atlanta Dream, Los Angeles Sparks, and Minnesota Lynx — had been on-site and set to play, and spoke for an hour before deciding not to continue with the games. "The consensus is to not play in tonight's slated game, and to kneel, lock arms, and raise fists during the national anthem," said Williams. "We stand in solidarity with our brothers in the NBA, and will continue this conversation with our brothers and sisters across all leagues and look to take collective action."
Members of the WNBA's Washington Mystics, who had been scheduled to play against the Dream, had arrived wearing T-shirts that spelled out Jacob Blake's name, each with seven bullet holes painted on the back.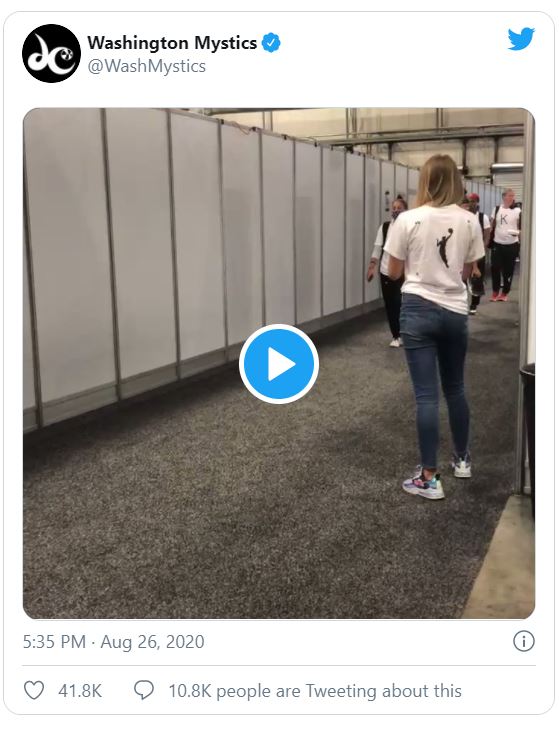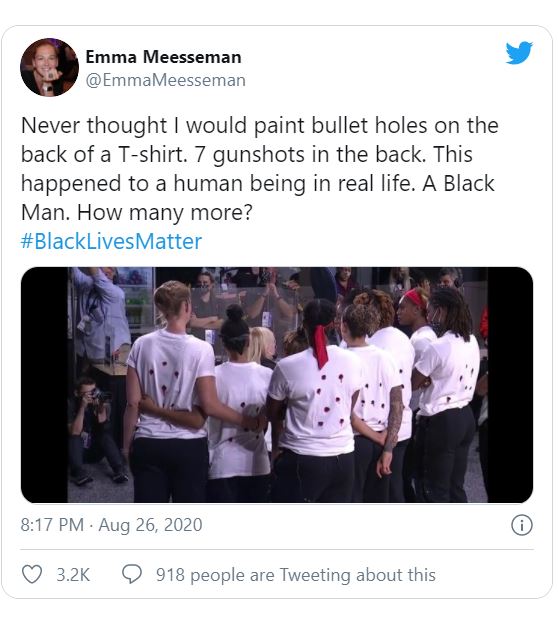 The strike has spread to other sports.
• Men's soccer: Five Major League Soccer games were also postponed on Wednesday over player-organized strikes. A sixth match, Nashville versus Orlando, still played.
• Major League Baseball: At least three Major League Baseball games have been called off due to strikes, including the Milwaukee Brewers versus Cincinnati Reds, the San Diego Padres versus Seattle Mariners, and the San Francisco Giants versus Los Angeles Dodgers.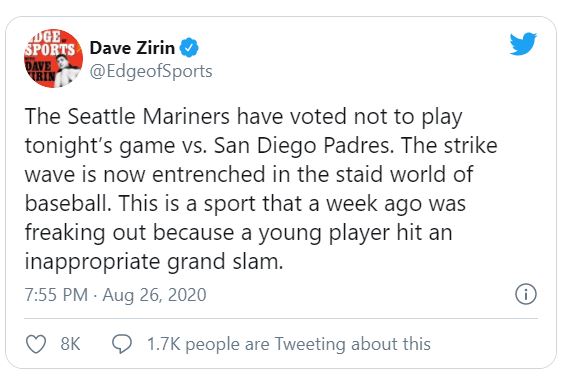 • Tennis: Japanese tennis champion Naomi Osaka withdrew from her ATP tournament, citing Jacob Blake and the ongoing strikes in the sports community. "As a black woman," Osaka wrote in a statement Wednesday night, "I feel as though there are much more important matters at hand that need immediate attention, rather than watching me play tennis."
BBC reports that the entire ATP tournament's Thursday play has been suspended. Organizers of another tennis tournament, the WTA Western & Southern Open, which takes place in New York, also announced they would suspend play until Friday, saying that "as a sport, tennis is collectively taking a stance against racial inequality and social injustice."
[Claire Lampen writes about gender, sexuality, and relationships. Formerly a Fulbright fellow living and working in Berlin, she now resides in Brooklyn. Her work has appeared on Vogue.com, Refinery29, Gizmodo, Teen Vogue, MarieClaire.com, Motherboard, and more.
Hannah K. Gold is a journalist based in Brooklyn and a former Nation intern, Now, she blogs for New York Magazine from her apartment.]