labor
Labor Unions, Environmental Groups Sue Feds Over Lack of PPE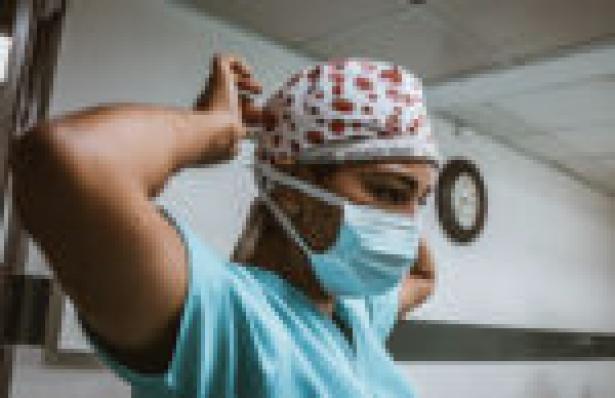 Frontline worker with inadequate PPE,SJ Objio on Unsplash
Labor unions ranging across several types of frontline workers today joined environmental groups in a lawsuit against the federal government.
Unions representing healthcare workers, teachers, transit operators and millions more joined the environmental groups to sue the feds over their failure to provide adequate reusable respirators, N95 masks, gloves and other personal protective equipment (PPE) to essential workers amid the COVID-19 pandemic.
Today's announcement of the lawsuit coincides with the developing situation in Washington, D.C., in which several high-ranking government officials, including President Donald Trump and First Lady Melania Trump, have tested positive for COVID-19, as have many frontline workers who have been exposed during the recent breakout of the virus.

Additionally, Trump announced on Tuesday that dealings over a new coronavirus relief bill would be delayed until after the Nov. 3 election, which would see provisions for adequate PPE and safety standards for essential workers put on the back-burner for about a month or more.
"The AFL-CIO is joining this lawsuit to force the Trump administration to do what it should have done months ago — protect American workers by dramatically increasing the supply of the PPE they need to work safely during this pandemic," AFL-CIO President Richard Trumka said in a news release. "The failure to do so is immoral and inexcusable, and we demand action now."
Filed in the U.S. District Court in Washington, D.C., the lawsuit claims U.S. Health and Human Services Dept. secretary Alex Azar and Dept. of Homeland Security secretary Chad Wolf should act immediately to ensure PPE reaches frontline workers after the agencies did not respond to an August petition that demanded emergency action.
Healthcare workers and other frontline, essential workers are reusing PPE or buying their own in response to the reopening of schools and relaxed COVID-19-related restrictions.
"It's difficult for healthcare workers to get supplies on a daily basis because employers are conserving what they have, and having to ask or find PPE on our own is a horrible practice," Buffalo, N.Y.-based ER nurse & member of Communications Workers of America Local 1168 Denise Abbott said. "Staff still have to reuse masks for the entire day unless they're dirty, damp or damaged. PPE must be at the ready and used properly if we're ever going to see an end to this crisis. With the flu season fast approaching, healthcare workers are again facing great risk from this administration's failure to act."
Among the plaintiffs in the suit are the AFL-CIO, United Steelworkers, Service Employees International Union, American Federation of Teachers & Amalgamated Transit Union, representing more than 15 million frontline workers across the U.S.
"The federal government is abandoning essential workers and treating them like they're disposable," said Jean Su, director of the Center for Biological Diversity's energy justice program. "These are teachers and nurses and bus drivers who have made sure our country survives during this crisis. We stand in solidarity with them and will do everything possible to prevent this tragic, preventable loss of life.
"They're being exploited, not unlike the abuse that corporations and this government inflict on the environment."