Dispatches From the Culture Wars - October 13, 2020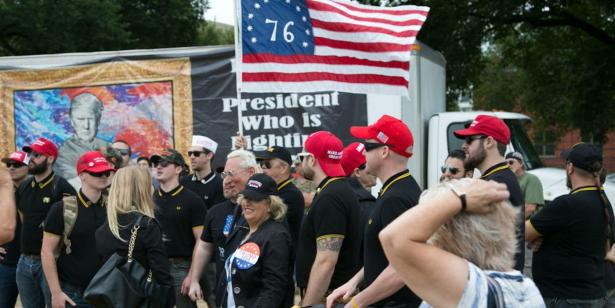 Roger Stone arrives with Proud Boys during the Mother of All Rallies at the National Mall in Washington, D.C. on September 8, 2018,credit: Emily Molli/NurPhoto via Getty Images
Election Day: Worst Case Scenario?

With the US dangerously divided, experts fear the president's remarks will inspire armed factions to show up at polling places.
These far-right extremist groups could pose a national security threat in the run up to the election.
Greek Fascists Crushed in Court
By Marianna Karakoulaki
Al Jazeera
Wednesday's landmark verdict marked the end of Golden Dawn, but ideologies do not die with political organisations that represent them.
By Stephanie Kirchgaessner
The Observer
An ex-member of Amy Coney Barrett's faith group speaks out.
By Morgan Loew, Edward Ayala, and Gilbert Zermeno
azfamily.com
Contractors and scrap dealers are selling border fence steel in Arizona and Mexico.
How Wisconsin Rurals Read the Race
Meagan Day interviews Katherine J. Cramer
Jacobin
"Rural resentment" may not get much attention, but it's a real and powerful force in US politics.
Handling Freedom-to-Infect Freaks
De-escalation is the new customer service: training to deal with angry, maskless patrons.
By Sydney Bucksbaum 
Entertainment Weekly
Who would have thought that a story about exploding teenagers would be the most appropriate movie for 2020? The new satirical comedy Spontaneous couldn't be more perfect for where we're collectively at.
LGBTQ Under Poland's Far Right
By Natalia Ojewska
Euronews
Toxic rhetoric, driven by the current government, has only served to deepen the eternal divisions between religious conservative and socially liberal Poles.