How Criminal Justice and Police Reform Fared in the Election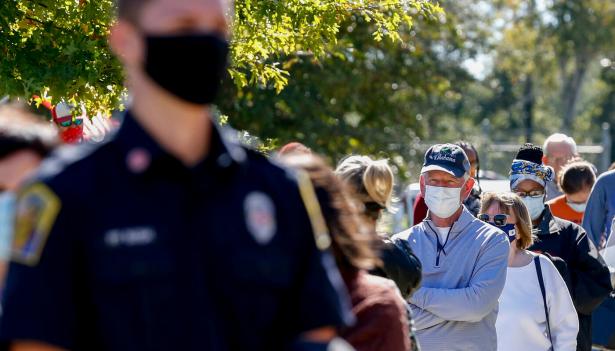 Mario Tama/Getty
From sheriff and prosecutor races to ballot initiatives on police oversight and over- incarceration, there were many criminal justice-related issues on the ballot this year. 
To offer some context and perspective on the results, Brennan Center Justice Program Director Lauren-Brooke Eisen and Brennan Center Fellow Andrew Cohen shared a few of their takeaways from the election and what the results portend for the future. 
Andrew Cohen: The obvious big winner this cycle is the drug reform movement, which saw victories in three states that legalized recreational marijuana and passage of an Oregon measure that decriminalizes small amounts of heroin, cocaine, and methamphetamines. And there's a clear national signal from voters in cities to hold their local police more accountable, and I think that obviously comes from the frustration and anger folks feel in the wake of the killing of George Floyd in Minneapolis earlier this year. 

From Pittsburgh to Portland to Columbus, voters signed up for broader civilian review over policing. In San Francisco, voters even abolished mandatory staffing levels for the police, a form of "defunding," to be sure. "Don't boo, vote," Barack Obama always says. What we just saw Tuesday is that people protested, and then they voted too.
Lauren-Brooke Eisen: While there's much work to do to reimagine our justice system, it's heartening to see that more than a dozen criminal justice reform and police accountability measures passed. In California, voters passed Proposition 17, which will enable more than 50,000 former California prisoners to vote while on parole. Voters there also defeated Proposition 20, which would have barred people convicted of certain serious crimes from earlier release, increased penalties for some retail thefts, and made parole conditions more severe. 
We also saw some important local prosecutor races play out, where candidates who all campaigned on reducing prison populations or moving away from incarceration driven policies were elected in Orlando, Austin, Los Angeles, and Jefferson County, Colorado.
Cohen: I don't know that you can say it was an election that signaled clearly in one direction or another when it comes to the people we ask to guide our criminal justice systems. Some reform-minded prosecutors — Julie Gunnigal in Maricopa County, Arizona, comes to mind — prevailed. But other reformers — Zach Thomas in Johnson County, Kansas, comes to mind — lost.
Many hardline sheriffs, like Wayne Ivey of Brevard County, Florida, were reelected even as some reformers now will run local police departments. The nation seems as divided on justice personnel as it is about so much else, and what that means is that we'll continue to have different levels of commitment to racial justice and the rest in different jurisdictions.
Eisen: Another interesting trend is that some of these reforms passed in both red and blue states. For example, both Nebraska and Utah voted to amend their state constitutions to eliminate the 13th Amendment loophole allowing slavery as punishment for a crime.
It's a significant recognition by voters that people behind bars should not be forced to work for free. But the changes likely won't affect prison labor programs in those states because their corrections' departments do pay incarcerated workers, albeit very low wages.
And as noted, the counties attempting to ensure better civilian oversight over their police departments saw tremendous victories in both red and blue states.
Cohen: To pick up on the red-state/blue-state theme, some local sheriff races went to reformers in states in the Deep South, like Georgia and South Carolina. Here's how the Charleston Post and Courier put it: "In the wake of scandal after scandal, Election Day ushered in a likely record wave of new South Carolina sheriffs, with voters in more than a quarter of the state's counties rejecting incumbents, replacing disgraced lawmen or selecting newcomers in their local races." And not just reformers but Black reformers, sheriffs of color, in places that have not had them ever, or at least since Reconstruction.
Eisen: And let's talk about local law enforcement elections and what they might mean for immigration enforcement going forward. For example, in both Gwinnett County, Georgia, and Travis County, Texas, voters supported candidates who want to end close ties with ICE at the local level.
Yet we also saw Pinellas County, Florida, support a sheriff who has worked closely with ICE and facilitate its ability to deport undocumented individuals housed in local jails. Now, if Joe Biden wins, we are likely to see significant changes anyway in the way ICE operates and that might ease the federal-local tensions we've seen over the past four years. But it's still significant that voters in some places chose to turn away from Trump-era practices.
---
Lauren-Brooke Eisen is director of the Brennan Center's Justice Program where she leads the organization's work to end mass incarceration. Her team focuses on exposing the profound social and economic hardships that impact those who encounter the justice system while creating policies that ultimately shrink its size and scope.
Eisen has authored several nationally recognized reports and articles on how to reduce America's reliance on incarceration. Her work has been featured in media outlets across the country, including the New York Times, USA Today, Time, U.S. News & World Report, the Daily News, and the Marshall Project and has appeared on MSNBC, CNN, CBS News, NBC News, Fox News, National Public Radio, as well as many other television and radio news programs.
Eisen is the author of Inside Private Prisons: An American Dilemma in the Age of Mass Incarceration (Columbia University Press, 2017) and a Pulitzer Center on Crisis Reporting journalism grantee. She has served on the Advisory Council of the New York City Bar's Task Force on Mass Incarceration and the transition committee for Brooklyn District Attorney Eric Gonzalez. She currently serves on the advisory board of the Prosecutor Project, which seeks to develop more effective and efficient prosecutorial practices and serves as a training and curriculum advisor for Fair and Just Prosecution. In 2020, Eisen became a founding member of the Council on Criminal Justice, which works to advance understanding of the criminal justice policy choices facing the nation and build consensus for solutions that enhance safety and justice for all. Eisen taught an undergraduate seminar on mass incarceration at Yale University and served as an adjunct instructor at John Jay College of Criminal Justice.
Before joining the Brennan Center, Eisen was a senior program associate at the Vera Institute of Justice, where she worked on the sentencing and corrections team to implement policies in multiple states to improve public safety while reducing prison populations. She also previously served as an assistant district attorney in New York City, where she worked in the Appeals Bureau, the Criminal Court Bureau, and the Sex Crimes Special Victims Bureau. Before entering law school, Eisen worked as a beat reporter for a daily newspaper in Laredo, Texas, covering criminal justice and immigration. Eisen holds an AB from Princeton University and a JD from the Georgetown University Law Center.
Andrew Cohen is a fellow at the Brennan Center for Justice. He is also senior editor at the Marshall Project, the nonprofit criminal justice news organization. For 22 years he was a legal analyst for CBS News and was the first-ever legal analyst for 60 Minutes. He has won two Edward R. Murrow Awards as one of the nation's leading legal analysts and commentators and two Silver Gavel Awards from the American Bar Association for his coverage of prisons and the death penalty in America.
Defend Our Democracy
The Brennan Center fights to make elections fair, end mass incarceration, and preserve our liberties — in Congress, the states, the courts, and the court of public opinion. Join us in building an America that is democratic, just, and free.