Global Left Midweek - December 9, 2020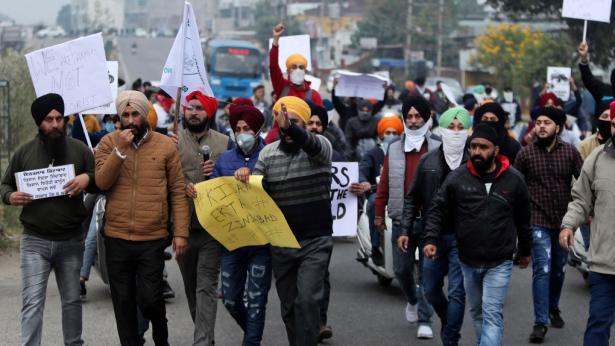 Activists of various parties shout slogans and block the Jammu-Pathankot higway during a nationwide shutdown called by thousands of Indian farmers protesting new agriculture laws in Jammu India, Tuesday, Dec. 8, 2020. Credit,AP Photo/Channi Anand
__________
Yellow Vest Lessons: Can Social Movements Democratise Democracy?

Maxime Combes / Beyond Development (Brussels)
The Yellow Vests movement has generated impacts in terms of politicisation and socialisation that will have medium- and long-term effects. It would be a pity if the social and ecological left missed them.
__________
India: Farmers Revolt
Massive Solidarity at 20,000 Sites  NewsClick (New Delhi)
Breadth of the Backup  Peoples Dispatch (New Delhi) 
Timeline  NewsClick
What's Ahead  Ronak Chhabra / NewsClick
__________
Latest Elections in Latin America
Venezuela  Paul Dobson / Venezuelanalysis (Caracas)
Brazil  Daniel Giovanaz and Igor Carvalho / Brasil de Fato (São Paulo)
Puerto Rico  Luis Fernando Coss / NACLA Report (New York)
__________
Podcasts: Reflections on the Global Pandemic
Luciana Castellina, Alex Demirović, Nancy Fraser, Leo Panitch, Gayatri Spivak, and Hilary Wainwright / transform! europe (Vienna)
As humanity faces the Covid-19 pandemic, the left internationally must address this crisis with both short and long term action, analysis, and planning. To discuss these crucial issues, transform! europe presents this series of interviews with left-wing intellectuals.
__________
Rise and Fall of the ANC Youth League
Rebone Tau and Loren Balhorn / Rosa Luxemburg Stiftung (Berlin)
In recent years the organization has been the subject of numerous controversies and often found itself in open conflict with the ANC leadership. 
__________
The Slovak Left
Artur Bekmatov / transform! europe
Developments in the coming months will affect the shape of the left in Slovakia for at least the next decade.
__________
Divided Front in Andalusia
Dick Nichols / Green Left (Sydney)
With IU and Podemos Andalusia now embracing the prospect of an Andalusian PSOE-UP government as an alternative to the right, agreement over the content of the "Andalusian political space" had become impossible. A split within Forward Andalusia was only a matter of time.
__________
Farm Workers, Miners Unite in Peru
Al Jazeera (Doha)
Mineworkers joined a growing group of farmworkers in blocking major highways throughout the country, ratcheting up pressure on newly appointed interim President Francisco Sagasti. Update: Lawmakers have repealed a highly contested agricultural law, a demand of the protesting workers.
__________
UK Labour Purge Continues
Direnc Balik / Middle East Eye (London)
Former Shadow Chancellor John McDonnell has declared that he would be willing to be a witness at a party disciplinary hearing for a 'Jewish Voice for Labour' member who was suspended by Labour this week.
__________
Walter Rodney's Masterpiece
Leo Zeilig / Review of African Political Economy (London)
In 1972 Walter Rodney published his masterpiece How Europe Underdeveloped Africa. His crowning achievement was a synthesis of years of historical reading and research.