labor
UAW Agrees to Oversight to Resolve U.S. Corruption Probe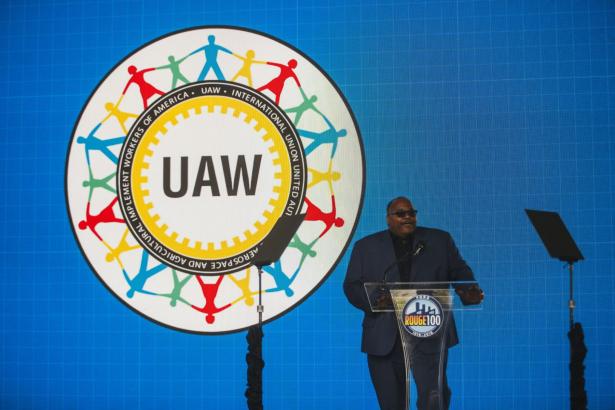 UAW President Rory Gamble speaks during an event in 2018..,Sean Proctor/Bloomberg
The United Auto Workers resolved a five-year U.S. corruption probe that led to the conviction of two former presidents by agreeing to an independent monitor who will oversee some of the union's activities.
U.S. Attorney Matthew Schneider in Detroit said Monday the deal puts the 400,000-member UAW "on a pathway to be free from corruption." A federal judge still must approve the agreement.
The union agreed to the appointment of a monitor for a six-year period and to allow that person to handle internal investigations of corruption allegations and administer disciplinary actions, Schneider said. The settlement permits union members to vote on whether to change the way the group's leaders are elected.

The investigation uncovered corruption in the union's upper ranks, including two former presidents, and led to a wave of convictions, with officials admitting they conspired with others to cover up the misuse of union cash for meals and travel. The probe did not uncover any involvement by organized crime in the operations of the UAW.
The union's largest presence is among 150,000 autoworkers spread among carmakers including General Motors Co., Ford Motor Co. and Fiat Chrysler Automobiles NV. Rory Gamble, the union's current president, said at the press conference that the appointment of a monitor will insure the union's future activities will be "clean and free from misconduct."
Government Takeover
Facing a threatened government takeover, the union's new leadership began meeting with prosecutors this year to discuss ethics reforms. Monitors installed at the International Brotherhood of Teamsters to supervise efforts to erase organized-crime ties there wrapped up this year, after more than three decades.
More than a dozen people were convicted as investigators targeted embezzlement and illegal payoffs to UAW officials by Fiat Chrysler Automobiles NV executives. The two former union heads who pleaded guilty are Dennis Williams and his successor, Gary Jones.
Three Fiat Chrysler executives also pleaded guilty to bribing UAW officials in order to smooth the way in labor negotiations. The investigation included raids of homes and offices by FBI agents, who said in court filings they seized hundreds of bottles of high-end liquor, cigars, golf clubs and gear, along with tens of thousands of dollars in cash.
As part of a U.S. fraud lawsuit filed and settled on Monday, the UAW also agreed to repay $15 million to its worker training centers that officials had plundered. The union will pay $1.5 million to resolve U.S. tax issues.