labor
What the Labor Movement Wants From a Joe Biden Administration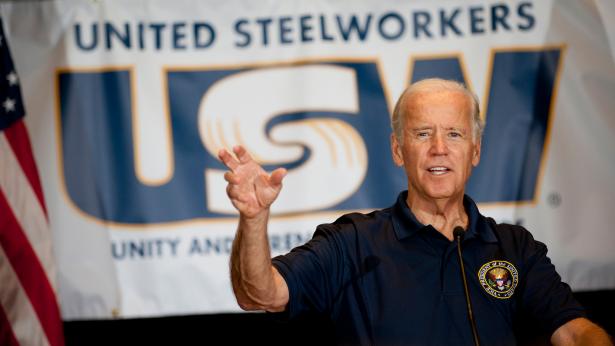 Joe Biden,Jeff Swensen
When Joe Biden was finally declared the winner of the 2020 presidential election, many in the labor movement breathed a sigh of relief (some, like myself, a bit less enthusiastically than others). Biden won in no small part due to the efforts of hundreds of thousands of union members, particularly those in UNITE HERE, 98% of whom lost their hospitality and service industry jobs thanks to the COVID-19 pandemic, but threw themselves into massive get-out-the-vote mobilizations in swing states like Pennsylvania, Nevada, Michigan, and Arizona — all of which ultimately went blue. Those workers keenly understood how Donald Trump, the Republican Party, and its assorted powerful backers have inflicted untold pain and suffering on the working class with their rabidly anti-worker agenda. Four more years of Trump would have weakened a labor movement that's already been left gasping for air — often literally, in the case of the many thousands of workers who contracted COVID-19 on the job due to the federal government's shambolic, craven response to the pandemic.
Having a Democrat occupying the hot seat is much better for U.S. workers than the alternative, but let's be clear: a wet dishrag would still be better than what we ended up with last time, and Biden's party affiliation means little in the grand scheme of things. What matters is action, vision, and gumption, three things that corporate Democrats like ole Joe and his closest allies lack in spades.
No two unions are alike, and the labor movement is full of different people from different backgrounds with different politics and different views on what a Biden presidency should look like. The president-elect made a lot of noise about unions, blue-collar folks, and working families during his campaign, and most of labor's heaviest hitters felt it prudent to fall in line behind his candidacy (except, of course, for the police unions who, as usual, broke from the rest of labor to issue a full-throated endorsement of Trump). Biden raked in endorsements and gave speeches at union halls, hyping his own relatively working-class upbringing and often describing himself as "a union man" despite having never actually joined one. There is cause for cautious optimism for strengthening worker protections and rights. Biden has voiced his support for the Protecting the Right to Organize Act of 2019 (PRO Act) as well as for a federal $15 minimum wage (something he could implement via executive order). He has made punishing corporate union busters a core part of his labor platform, which also lays out plans to appoint pro-labor members to the National Labor Relations Board (NLRB), strengthen government workers' collective bargaining rights, and create a "cabinet-level working group" focused solely on boosting union membership. After Trump, all of that sounds pretty good.

But early signals from his transition have been mixed. The insider race for labor secretary has heated up, with some labor leaders pushing for various older white male candidates and others rallying behind California Labor and Workforce Development Agency secretary Julie Su, whose experience advocating for immigrant workers would be incredibly helpful in an administration that may be content to leave them behind. There are rumors about a campaign to elevate Vice President-elect Kamala Harris's brother-in-law Tony West, who is currently Uber's chief legal officer, to Attorney General, and the transition team is stocked with tech company executives from the likes of Amazon, Uber, and Lyft — three companies that have been frequently accused of mistreating their precarious workforces. The collective message to workers seems to be: don't get your hopes up, Jack.
Yet Biden owes a debt of gratitude to the labor movement for his shot at the throne, and the thousands of workers and union members who helped make that win possible are now expecting him to deliver on all those shiny promises he trotted out to burnish his campaign. Here are a few suggestions for how the Biden Administration can put its money where its messaging was, and to make a real difference in the lives of working people in this country.
First off, as soon as Biden is handed the keys to the kingdom, he needs to use every available tool to deliver a real stimulus package and badly needed economic relief to working-class and poor people in this country. The current proposal slithering its way through Congress doesn't even hit a bare minimum. In order to aid a suffering populace and inch towards any kind of economic recovery, Biden needs to use his power to freeze rent and mortgages, continue to freeze student loan payments, freeze evictions, and, most importantly, get a significant amount of money directly into peoples' pockets. How he does all that is up to him, but the people cannot wait any longer.
Like many of Biden's legislative goals, passing the PRO Act will be a nonstarter if the Senate remains in Republican hands, but if the upcoming Georgia runoff elections tip the balance in the Democrats' favor, all bets are off — and Congress might actually do something useful. Biden has repeatedly cited his support for the PRO Act, which would satisfy a few key labor demands by nullifying "right-to-work" laws, making much-needed updates to archaic labor laws like the 1935 National Labor Relations Act, and making it easier to unionize as well as protecting intermittent strikes, banning permanent strike replacements (i.e. scabs), striking down the ban on secondary boycotts, and making it more difficult to erroneously classify workers as "independent contractors." However, the legislation is far from perfect; an ideal labor law overhaul would remove exemptions for farmworkers, domestic workers, and all independent contractors. Plus, this bill still does not include universal "card checks," allowing any group of workers to certify their union by achieving a simple majority of signed union cards, saving them the time and trouble of a drawn-out union election before the NLRB. If Biden really wants to be "the most pro-union president," he must make labor law reform and card check a priority — and actually follow through this time.
Under Trump, the NLRB — a federal agency responsible for encouraging labor laws and overseeing union elections — has been an absolute horror show, populated by Trump-appointed anti-labor lawyers like its general counsel, Peter Robb, who came straight from the notorious law firm Proskauer Rose, which has represented companies and institutions fighting against unionization efforts. Biden can't overhaul the seating plan right away, and there is much to be done to address both the damage of the Trump era and deeper-seated problems, but firing Robb would be an excellent start. Staffing the agency with people who actually care about workers and support unions would certainly help move things in the right direction too, and aid in Biden's stated goal of increasing union membership in the U.S.
In terms of federal agencies, Biden also needs to prioritize the Occupational Safety and Health Administration (OSHA). His administration can save lives by immediately implementing enforceable emergency COVID-19 health and safety standards that the Trump administration has refused to address, levying much heavier fines on employers whose negligence leads to injuries or worse, hiring more OSHA inspectors to investigate workplace injuries and safety conditions on site, and naming a new deputy assistant secretary to steer the agency while the top appointee awaits Senate confirmation.
Whomever he appoints labor secretary will have their work cut out for them as well, but one immediate priority should be building on Obama-era rule to expand eligibility for time-and-a-half overtime pay. More generally, actually implementing the federal $15 minimum wage he's been promising would have an immediate impact on millions of workers and their families across the country, many of whom have been struggling to make ends meet or were thrown into poverty during the pandemic, as would wiping out all student loan debt (instead of the few thousand here and there he's been mulling).
A truly pro-labor administration needs to address worker misclassification and the hurdles facing independent contractors. Particular attention should be paid to those in the so-called gig economy who are at the mercy of app-based tech giants like Uber, Lyft, Instacart, and Postmates, which recently poured millions into pushing through the immensely damaging new law in California known as Proposition 22. These corporations are already eyeing other cities, and hoping to expand this toxic legislation to the federal level. That simply cannot be allowed to happen. Instead of cozying up to these predatory executives, a Biden administration that actually gave a sh-t would be dragging them all to court.
There are other things that a genuinely pro-union, pro-worker administration would do that seem unlikely under Biden's stewardship, but bear repeating nonetheless. In terms of providing real, tangible support to the most marginalized and vulnerable members of the working class, a Democratic administration would immediately decriminalize sex work, end the sub-minimum wage for disabled workers, update and expand the 1990 Americans with Disabilities Act, and implement ironclad protections for trans and gender-nonconforming workers. Workers need, deserve, and should absolutely have free universal health care (including mental health care) and free universal child care; a Green New Deal to address the ravages of climate change and create thousands of sustainable union jobs in green energy and conservation; amnesty for all undocumented workers, visa programs for migrant workers, and of course, the dismantling of shameful immigrant detention centers with amnesty offered to all those who suffered within; the abolition of prison slavery and implementation of a $15 minimum wage for incarcerated workers (though, to be very clear, the only truly humane answer here is the abolition of the entire prison industrial complex).
There is so much work to be done, and while some of it may be a little easier under a Biden presidency, that doesn't mean it's going to be anything but a knock-down, drag-out fight to pull these neoliberal aristocrats in the right direction. This is no moment to kick back and give Biden time to settle in. Building power from below and organizing amongst ourselves is the brightest hope we have to improve the lives of working folk. Remember that politicians will not save us, and most of them are actively rooting against us. I believe that we won't be stuck in this system forever, but for now, in order to extract any concessions from the ruling class at all, we must hold their feet to the fire every goddamn day and refuse to end that pressure until every worker in this country has freedom, shelter, safety, stability, bread, and roses too.