labor
Labor Denounces Coup Attempt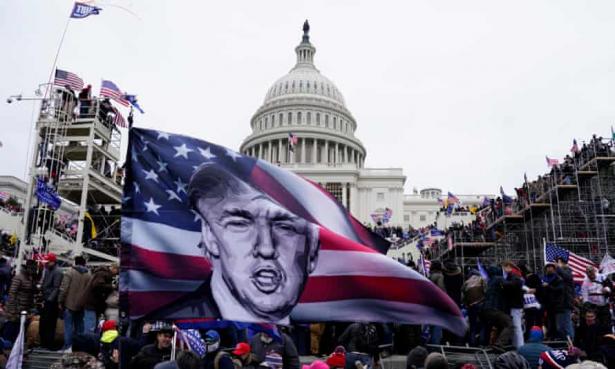 On Wednesday the president incited a mob to descend on Congress with a clear intent to stymie the vote to certify Joe Biden's election as president of the United States.',Will Oliver/EPA
Expressions of anger, outrage and determination to hold fast to democratic values and worker solidarity were issued by many unionists and union leaders in response to the attempted coup by Trump supporters and white supremacists.  Below are statements by several union presidents:
Richard Trumka, AFL-CIO: Attempted Coup an Unconscionable Assault on Democracy.  We are witnessing one of the greatest assaults on our democracy since the Civil War. Today's attempted coup has been years in the making as Donald Trump consistently spews venom, conspiracies, hate and lies to his supporters. They are carrying out his wishes, and far too many Republican lawmakers have enabled and even encouraged this violent threat to our republic. Emboldened by an Electoral College system that creates an avenue for insurrection instead of simply certifying the candidate with the most votes, this is an effort to violate the constitutional rights of every law-abiding American and the labor movement will not stand for it. Not today. Not ever.

Actors' Equity:  This is what white supremacy looks like. This is an attempt to undermine the votes of millions of people of color. We must not let it happen.
AFA: Statement on Protecting Aviation Security Following Insurrection at Capitol Association of Flight Attendants-CWA. (AFA) International President Sara Nelson, representing nearly 50,000 Flight Attendants at 17 airlines, released the following statement: "Air travel is safe because everyone follows a strict set of rules, based on the spirit that 'we're all in this together.' The mob mentality behavior that took place on several flights to the D.C. area yesterday was unacceptable and threatened the safety and security of every single person onboard. It will not happen again. There's a reason that there are strict penalties and fines for failing to comply with crewmember instructions. Enforcement keeps everyone safe. "Our first priority in aviation safety and security is to keep any problems on the ground. Some of the people who traveled in our planes yesterday participated in the insurrection at the Capitol today. Their violent and seditious actions at the Capitol today create further concern about their departure from the DC area. Acts against our democracy, our government, and the freedom we claim as Americans must disqualify these individuals from the freedom of flight. "We in aviation have a serious role to play in national security. Airlines, in coordination with TSA, DHS, FAA, DOT and law enforcement must take all steps to ensure the safety and security of passengers and crew by keeping all problems on the ground."
AFGE: Largest Federal Workers Union Condemns Anti-Democracy Riots at U.S. Capitol.  Everett Kelley, president of the American Federation of Government Employees (AFGE), the largest union representing 700,000 federal and D.C. government employees, today issued the following statement:  "Today, in a shocking scene watched by Americans across the nation, the President of the United States encouraged a mob of anti-democracy protestors to breach the security perimeter of the U.S. Capitol, forcing a lockdown, and endangering the safety of members of Congress, workers at the Capitol, innocent civilians who live nearby, and the law enforcement officials charged with keeping the peace.
"It is nothing short of a desperate attempt to use violence to cling onto power after a clear defeat at the ballot box. These rioters must comply with the wishes of law enforcement and leave the area immediately.  But no matter what happens today, the people have spoken. Joe Biden will be our next president and Kamala Harris our next vice president. We will not surrender our democracy."
AFSCME:  Statement by President Lee Saunders.  Yesterday was one of the darkest days in American history. What we saw at the U.S. Capitol was insurrection, sedition and terror enabled by the president of the United States. The 1.4 million members of AFSCME, who dedicate their lives to strengthening their communities instead of trying to tear violently at the national fabric, roundly condemn these acts of vandalism against our democracy. In the end, our institutions were resilient, with Congress finishing its business at hand last night. In 13 days, at that same U.S. Capitol, we will celebrate democracy with the swearing-in of Joe Biden and Kamala Harris, who will do everything in their power to restore dignity to the presidency and to unify the nation.
AFT:  President Randi Weingarten Responds to Congressional Certification of 2020 Presidential Election, Condemns Violence in US Capitol.  American Federation of Teachers President Randi Weingarten issued the following statement in response to the violence in Washington today and the vote by Congress to accept electoral votes lawfully certified by the states and affirmed by the Electoral College, thereby upholding the will of the American people who elected Joe Biden the 46th president of the United States:
"Today, Donald Trump made clear why he shouldn't be president. He enabled terrorists who stormed the U.S. Capitol and threatened the lives of duly elected officials while the world watched in horror. This reprehensible failure of the executive to protect the legislative branch is unconscionable, and for the safety of this country, Trump cannot leave office soon enough. Today was not a protest, it was an insurrection; President Trump, his accomplices and allies are guilty of incitement and must be held accountable. That starts with Trump's immediate removal from office.
"But American democracy is stronger than Donald Trump. In the throes of a deadly pandemic, a crushing recession, a long-overdue reckoning with racial injustice and an ongoing climate crisis, a record number of Americans cast their vote in last year's presidential election for decency, competence and progress—for Joe Biden and Kamala Harris. Today, despite partisan and petulant attempts to undo the will of those voters, democracy prevailed. We will teach our children about this moment for centuries to come and will work to restore future generations' faith in the fidelity of our peaceful transfer of power.  
"Our country continues to face massive challenges, as evidenced by the violent display in Washington today. As we struggle to contain COVID-19, get families back to work and get students safely back to school, let us remember that Trump and many of his right-wing allies continue to focus on obstructing the very function of our government. When we need healing, they promote violence. When we need peace, they sow chaos. They politicize and misrepresent the truth to undermine the free, fair and functional society we aspire to live in, and in doing so, they undermine the very people government is meant to serve. Today was a tragic reminder of just how dangerous an unchecked despot and his followers truly can be.  
"In this election, our democracy was tested by a grown man's inability to lose, which threatened to jeopardize the great American experiment. A stronger leader would have used this moment as an opportunity to resurrect the tatters of his presidency, restore order and condemn violence. Trump has failed, but thankfully our system remains intact. Let us now begin to rebuild our more perfect union, built on the voices of the many."
Alphabet Workers Union: Statement on Yesterday's Insurrection.  Yesterday, a mob of fascists, urged on by the sitting president of the United States, stormed the Capitol in Washington, D.C. in an attempt to prevent the certification of the results of the presidential election.  Donald Trump then celebrated the insurrectionists in a video posted on social media, including on his YouTube channel, where he told armed fascists, "We love you, you're very special."  We, the members of Alphabet Workers Union, part of Communication Workers of America Local 1400, are outraged by this attempted coup.
We know that social media has emboldened the fascist movement growing in the United States and we are particularly cognizant that YouTube, an Alphabet product, has played a key role in this growing threat, which has received an insufficient response by YouTube executives.  Workers at Alphabet have previously organized against the company's continued refusal to take meaningful action to remove hate, harassment, discrimination, and radicalization from YouTube and other Alphabet-operated platforms, to no avail.
We warned our executives about this danger, only to be ignored or given token concessions, and the results have been suicides, mass murders, violence around the world, and now an attempted coup at the Capitol of the United States.  Once again, YouTube's response yesterday was lackluster, demonstrating a continued policy of selective and insufficient enforcement of its guidelines against the use of the platform to spread hatred and extremism.
For example, YouTube refuses to hold Donald Trump accountable to the platform's own rules by choosing only to remove one video instead of removing him from the platform entirely.  Additionally, the platform only cited "election fraud" as the reason for removing yesterday's video, even as he clearly celebrates the individuals responsible for the violent coup attempt.  By not citing the full gamut of his user violations, YouTube is avoiding the proactive action called for by both their workers and the broader public.
YouTube will continue to function as a vector for the growth of fascist movements if it persists in prioritizing advertisers while exposing the public.  AWU's mission states that "we are responsible for the technology that we bring into the world, and recognize that its implications reach far beyond Alphabet."
The battle against fascism will require constant vigilance on many fronts, and AWU stands in solidarity with all workers fighting for justice and liberation, in the workplace and the world. We must begin with our own company.  YouTube must no longer be a tool of fascist recruitment and oppression. Anything less is to countenance deadly violence from Gamergate to Charlottesville, from Christchurch to Washington, D.C., from Jair Bolsonaro to Donald Trump.
Alphabet, in failing to act, has done tremendous damage to the thousands of victims of hate and to the world. Every day without change is complicity.  We remain committed to building change in our workplace for the betterment of all, while continuing to build power for working people everywhere.  Alphabet Workers Union stands ready to meet with Alphabet to find ways to integrate the perspectives of all Alphabet workers to fight against the problems within our company that have contributed to where we are today.
APWU: American Postal Workers Union Statement.  On January 6 and 7, members of Congress carried out their Constitutional responsibility and certified the state-by-state election results of the 2020 presidential election. The path has now been cleared for President-elect Joe Biden and Vice President-elect Kamala Harris to be inaugurated on January 20, 2021. Congress completed its duty despite the seditious and violent assaults on the U.S. Capitol, which sought to stop the certification, disenfranchise tens of millions of voters and overturn the results of the election.
"The APWU joins the entire labor movement and all fair-minded people across the political spectrum in unequivocally condemning the Trump inspired violent attempted coup to stop Congress from validating the vote of the people," said APWU President Mark Dimondstein. "This siege was the result of the 'big lie' that the election was stolen. The President and those in Congress who have fomented this big lie and pressed these efforts to overthrow the results of this election are driving the country toward authoritarian rule and fascism. They are not fit to hold public office, must be held accountable and should immediately resign or be removed." Dimondstein continued, "As workers, we know that none of the rights we enjoy have been simply handed to us. They have been won through generations of struggle. As imperfect and incomplete as our democracy may be, our challenge today is to reject these assaults on our rights and re-commit ourselves to the struggle to advance democracy and win social and economic justice for all." The APWU welcomes the new administration and their pro-postal, pro-union commitments. The APWU also welcomes the two newly elected Senators from GA who prevailed in the GA January 5th "special election" and the improved opportunities for moving pro-worker, pro-postal legislation through the new Congress.
ATU: The ATU Condemns Unprecedented and Heinous Assault on Democracy. Amalgamated Transit Union International President John Costa released the following statement in response to today's attempted takeover of the U.S. Capitol building: "Today is a dark and devastating day in our country's history. What was supposed to be a routine procedure to follow the Constitution and certify the democratically decided election turned into a violent siege on the U.S. Capitol and the foundations of our democracy. While our Nation was founded on freedom of speech and the right to have a voice, this was not an exercise of those rights. We condemn the actions of those turning to violence and mob rule. We will not stand for this unprecedented and heinous assault on our democratic principles."
Coalition of Labor Union Women (CLUW):  Statement by President Elise Bryant. The Coalition of Labor Union Women (CLUW) is infuriated by the attacks at the U.S. Capitol and the enabling of riots by the current administration. There is no question that this is an attack on our democracy. Yesterday, there were countless mass protestors seizing the U.S. Capitol Building and damaging property, leaving four people dead. Immediately, House and Senate members had to evacuate for safety. These tragic sequences of events have proven that the current administration has accepted these violent assaults even when it can cause severe damage to our democracy. At CLUW, we vow to do everything we can to save our democracy from destruction. Over 200 years, our democracy has relied on a peaceful transition of power. And we continue to ensure the Biden-Harris transition in 2021. Protecting our governance is not right or left; it's American. CLUW President Elise Bryant shared the following words: Today, when armed protesters, bent on violence, came to the Capitol where were the troops? What happened to the tear gas and the rubber bullets? The attempted coup, inflamed by a loser, soon to be ex-president, is the America that Donald Trump hopes will keep him in office. Well, he's wrong and so are his co-conspirators! America's might is not in her weapons, but in the hearts of her people who know right from wrong. A crime has been committed and those who engaged or enabled it shall be investigated, charged, and will pay for their crimes. We, the people, have spoken — it's time for a new president and today's lawlessness is proof positive it is time for a change! We will continue to fight to protect our democracy.
CWA:   A Message from CWA President Chris Shelton on the Attempted Trump Coup. Yesterday, the world watched as armed insurrectionists, with the encouragement of the President of the United States, launched an attack on the Capitol in an attempt to undermine our democracy and prevent Congress from certifying the results of the Presidential election.
Two images from their failed attempt to violently invalidate the votes of millions of Americans make their motives absolutely clear: the sight of the confederate flag being paraded through the halls of the Senate and a message scrawled on a door, "Murder the media."
White supremacy is a poison that has been with us since the beginning of our country, and the confederate flag is its symbol, meant to subjugate and terrorize Black, brown, Asian and Pacific Islander and Indigenous people. That was the goal of this mob and the President who asked them to assemble on his behalf.
Freedom of the press is the first target of fascists everywhere, as they seek to silence opposition and suppress any information that contradicts the alternate reality that their narcissistic leader creates to support his racist fantasy world. This freedom is enshrined in our Constitution because a healthy democracy is not possible without a free press.
There is no doubt that each day that Donald Trump continues to hold the powers of the Presidency presents a grave threat to the safety of millions of American and to the stability of our country. He organized an insurrection while ignoring a pandemic. Legislators and members of the Cabinet have taken an oath to defend our Constitution and they must act to remove him from office immediately before he does greater harm to our country and democracy.
But we must not fool ourselves. The end of Trump's presidency does not mean an end to white supremacy in our government. After forcing Congress to flee and vandalizing the Capitol for hours, the insurrectionists were free to walk out the door and head home. After they returned to the Capitol, half of the Republican members of the House of Representatives, who are guilty of aiding and abetting this insurrection, voted to overturn the will of the American people.
Far too many politicians enabled Donald Trump to build and sustain power. Corporate CEOs and board members, driven only by the size of their fortunes, continue to extract wealth from our labor and cynically exploit racism for their own gain.
​
Along with the free press, free, democratic labor unions like ours are targets of fascists who fear the power of workers united in common cause. We must remain committed to the fight to strengthen our democracy and resist white supremacy and fascism. We must continue the process we began last spring to deepen our efforts to dismantle racism, including racism within our union. Together we will build power for all working people.
IBEW:  IBEW International President Lonnie R. Stephenson issued the following statement in response to today's attack on the U.S Capitol. "Today's attack on the U.S. Capitol by violent extremists represents a direct assault on our democratic system. Blame for this horrific event lies directly on the shoulders of President Trump and his enablers in Congress, who have deliberately spread disinformation about the validity of the 2020 election, threatened our constitutional system by disregarding the will of America's voters and promoted an atmosphere of violence that led to what happened today. For too long, Trump's extremist rhetoric, venomous attacks and deranged conspiracy theories have undermined America's faith in democracy, divided Americans against each other and poisoned political debate in this nation. It's clear that one more day of Trump in office represents a direct threat to the health of our republic and we demand his immediate resignation. If Trump does not resign, we call on Vice President Mike Pence and members of the cabinet to invoke the 25th Amendment to remove him. We also condemn the efforts of some Republican lawmakers to overturn the will of the American people by refusing to certify the results of the Electoral College. This represents an unprecedented effort to invalidate a democratic election. Any member of Congress who attempts to thwart the will of the American people as expressed in a democratically held presidential election has no place in the people's house."
LIUNA:  Statement on the Violent Attack of the U.S. Capitol.  Terry O'Sullivan, General President of LIUNA – the Laborers' International Union of North America – made the following statement today:  The disgusting violence during the Congressional Electoral College vote debate today, marks a repulsive moment in the history of the United States of America. Our country is better than this.  
What happened today is a direct result of the irresponsible and reprehensible lies and misinformation fomented by President Trump and his allies. After losing roughly 60 legal challenges, including in the Supreme Court, the continued deceit spread by him and his enablers is deplorable and un-American. Their attempts to undermine a fair and legal election are tantamount to treason. He and his lackeys have attacked our democracy, inciting violence and insurrection.  LIUNA also condemns the Republican Members of Congress who have refused to certify the legitimate electoral college results. With their actions, they have declared themselves enemies of our great Republic and democracy. LIUNA will never forget who they are.
I am convinced more than ever that in spite of the division, strife, and the violence which we saw today, our nation, our democracy, and our institutions will never be broken and will continue on as long as we stand together and work together.  We must come together and move past this terrible and tragic moment. We as a country are bigger and better than our disagreements. There are many more individuals of courage and sense than the cowards who attacked us today.
The American people and the strong, proud, and united brothers and sisters of LIUNA understand the meaning of dedication, commitment, and solidarity. Let us recommit ourselves to working together for the common good, a stronger democracy and the economic well-being of the working-class of this country.
NABTU: Calls for President Trump to Step Down Immediately.  North America's Building Trades Unions' (NABTU) President Sean McGarvey released the following statement in response to the mob of domestic terrorists that attacked the U.S. Capitol building during the electoral college certification proceedings:
"Today's despicable events are unprecedented, and, as we have all seen, are extremely dangerous. North America's Building Trades Unions call on President Trump to immediately step down and transfer power per the Constitution and the Presidential Succession Act of 1947. If he refuses, the Cabinet must immediately invoke the 25th amendment to remove the President. Any less action by the Cabinet, and America should consider them all co-conspirators.
"We also call on Senators Cruz and Hawley to immediately resign along with the twelve other U.S. Senators and the 140 House members objecting to the Electoral College certification. They all must step down immediately.  We call on a bipartisan commission to investigate and identify all planners, funders, and coordinators of this attempted coup and refer them to prosecution by the U.S. Justice Department, and further for them to be prosecuted to the fullest extent of the law.
"If these actions are not taken immediately, in anticipation of what is already one of the worst domestic episodes in our country's history, things could get much worse over the next 14 days very quickly. Thus, we urge all law-abiding Americans to stand up and demand the same to protect our precious democracy from tyrants and thugs."
NALC:  Statement by President Fred Rolando, Letter Carriers.  Yesterday's attack on the U.S. Capitol, just steps from our headquarters, was a disgraceful betrayal of our democracy, our elected officials and the law enforcement personnel who protect them. That it was incited by the outgoing president of the United States makes it all the more appalling. We condemn it in the strongest possible terms. Letter carriers, like our fellow American citizens, are diverse, opinionated and passionate about their values and politics, which NALC appreciates and celebrates. But a line has been crossed that can never be excused, accepted or repeated. Yesterday, should have been a peaceful and happy day. One on which members of Congress represented their constituents and the will of their states' voters by formally certifying presidential election results. It should have been a day when dissenting Americans gathered peacefully to exercise their First Amendment rights to protest. Instead, a mob, triggered by a president who refuses to accept the results of our recent election, attempted to thwart the hallmark of our democracy for more than two centuries–the peaceful transfer of power. That is unforgivable. Although it is deeply saddening that four people lost their lives, we can take some solace in the fact that the attack on our democracy utterly failed. After order was restored, a joint session of Congress reconvened and certified the results of the 2020 Election by accepting the votes of the Electoral College. President-elect Joe Biden and Vice President-elect Kamal Harris will be inaugurated on January 20, 2021. We believe President-elect Biden's record of working with leaders in both parties to make progress and build unity will help us overcome the poisonous partisanship that has plagued our country for so long. I hope every member of our union will join me in doing our part to heal the deep divisions that led to yesterday's tragedy.
NEA:  NEA President Becky Pringle comments on violence at U.S. Capitol.  "Make no mistake about it: What we are witnessing today is an attack on our country and on our democratic institutions. To be clear, these seditious attacks on our Capitol are bred from years of vitriol, hate and bigotry and were fueled by a president and the many elected Republican accomplices who blatantly lied about the election while attempting to overturn the will of the people in a desperate attempt to hold onto power. In America, voters pick our leaders; our leaders do not pick and choose which voices to heed and which to silence.
"We must come together — just as we did in record numbers in the election — to show our students that we will stand together against politicians who incite violence and those who act on it. We will stand up to those who empower the anarchists that have violently stormed the Capitol, trying to overturn the will of the people. We will protect our democracy. The world is watching. Our students are watching."
NewsGuild-CWA:  Statement by Jon Schleuss, President Yesterday's insurrection at the U.S. Capitol was a threat to democracy and an assault on press freedoms. While a violent mob roamed the Capitol, reporters continued doing their jobs, despite knowing that they were likely targets of the attackers since silencing the free press has long been a strategy for fascists. Police temporarily abandoned several floors where reporters were located, putting them at even greater risk.
This shameful assault is the direct result of the rhetoric spewed by politicians incapable of accepting the truth, or cynically relying on falsehoods to inflame division for political gain. The president and lawmakers who spread these lies have blood on their hands. Outside the Capitol, an angry and violent mob attacked camera crews and reporters, stealing and damaging equipment. Although few rioters were arrested, in the evening police briefly detained journalists as they worked to cover the mayhem, despite the fact that journalists were clearly exempted from the D.C. curfew. Thankfully it appears that no journalists were severely injured yesterday. "Yesterday was an absolute embarrassment for the U.S." said NewsGuild-CWA President Jon Schleuss.
"It's the role of the free press in a democracy to report, give context and inform the public, especially during times of chaos. "The world witnessed the assault on our democracy thanks to the courageous work of journalists who put themselves in harm's way to report the news. I saw what the rest of the world saw—a deluded mob invading our house of democracy in an attempt to subvert an election," Schleuss added. Immediate action must be taken to stabilize and support the core base of our democracy: a free press informing the electorate. Media literacy should be required in schools:
Yesterday's mob acted on lies spread by politicians and operatives intent on spreading misinformation. It's clear that we need to prioritize media literacy in our education system. Too many people accept lies and conspiracy theories as fact. Media literacy education would provide our children with the skills necessary to understand the intent behind messages: understanding bias, determining fact from fiction and looking for alternative sources of information. Media literacy is essential if we intend to confront extremism, radicalization and racism. More local news jobs now: The chaos and discord we are seeing is in part due to the erosion of local news across the U.S.
There are more than 40,000 fewer journalists working in America today than there were a decade ago, which has left a vacuum that increasingly is filled with conspiracy theories and partisan propaganda. The pandemic has sped up the loss of journalists across the U.S., with more than 11,000 journalists losing their jobs just in the first half of 2020. Greedy corporations, media consolidation and the gutting of newsrooms by financial players has robbed us of local truth tellers. Hedge funds and greedy private equity have been robbing us of our democracy. They need to be rooted out of our industry and we must invest in more local news jobs: through the work of local do-gooders, foundations and public support. Public policy must support a free and robust press.
Police must stop interfering with reporters: This summer dozens of reporters were targeted, assaulted and arrested by police all across the United States: after the murder of George Floyd in Minnesota, the protests in Los Angeles and in Washington, D.C. Police must be held accountable and prosecuted for interfering with the First Amendment rights of reporters gathering and disseminating the news.
NNU: Nurses Denounce Insurrection at U.S. Capitol. "Those Responsible Should be Held Accountable" National Nurses United (NNU) joined with people across the United States to express shock and horror at the right-wing assault on the U.S. Capitol today and called for those promoting it to be held accountable.
"Nurses agree with the statement by President-elect Biden that 'our democracy is under unprecedented assault, unlike anything we have seen in modern times' and his labelling of the violent assault on the Capitol today as 'insurrection,'" said NNU Executive Director Bonnie Castillo, RN. "As nurses, we are deeply disturbed by the scenes of violence and threats to our elected leaders, the dedicated people who work in the Capitol, and anyone else subjected to this unconscionable attack on our most fundamental symbols of democracy," said Castillo. "This was a violent attempt to stop Congress from confirming the people's choice for president and vice president. As such, it's an attack on democracy itself, instigated by the president of the United States," Castillo continued.
Sadly, "the actions we have seen unfold today are the inevitable result of what President Trump has inspired and incited for years, from encouraging attacks on protesters at his rallies and on officials ordering safety measures in response to the pandemic, to embracing armed white supremacists, to the constant demonization, in the starkest of terms, of his political opponents." "All of that has escalated in the weeks leading to the election, and especially after the November vote when the president has denounced the legitimacy of a democratic election, promoted outlandish conspiracy theories, and urged his armed supporters to act to 'save this country.'"
"The president has been encouraging sedition. No one is above the law," said Castillo. "He is responsible for the scenes we have seen today at the Capitol and he should be held accountable." Going forward, after Biden's inauguration, "we as a nation must come together to begin to heal, to refocus first and foremost on containing this terrible pandemic, and on being able to respect political differences and rebuild a democracy that has been so endangered."
Pride at Work: Statement by Pride at Work Executive Director, Jerame Davis, on the attack on the US Capitol today. "What we're witnessing at the Capitol today is nothing less than an attack on our country and on our people brought to life by a president who refuses to accept that millions turned out to elect Joe Biden by overwhelming margins. "Let there be no doubt, this is what terrorism looks like: an angry mob violently invading our Capitol and threatening our elected leaders, even the very Republican leaders - who egged them on. "We are here today due to the cheering of some Republicans and the silence of others. This president and his Republican allies fed lie after lie to their supporters about this election in order to undermine the will of the people and desperately attempt to hold onto power they clearly do not deserve. "They will not prevail."
RWDSU:  Statement  from RWDSU President Stuart Appelbaum on the Storming of the Capitol.  "The events that occurred in our nation's capital yesterday should have horrified all people living in our country. The very act of storming the U.S. Capitol in the name of overturning this election directly undermines our democracy. At the same time, we are dismayed by the wholly inadequate response from law enforcement officials.
"Throughout the pandemic, we have seen a historic movement for racial justice grow in this country. Unfortunately, the response from the President, law enforcement, and the national guard at many Black Lives Matter rallies throughout our cities could not have been more different. It pains us to watch the security at the Capitol put up little to no resistance as they both let in and escorted out the people attempting this coup against our nation. We have to be clear - the probable reason that this coup attempt was not dealt with in the same way as the Black Lives Matter rallies was because the people attempting it were white and not seen as threatening. We must call this out and take a stand against the deep racism that allows a situation like this to take place.
"It cannot be lost on us that Donald Trump encouraged his supporters to "take action" and "stand by" for January 6th as he continues to spread conspiracies and lies about the results of this election. In the labor movement, we're used to employers using these same kinds of tactics to undermine workers' rights and keep working people disempowered. As a union, we know how to overcome division and bring people from many different backgrounds together with a common goal for justice. Although Trump lost this election, we can't expect this way of thinking to disappear once he is removed from office. We need to join together across race, gender, and class lines to push back against Trumpian logic and this rise of the far right. Our democracy depends on it," 
SEIU: Remove Trump, Rebuild our Democracy. Statement from SEIU International President Mary Kay Henry on the attack on the US Capitol incited by President Trump:  It's no coincidence that at the same time millions of voters of all races elected Georgia's first Black senator, violent white supremacists traveled to Washington, DC, to desecrate our democracy. Power-hungry, self-serving Republican leaders and the greedy corporate CEOs who pay them have spent decades dividing workers, scapegoating immigrants, and profiting off racism. Now, Trump and his backers have incited white supremacist terrorism in an attempt to delegitimize the votes of tens of millions of Black, brown, white, Asian Pacific Islander, and Indigenous voters. 
This treason must not stand. We join our allies in calling for the immediate removal of Donald Trump.
This insurrection is about wielding power to threaten what we hold dear -- the chance for families of every race to thrive, to have good jobs and healthcare, for our kids to be safe and have clean air to breathe. It will not stand. In the labor movement, we have learned the lessons of division and hate -- it has cost every American worker and our families. No more. 
Tonight, I am thinking about the essential workers who have to make their way home after the curfew in Washington, D.C. Workers who have spent the day with COVID patients, cleaning buildings, keeping people fed and safe. I am thinking of Black and Brown families waiting for their loved ones to come home, watching the news of armed white supremacists in the Capitol, carrying weapons and Confederate flags and breaking into the House chamber and offices without being arrested, when peaceful Black Lives Matter marchers this summer were met by police in riot gear with tanks, tear gas, and rubber bullets.
As we reckon with this attack, we must not be deterred from demanding the transformative change this country so clearly needs. Working people  turned out in record numbers to elect Joe Biden in November. Now, Georgia voters have chosen Rev. Raphael Warnock and Jon Ossoff, and we choose to move forward together toward a just, inclusive America, where every worker is respected, protected, and paid fair wages. We will take on corporate power and structural racism, fight for an economy that works for working people, and build a multi-racial democracy where all of us can fully, safely participate.
UAW:  Statement by President Rory Gamble. This is a very sad day for our nation and our democracy. This is not how this great nation, nor responsible citizens handle elections or our differences. We are a better people than this storming mob and I am optimistic that despite today's events, we will regain our footing and we will move forward for the greater good of all of us. As a nation, we are learning in a profound way that we all have a personal responsibility to safeguard this democracy. We cannot take our system of government for granted and we must be vigilant to ensure that our democracy maintains its historical position as the gold standard for freedom and liberty. Today's actions must not be allowed to alter that. This is truly a singular point in our history. The violence at the Capitol today is a deliberate and despicable attempt by extremists to disrupt our great republic. It will not succeed. We, as a nation, are stronger than this one shameful incident. There is room in this great democracy, as in our own union, for disagreement. It is one of the great strengths of our democratic system. We are better than that and today above all, we must remember that there is more that unites us than divides us. There is absolutely no room for this type of mob rule in a functioning democratic system. This is a day none of us should or will ever forget. But please let us remember that there is much work to be done—and we must take the personal responsibility to do it together. We are the United States and unite we must. I urge us all to work together to move forward and heal our nation.
United Steelworkers (USW): President Donald Trump spent the last four years stoking the flames of division, feeding a constant stream of deliberate misinformation to his base and openly attacking the basic tenets of American democracy. His focus has been his own self-interest and not on the preservation of our nation or his constitutional duties as the president. Yesterday, his inflammatory rhetoric finally culminated in a group of his misguided supporters storming the U.S. Capitol, and putting the lives of government leaders and workers at risk. Tragically, four people are now dead as a result of this unpatriotic attack, and America is left to pick up the pieces in the wake of domestic terrorism he has spurred. The USW is repulsed by this episode and this president, but we are determined to do everything we can to protect our republic and ensure President-elect Joe Biden and Vice President-elect Kamala Harris's peaceful transition to the White House on Jan. 20. As a free and independent labor movement, we can never stand by and watch a demagogue tear down our institutions and rights as Americans. The nation is not Donald Trump's private playground. The people have spoken, as they do every four years, and it is time to move forward rebuilding our country on a firm foundation of equality, justice and peace.
UE Condemns Political Violence in DC:  Statement of the UE officers.  UE unequivocally condemns the violent attempts by a group of supporters of President Trump to disrupt the certification of the electoral college results in Washington, DC yesterday. This was an attempt by a small group of extremists to overturn a democratic election in which record numbers of U.S. citizens participated. This assault on democracy also threatened the safety of thousands of public employees who work in the capitol.
The responsibility for these attacks lies squarely with Trump and a shameful number of other Republican politicians who have repeated, for two months now and with no evidence, the "big lie" that the presidential election was stolen. Despite being rebuffed by Republican state officials, Republican-controlled state legislatures, and more than 60 rulings from Republican-dominated courts, Trump has continued — even after yesterday's violence — to claim that he won the election.
Trump's ability to persuade so many people to engage in political violence is rooted in the fact that the working class has been repeatedly lied to about the source of our economic problems. Politicians of both parties have claimed that the globalization, corporate downsizing and deindustrialization that have decimated both urban and rural communities is inevitable, or even desirable. With few political leaders or media figures willing to point out the role of corporate capitalism in squeezing the working class, it is hardly surprising that many are receptive to the claims of demagogues like Trump and the white-supremicist militias he promotes, who blame and demonize immigrants, people of color, or union members.
The political climate produced by this type of demagoguery offers unprecedented opportunities for white-supremacist groups, who were active participants in yesterday's attacks. The growth of far-right and white-supremacist groups is not only a danger to our democracy, and to the lives and safety of people of color, it is also a roadblock to the working-class unity that we need to win economic justice and a decent standard of living.
Trump has demonstrated that he is a danger to all Americans, and willing to incite violence to get his way, even to the extent of jeopardizing the capitol building and the thousands of people who were trapped there on January 6. We join the calls that he resign immediately, and if he refuses to do so, that he be removed from office and not allowed to do any more damage.
Perhaps more importantly, we call on Congress and the new administration to really deliver on the things that all working people need so that all can have a decent standard of living, including protections from the COVID-19 pandemic. With the elections in Georgia giving them control of the Senate, that responsibility is now firmly on the Democrats. Failure to meaningfully raise the standard of living for working people will provide fertile ground for increased division, political chaos, and violence.
Only by focusing on issues that directly impact all working people and their families, and providing real solutions that allow all people to live with dignity, can our nation begin to heal the divisions that have been amplified during the Trump administration, and led to yesterday's shameful events.
UMW: Statement by Mineworkers President Cecil Roberts.  The violence that swept up Capitol Hill in Washington, D.C. yesterday was sickening to all true Americans. There is nothing wrong with peaceful protest. Every American has the right to protest and to make our voice heard. I and millions of others who served in our nation's armed forces fought our country's wars to secure that right. But no one, no matter how high their office, has the right to incite violence. No one, no matter how deep their grievance, has the right to destroy property. No one, no matter what their political views, has the right to threaten members of Congress and their staffs who are performing their constitutional duty on behalf of all of us. We saw all of that yesterday, and worse. People are dead. Police officers are injured. And for what? Nothing was changed. Congress discharged its duty and America's democratic principles prevailed. All we are left with are the images of a violent mob attacking the very foundation of our Republic. Once they did that, they stopped being protesters and became criminals. America is better than that.