labor
Progressives Are Ready To Strengthen Labor Unions In Virginia. Moderate Democrats, Not So Much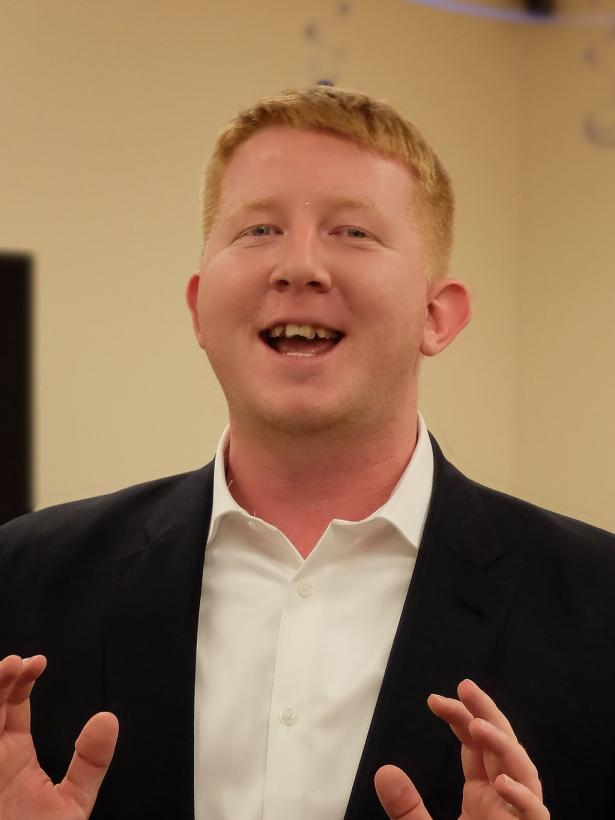 Lee Carter Virginia State Delegate (D-Manassas) and DSA member,
More than a year after Democrats took control of Virginia's legislature, a law loathed by labor unions is still on the books. Del. Lee Carter (D-Manassas) says that's not an oversight.
Many Virginia Democrats continue to protect the commonwealth's 74-year-old "right to work" law, says Carter, a self-identified socialist who is seeking to repeal the statute during the new legislative session that began last week. This will mark the third time that Carter has sought to overturn the law, which weakens labor unions by allowing workers to opt out of paying dues even if they're covered by a union contract.
Carter says "right to work" is rooted in racial segregation and has lost popularity among everyday Virginians. But statehouse Democrats are reluctant to back a repeal, he says, because they've been bombarded by anti-union messaging from business groups.

"That's all that my colleagues are hearing — the corporate line on things," says Carter, who is also running for governor. "They're not actually hearing the will of the people."
Virginia is among 27 states with a "right to work" law; Maryland, D.C. and most "blue" states don't have one. Southern states widely adopted such laws in the 1940s and '50s, motivated by a desire to stifle interracial labor organizing and limit worker power. Carter calls the statute a "vestige of a racist past" in Virginia.
"'Right to work' was intentionally designed back in the '40s to disempower working people, to bankrupt hard-fought unions that people struggled to form, and it did so at the time by exploiting racial tensions between Black workers and white workers," Carter says. "The law said to white union nonmembers, 'You have a right to work here without being in an integrated union.'"
Virginia Code § 40.1-62. No employer shall require any person, as a condition of employment or continuation of employment, to pay any dues, fees or other charges of any kind to any labor union or labor organization.
Several states, including West Virginia, Kentucky and Wisconsin passed "right to work" laws in the last 10 years. Supporters say the statute promotes worker choice and attracts jobs. The Virginia Economic Development Partnership has defended "right to work" repeatedly against challenges in the General Assembly, saying corporate executives prefer to set up shop in "right to work" states.
"Prospects and site consultants typically want to know Virginia's position on 'right to work' early in the selection process. Most manufacturing prospects will only consider new locations in 'right to work' states," VEDP said in a fiscal analysis of Carter's 2020 repeal legislation. The bill later died in a House committee.
Left-leaning watchdogs reject the argument that "right to work" laws are a powerful incentive to businesses, saying other factors such as the local talent pool and infrastructure are more important to high-paying employers. A 2014 report by the Congressional Research Service said it's difficult to gauge what impact, if any, "right to work" laws have on states' economic performance.
Voters in the commonwealth appeared to signal waning support for "right to work" in 2016, when they rejected a ballot measure that would have enshrined the law in the state's constitution. But polls have shown weak to tenuous public support for a full repeal. And even with a Democratic majority in place, the General Assembly doesn't appear ready to toss out "right to work" — at least not this year.
State Sen. Dave Marsden, a moderate Democrat from Northern Virginia, says making major changes to state labor law could jeopardize Virginia's recovery from the pandemic.
"We need to make sure that Virginia has a strong business climate," Marsden tells DCist. "I don't think now is the time to do this… putting this kind of shock to Virginia's system this year would be ill-advised."
Marsden says Democrats have helped unions in other ways. He points to a bill approved last year that could grant more power to public sector union members.
"I'm pro-union," the Democrat says. "I just don't want to undo 'right to work' at this time."
Senators also rejected a compromise measure from Senate Majority Leader Dick Saslaw (D-Springfield) last year that would have allowed unions to collect some fees from nonmembers. Just three members of the Senate's powerful Commerce and Labor committee voted for that proposal.
"If sharing the expenses of writing a union contract can only get three votes, a full repeal of Virginia's prohibition on union shops does not appear to have the votes to pass the Senate right now," says Sen. Scott Surovell (D-Fairfax), who supported Saslaw's compromise.
Carter's latest repeal attempt may have already encountered an early roadblock. As of Jan. 19, House Speaker Eileen Filler-Corn had not assigned the bill to a committee, prompting speculation from supporters that the Democrat intends to let it die.
A spokesperson for Filler-Corn says that's not the case.
"Bills can be submitted until Friday evening. After that deadline, new and remaining bills will be referred to committee based on each committee's existing workload," says the speaker's communications director, Kunal Atit.
Supporters of repealing "right to work" have invoked its ties to white supremacy in their appeals to Virginia Democrats. On Dr. Martin Luther King, Jr. Day, progressive activists and candidates in Virginia tweeted support for overturning the law, quoting Dr. King's condemnation of "right to work" in 1961.
"Right-to-Work…provides no 'rights' and no 'work,'" Dr. King said 60 years ago. "Its purpose is to destroy labor unions and the freedom of collective bargaining."
Carter acknowledges that he faces a challenge persuading his fellow Democrats to overhaul Virginia's labor laws during a pandemic. But that's one reason he's campaigning to be the state's first socialist governor.
"The road to repeal gets a lot easier with a governor that wants to do it," Carter says.
Ally Schweitzer is Dcist Reporter, Affordability Desk
DCist is supported by a community of members … readers just like you. So if you love the local news and stories you find here, don't let it disappear!