Media Bits and Bytes - January 26, 2021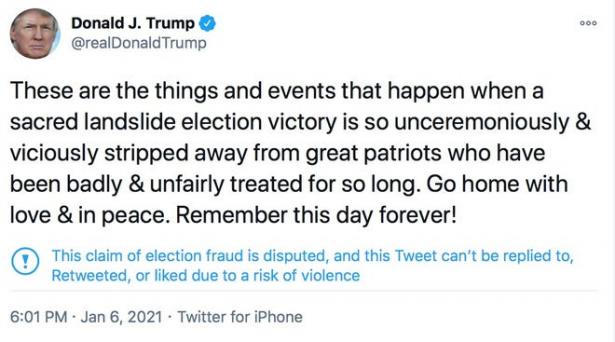 Credit,USA Today
By Stan Horaczek
Popular Science

What does the future hold for Net Neutrality, the digital divide, and big tech regulation?
The Capitol Rampage and Social Media
By Isobel Asher Hamilton
Business Insider
Democrats attack Facebook, YouTube, and Twitter over the Capitol riots, saying the tech giants play "whack-a-mole" with radicalization.
By Lia Eustachewich
New York Post
Twitter has suspended several popular accounts with alleged ties to Antifa — which have more than 71,000 followers combined — following violence on Inauguration Day.
Tech Titans in Trouble
Pandemic Woes  By Eve Szeftel, International Business Times
WhatsApp  By Gennie Gebhart, Electronic Frontier Foundation
Alibaba  By Celia Chen and Jane Zhang, South China Morning Post
Facebook's Political Clickbait
By Leon Yin and Alfred Ng
The Markup
Zuckerberg testified under oath before Congress in October that Facebook had stopped recommending all "political content or social issue groups." But the platform continued to recommend political groups to its users throughout December.
The Curious Case Against Sci-Hub and Libgen
By Anirban Pathak
The New Leam
Three major publishing houses (Elsevier, Wiley and American Chemical Society) charge that online repositories which provide free access to millions of articles and books are involved in copyright infringement. 
By Francesca Emanuele
Red Pepper
Despite recent attacks on Bolivia's Movement for Socialism, the country's voters were ultimately undeterred by disinformation tactics.
A right-wing reactionary press unashamedly peddles disgusting scare stories aimed at stoking racism and xenophobia.
By Katie Smith
Book and Film Globe
Members of The New Yorker Union undertook a 24-hour work stoppage to demand better wages. Many subscribers and supporters took to Twitter to share their surprise that such a prestige publication would not recognize its staff's union.
By Mitchell Clark
The Verve
The Defense Intelligence Agency (DIA) has confirmed that the US government buys location data from data brokers. The data, collected by citizens' smartphones, isn't separated by whether a person lives in the US or outside of it.