Media Bits and Bytes - March 9, 2020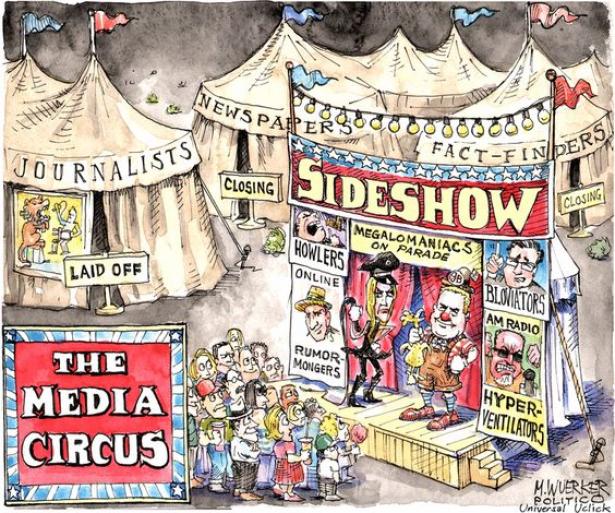 Credit,Matt Wuerker/Politico
By Ignacio Ramonet
teleSur

Let no one think that decisive changes in communication will not have consequences for the very organization of society and its political structuring as we have known it up to now. The future is a long way off and the decisive changes have only just begun.
By Giuliana Sgrena
Il Manifesto Global
Politics and the media do not focus on this large and, above all, very rich continent, but its riches are a source of exploitation, business and speculation that are better accomplished without witnesses.
By Alex Shephard
The New Republic
While presenting as a top pundit for NYT, NPR and PBS for 17 years, Brooks had been leading Weave, a project affiliated with the Aspen Institute that aimed at "repairing our country's social fabric." It is a quasi–think tank, with a dash of cultishness. 
By Chris Serres 
Minneapolis Star-Tribune
"Vaccine chasers" pool their intel on Facebook, with tips on where to get the shots on short notice.
Podcast: Newspaper Cuomo vs TV Cuomo
By Brooke Gladstone
On the Media, WNYC
In the past few weeks, Cuomo's television persona as the deeply principled, self-aware fatherly truth-talker has faltered. Alex Pareene, staff writer at The New Republic, talks about the collision of Cuomo's "newspaper" and "television" personas in this moment.
By Danny Vena and Jason Hall
The Motley Fool
TikTok, the short-form video service owned by China's ByteDance, continues to face an uncertain future. The Biden administration is conducting its own wide-ranging review of the security risks related to the China-based company's data collection.
By Lauren Harris
Columbia Journalism Review
The journalism crisis of the past year has been a crisis across the board, for digital media, magazines, radio & TV stations, and—especially—newspapers. 
Substack: Careful What You Wish For
By Ari Paul
FAIR
Writers can sell content directly to their readers at the website Substack, untethered from any editorial constraint. Now a debate rages in the media world about the trend of writers with substantial online followings switching to that one platform.
By Dexter Thomas
Vice
Cops around the country are trying a new "hack": play copyrighted music to prevent activists from posting video to Instagram or YouTube.