New Anti-Duterte Coalition: 'Unless We Are United, We Cannot Win in 2022'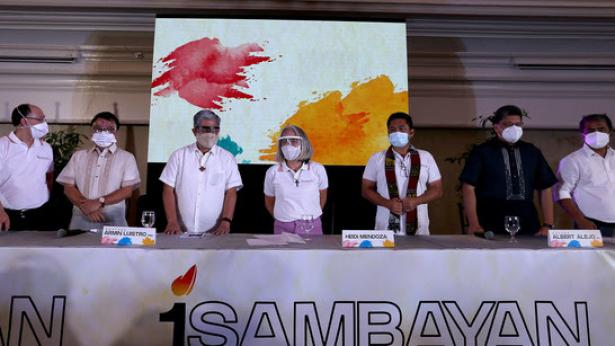 The 1Sambayan's initial choices for president or VP include Vice President Leni Robredo, Senators Nancy Binay and Grace Poe, Manila Mayor Isko Moreno, and ex-senator Sonny Trillanes,Rappler
At the launch of the 1Sambayan electoral coalition at an exclusive sports club in Makati City, lead convenor and retired Supreme Court (SC) associate justice Antonio Carpio said only a united opposition could win against the authoritarian forces of the Duterte regime. 
"We have discussed this, again and again, and this is the understanding of everybody: That unless we are united, we cannot win in 2022," Carpio said during the launch on Thursday, March 18.
"We have the majority, but the majority will become a minority if they are divided. So we have to remain united, and that is the unifying force," he added. 

The new coalition now gathers together a disparate group of Duterte dissenters who vowed to set aside their basic ideological differences to finally form the ever-elusive united opposition alliance. 
1Sambayan is represented by democratic forces from the progressive Bayan Muna on the left and the Magdalo party of retired military personnel on the right. The new bloc is led by the powerhouse troika of Carpio, former ombudsman Conchita Carpio Morales, and ex-foreign secretary Albert del Rosario.
Other convenors include La Sallian Brother Armin Luistro, retired rear admiral Rommel Jude Ong, lawyer Howie Calleja, former Negros Occidental governor Lito Coscolluela, former Commission on Audit commissioner Heidi Mendoza, Partido Manggagawa chair Renato Magtubo, and Rickie Xavier.
Their goal is to endorse a single slate of national candidates – president, vice president, and 12 senators – who would fight whoever would be fielded by the Duterte administration come 2022.
This, said convenor Neri Colmenares of Bayan Muna, is the main unifying point for 1Sambayan,
"Many of us are here today precisely because we are unified first that the issue of [the] 2022 elections, when another Duterte comes into power, will be substantially affecting our survival as a nation," said the former congressman. 
"And because that is what is at stake, many of us are here because we agree that we all want a united opposition to resoundingly defeat the forces of tyranny that has ruled this country in the last 5 years. For us, that is the main unifying point here," added Colmenares.
Among those 1Sambayan is considering to endorse for the two highest posts are: 
Vice President Leni Robredo of the once-ruling Liberal Party
Senator Nancy Binay of the United Nationalist Alliance
Senator Grace Poe, who ran but lost to Duterte in the 2016 presidential race
Manila Mayor Isko Moreno of the National Unity Party
Former senator Antonio "Sonny" Trillanes IV of Magdalo
So far, none of the coalition's choices have categorically stated their intention to gun for higher office in 2022.
The coalition remained open for suggestions or nominations for other candidates interested to get their endorsement.
But one thing is clear: those who are enabling the tyranny of Duterte – like his daughter and Davao City Mayor Sara Duterte and Senator Manny Pacquiao – would surely not be endorsed by 1Sambayan.
"We are a coalition of democratic forces. We reject those who are identified with authoritarianism. We reject those who are responsible for extrajudicial killings or who abet extrajudicial killings," said Carpio when asked if the coalition would ever back the Davao City mayor.
The former SC justice said the same thing when asked if there was a chance for Pacquiao to be considered. 
"There are many of us who do not agree with his position on extrajudicial killings. He's also for the death penalty although he quotes the Bible. It will be difficult for us to consider him considering his affiliation with President Duterte," said Carpio. 
The 1Sambayan coalition planned to select its final slate by subjecting potential bets to a vetting process, where they would be screened based on their track record, "upright" stand on key issues, platforms, and winnability.
Convenors will conduct their own online survey, guided by the surveys of other polling groups, to gauge the winnability of the aspiring candidates. Potential bets will also be interviewed.
All 1Sambayan coalition members would then have to vote from the names to be shortlisted by the convenors.
Will 1Sambayan help raise the multi-billions needed to mount a successful presidential campaign? For Carpio, the money would come as long as the coalition stood behind one "viable" candidate.
"If 1Sambyaan will remain united, we have a viable candidate, we expect businessmen who want to improve the economy, to right the course of action of government, will contribute. So it's important to have a very viable candidate," said Carpio.
Mara Cepeda writes about politics and women's rights for Rappler. She covers the House of Representatives and the Office of the Vice President.