labor
Organizing Continues in the South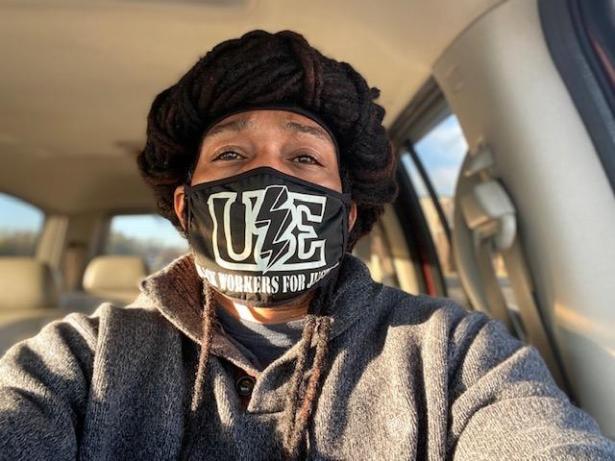 Chris Hollis is among the truck drivers involved in organizing a union at Valley Proteins' animal waste rendering operations in North Carolina., Chris Hollis
(1) "Workers Face Off Against Rendering Company in Rural North Carolina," by Lewis Kendall, Facing South. April 16, 2021
(2) "State of the Union: The State of Labor in Tennessee," by Alejandro Ramirez, Nashville Scene, April 15, 2021
(3) "Mine Workers Vote to Continue Their Strike," More Perfect Union. April 21, 2021

(4) "Virginia Public Sector Workers Are Organizing to Make Their New Bargaining Rights a Reality," by Joe DeManuelle-Halll, Labor Notes, March 25, 2021
* * *
(1) "Workers face off against rendering company in rural North Carolina"
Excerpt:
Herman Purvis starts work each day a little before 8 in the morning, driving the first of what will likely total several hundred miles over the course of his 11-hour shift from his home in Windsor, a small town in northeastern North Carolina's Bertie County, to the Valley Proteins plant in the nearby town of Lewiston Woodville.
There, he hops into the cab of a company truck, hitches up a trailer, and sets off. Sometimes he drives to another North Carolina city like Kinston or Fayetteville. Other times he'll cross the state line to Linville, Virginia, home to another of the roughly 30 plants Valley Proteins has dotted mostly around the Southeast. Purvis's loads vary, too: Some days his trailer is filled with feathers or bones, and on others it's topped with a tanker full of animal blood. On occasion it's a ground up, sludgy combination.
Headquartered in Winchester, Virginia, Valley Proteins is one of the largest rendering companies in the United States. Valued at one point at $500 million and privately owned by brothers Gerald F. Smith Jr. and Michael A. Smith, it reports hundreds of millions of dollars in annual sales. The company is part of a $10 billion a year industry that takes scraps from slaughterhouses and melts them down into liquid grease and powdered byproduct that it then sells back to meat processing facilities or pet food manufacturers. It also collects millions of pounds of used cooking oil each week from restaurants to sell for animal feeds or conversion into biofuels.
Purvis worked in law enforcement for 20 years, a career that culminated with his appointment as chief of police in Lewiston Woodville, a town of about 500 people near the Albemarle Sound. He drove trucks while serving in the Army in the late 1980s, so, when he was searching for a side job, driving for Valley Proteins made sense. But even before he became a full-time driver for the company in 2019, Purvis knew there were problems. He and several other workers who Facing South is not naming for fear of retaliation described the conditions at Valley Proteins as unsafe and unjust.
Workers say the pay isn't commensurate with the long hours and physical nature of the job. Drivers are paid through a combination of hourly wages and a per-load rate, on top of a weekly "performance" bonus, which typically adds up to a couple hundred dollars per 10-plus hour shift. But workers stand to lose that bonus if they spill their load, which they say is a risk because rigs, trailers, and equipment are old and falling apart, with the clutches on some of the trucks so worn that it's difficult to shift gears without lurching. One driver said he hasn't logged a full week of work since last year due to trucks constantly breaking down. They also say safety trainings are nonexistent, and exhausted drivers — who are at greater risk of accidents — fall asleep in plant parking lots after a shift.
In an email, co-owner Michael A. Smith called workers' allegations "false and unsubstantiated." He said the company holds regularly scheduled safety meetings, inspections, and audits. He also said drivers are required to do pre-trip inspections of equipment, have the right to refuse to drive anything they deem unsafe, and that the company has full-time mechanics on staff to make repairs.
But Purvis said company management is unresponsive to drivers' concerns. Another worker said, "You'd see more organized toddlers at a daycare."
Finding a better gig isn't an easy option, though. Part of a historically Black and Tuscarora agrarian swath of North Carolina, Bertie is one of the most economically disadvantaged counties in the state. "You don't have too many options and they know this, and it's why they work us how they do," said one Valley Proteins worker. "They want to work the dog shit out you, to where you go home and can't smile." For many in the area, the choice has traditionally been between a job at Valley Proteins or at the Perdue chicken plant just down the road — a dearth of opportunity that workers say gives the companies leverage to treat employees poorly and play fast and loose with safety.
But now, Valley Protein workers are trying a new tack. Galvanized by the worsening working environment, a handful of employees recently formed a union organizing committee that has already begun to win improvements.
Pandemic spurs organizing
When the COVID-19 pandemic hit last year, conditions at Valley Proteins deteriorated, workers say. Off the bat, Purvis and other drivers allege the company was slow to provide personal protective equipment. Though co-owner Michael A. Smith said management worked "tirelessly" to supply it, Purvis still brings his own cleaner to sanitize the truck cab before his shift. The company also ramped up hours and failed to institute regular hazard pay. Workers came in sick, afraid of a missed paycheck or getting in trouble with an employer that typically allowed just two sick days per year.
[Read more here]
(2) "State of the Union: The State of Labor in Tennessee" 
Excerpt:
Vonda McDaniel has seen a lot of changes in her nearly 30 years of labor organizing. McDaniel first joined a union in 1992, at the Firestone-Bridgestone tire factory in La Vergne where she worked. In a matter of months, she was elected as the shop steward, and that kicked off a lifetime of workers' rights advocacy.
In 2013, McDaniel was elected president of the Central Labor Council of Nashville and Middle Tennessee, an affiliation of more than 40 unions and community organizations, and she holds the position to this day. She says her job at the tire factory paid well and that it "helped me pay off my student loans in record time, and helped to get a good start." But she doesn't see that same kind of opportunity today — people can expect to work longer with less guarantee of a retirement and benefits.
"There was a time in this country where if you went to work for a company and remained loyal and improved your skills and helped them to improve their bottom line, that you could depend at the end of it on [receiving] retiree health care and a pension," McDaniel says. "And that social contract has been turned on its head in favor of CEOs making enormous salaries and making sure that the shareholders are taken care of. And I just think that we have reached a point where that's not sustainable."
There's a lot of debate about the impact unions have on the economy, but evidence suggests unions are good for employee wages. McDaniel points to a 2018 study out of Princeton University, which found that since the 1930s, having more unions has meant more income equality — for members and nonmembers alike. Unions may have also helped some workers weather the economic impact of the pandemic. According to the Bureau of Labor Statistics, union members lost fewer jobs than nonunion workers in 2020. They also received higher wages.
That said, the national percentage of workers in a union was just 10.8 percent in 2020. In Tennessee, only 4.4 percent of workers belonged to one in 2020 — a far cry from the membership rate of 22 percent back in 1964.
The South hasn't been too hospitable to labor organizers in the past century. In the 1940s, Southern states began to enact varying versions of so-called "right to work" laws that hampered the abilities of unions to collect dues and recruit workers — and which set the field in favor of business owners. Here in Tennessee, lawmakers are ready to add the state's 1947 right-to-work law into the state constitution — an act that might not immediately affect labor laws, but further ingrains the state's unfriendly attitude toward unions into its DNA.
Despite all this, McDaniel sees some hope for labor advocates. She believes the tide is turning when it comes to union support and worker mobilization — not just nationally, but here in Tennessee. And she's not the only one.
"The feeling right now within labor organizers is one of renewal, particularly at the local level," says Ethan Link, the assistant business manager of the Southeast Laborers' District Council and treasurer of the Central Labor Council. Link says he's seen a rejuvenated labor movement in Nashville, Memphis and Chattanooga, particularly when it comes to collaborating across different trade and industry unions — a development he credits to McDaniel's tenure. He also says he's seen more interest in proactive organizing, not just unions "fighting defensive fights."
Support for workers hasn't come solely from union organizers either. Other activists have voiced support for the cause, and workers' rights advocates have likewise shown support for local immigrant communities and movements like Black Lives Matter.
[Read more here].
(3)  "Mine Workers Vote to Continue Their Strike"
Workers at Warrior Met Coal in Alabama vote overwhelmingly to continue their strike. "We ain't going to take no bullshit!"
Watch here.  
(4) "Virginia Public Sector Workers Are Organizing to Make Their New Bargaining Rights a Reality" 
Excerpt:
When Virginia changed its law last year to allow local government workers to bargain collectively, it was a leap forward in a time when the trend is generally in the opposite direction.
As always, the devil is in the details—and there's a lot of devilry here. But the change presents a substantial opening for unions. Now teachers, firefighters, and sewer workers are getting organized and pushing local governments to bargain over such issues as pay and staffing.
Bargaining is still banned for state employees. But the new law, which takes effect May 1, allows cities, counties, and towns to bargain with their employees, an activity that had been expressly forbidden since a 1977 state Supreme Court ruling, codified by a 1993 law.
Counties and municipalities can now pass local ordinances to establish collective bargaining rights—if they choose. The law sets up a loose process, with huge parts left up to local interpretation. A majority of workers in a unit can petition the employer. The governing body, such as a school board or city council, must then vote on whether or not to allow collective bargaining.
[Read more here].