Global Left Midweek - May 26, 2021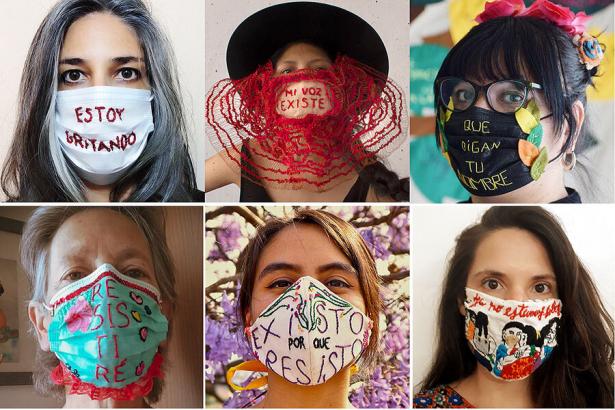 Clockwise from upper left: "I'm screaming" (Uruguay), "My voice exists" (Peru), "Let them say your name" (Chile), "We are no longer alone" (Argentina), "I exist because I resist" (Mexico), "I will resist" (Chile). Credit,courtesy of Des-bordando Feminismos
__________
Palestine: Lessons of Lydd

Discrimination, police violence, and disparities between Palestinians and religious settlers in the city of Lydd have led to the largest uprising in decades.
__________
Tel Aviv: Thousands Demand Peace
Tobias Siegel / Jerusalem Post
Protesters voiced support for the recent ceasefire between Israel and Hamas and called on the government to take immediate action to reach peace with the Palestinians.
__________
Provisional Government For West Papua
Paul Gregoire / Sydney Criminal Lawyers
The West Papuan provisional government has just announced that it has covertly established a cabinet and government departments, along with having appointed ministers, inside Indonesian occupied West Papua to directly challenge Jakarta's rule.
__________
Protest Embroidery and the Fight Against Femicide
Whitney Eulich / Christian Science Monitor (Boston)
These women in Latin America turn stereotypes about needlecraft upside down. In their hands, beautiful sewing is an act of protest against violence – stitching their pain, resilience, and demands for change.
__________
Climate and Labor
Nicolas Rother / Rupture (Dublin)
The climate movement lacks economic power, and workers need political arguments that appeal to the whole of society. With unions as a hinge between those two groups, we were looking for a campaign to bring their interests together.
__________
How We Lost Madrid This Time
Marga Ferré / transform! Europe (Vienna)
Madrid's electoral result does not directly affect the progressive government in Spain. The federal system in Spain makes difficult for the radicalized right to have the necessary alliances to rule the country, but we must not lower our guard against the radicalization of the right and the media messages demonizing all progressive thinking.
__________
Vietnam Party Chief's May 19 Speech
Nguyen Phu Trong / Nhân Dân (Hanoi)
"We need a society in which development is truly for people... a political system where power is really of the people, by the people and for the people."
__________
The Left and the Political Crisis in Russia
Alexey Sakhnin / Progressive International
There are radical changes in the political climate in Russia: the dissatisfied, those seeking a way out of the dead end of our national politics, now number in the millions. 
__________
When Maoism Was Global
Kevin B. Anderson / New Politics (New York)
Julia Lovell's Maoism: A Global History contains a wealth of material indispensable for the twenty-first-century left to consider if we are to avoid the terrible mistakes of the past.
__________
South Africa: Remembering Ronnie Govender
Niren Tolsi / New Frame (Johannesburg)
The South African activist and man of letters used language as a weapon to defend the marginalised and reflect upon the people, places and culture that defined him.