labor
Closed Door Negotiations Between New York City and Unions Representing City Workers Could Privatize Their Medicare Coverage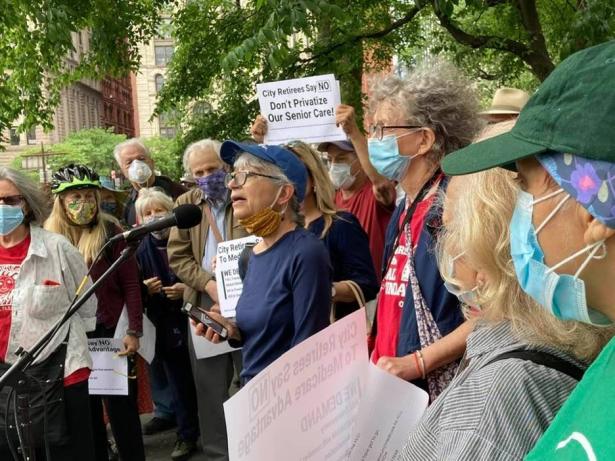 Gloria Brandman of Retiree Advocate Caucus, United Federation of Teachers, Ann Fawcett Ambia
A hush-hush operation between New York City and the Municipal Labor Council (MLC) to essentially privatize the health care coverage for thousands of retirees has exploded into public view in the past several weeks. The internet has been buzzing with protests against the closed-door negotiations that would take retirees out of traditional Medicare and place them in a Medicare Advantage program run by private insurers, with all its traps and pitfalls.
The MLC is composed of the leadership of about 100 unions with members employed by the city. The city continues to pay for part of their health care coverage, under union negotiated contracts, after they retire.
"What they're doing is using public money to subsidize a private operation," said Norm Scott, who was an elementary school teacher in Brooklyn for 35 years. He is now active in Retiree Advocate, a caucus in the United Federation of Teachers, the New York affiliate of The American Federation of Teachers. "Ninety percent of the doctors in the United States take Medicare," he pointed out, "but with these private insurers, you have to choose from their panel of doctors." He noted that his wife, a hospital health care provider during her career, had spent countless hours on the phone hassling with companies who had turned down payments for patient treatments that doctors at her hospital deemed essential. "They're just in it to save money so they can earn higher profits. This is not the rule with Medicare."

According to the Kaiser Family Foundation, Medicare uses only 1.3 percent of the funds it collects on administrative costs (costs not related to medical reimbursements). Medicare Advantage insurance companies average nearly 15 percent on administrative costs, the result of hefty profits and seven and eight figure executive compensation packages.
Opposition to Privatization of Medicare Growing Among Retirees
The behind-the-scenes negotiations, which have been going on for some time, came to light only a few weeks ago and have aroused a storm of protest from rank-and -file union members who have heard about them. "More and more retirees are looking at it and talking about it on Facebook and other internet outlets," declared Gloria Brandman, one of the leaders of Retiree Advocate, who taught in Brooklyn for more than 30 years." We're in a new world now and this issue has generated lots of concern among rank-and-file retirees."
While the opposition took shape with teacher retirees in the UFT, retirees in other unions, like the Professional Staff Congress (PSC), representing the faculties of colleges in New York City, and District Council 37, representing other groups of city workers, are also raising deep concerns. The Delegates Assembly of PSC on April 15 unanimously (150 to 0) passed a resolution calling for a moratorium on any agreement between New York City and the Municipal Labor Committee (MLC) to move retiree healthcare coverage from traditional Medicare to Medicare Advantage and asking that the PSC bring the moratorium call to the MLC. The NYC Managerial Employees Association Executive Board adopted a similar motion on May 18.
And two weeks ago, retirees from several unions held a press briefing covered by some media outlets like New York's Channel 11 and radio station WBAI and attended by about 150 retirees calling public attention to the issue.
Evading A Crucial Question
The growing opposition to the unfolding events compelled UFT President Michael Mulgrew to stage an online audio event, earlier this month, spending 45 minutes trying to assure his members that the union would not settle for any agreement that would reduce the benefits they now enjoy. He took a number of questions from listeners. But he evaded a question from one member who asked if he could keep his doctor under the new arrangement or would he have to switch to another doctor if his doctor was not on the insurance company's panel.
A Feb. 21 article in The New York Times by Mark Miller vividly described why this question is vital to understanding a key aspect of the issue. Ed Stein, a retiree in Colorado who had been a newspaper editorial cartoonist, chose a Medicare Advantage plan over traditional Medicare when he turned 65. "The price was the same," he recalled. "I liked the access to gyms, and the drug plan was very good. Never in my wildest dreams did I think I'd be facing a crisis like the one I'm having now."
At 72, Stein was diagnosed with aggressive bladder cancer. He needed a complex surgical  procedure and chemotherapy but the doctor in his area that he decided was best for the treatment was not on the panel of his Medicare Advantage plan. He tried to switch to traditional Medicare which would allow him to have a doctor of his choice but came up against a fact that is little known by the general public: the decision to choose Medicare Advantage is effectively irrevocable. "We were just shocked to learn this," Stein recalled. In response to this issue, UFT President Mulgrew said that UFT retirees will be able to switch back to Medicare during the period of time a few weeks each year when retirees are allowed to switch their health plan coverage. But if they do so, they will have to pay for supplemental coverage.
Pushing Privatization While More People Lean Toward Medicare for All
Up until now, the UFT and most city unions were advising members approaching 65 to choose traditional Medicare, noting the traps and pitfalls of the Medicare Advantage plans run by private insurance companies. The motive of the city in these new proposals is clearly to try to save money at the expense of retirees. The motive of the unions who are basically changing their position is unclear.
At present, the city-MLC negotiations are at a stalemate with two insurance companies bidding for the goodies. A facilitator has been appointed to mediate between the two companies.
The Advantage plans around the country are growing, sparked by aggressive marketing campaigns that tout "extras" like gym membership and other incentives. Their growth has also been aided by quiet changes in federal law and regulation in recent years. And under the Trump administration, Medicare administrators have been tipping the scales improperly in favor of Advantage.
The aggressive campaign to essentially privatize health care and weaken Medicare comes at a time when more and more people are seeing the advantage of government run health care, as is the case in virtually all other developed countries. Medicare for all became an issue in the 2020 presidential campaign and currently, Massachusetts Senator Elizabeth Warren has introduced a bill in Congress that would establish a universal Medicare system. And in New York, a bill in the State Legislature which has majority support will make healthcare a right by establishing a universal single-payer healthcare system. Everyone would have quality healthcare regardless of age, employment, or immigration status. All healthcare would be covered (including dental, mental healthcare, long-term care and prescriptions). If it passes it would be a huge step towards health justice in New York and around the country.
Meanwhile, in New York City, the future of the issue is currently up in the air. It seems that the only barrier to the effort to turn city retirees' medical coverage over to private insurers is a rising tide  of opposition by members of city unions and perhaps the public at large.
This article is also slated to appear on a new website, Spotlight on Labor, dealing with current developments in labor activities around the country, that is in the planning stage.