Global Left Midweek - National Yearnings and Left Politics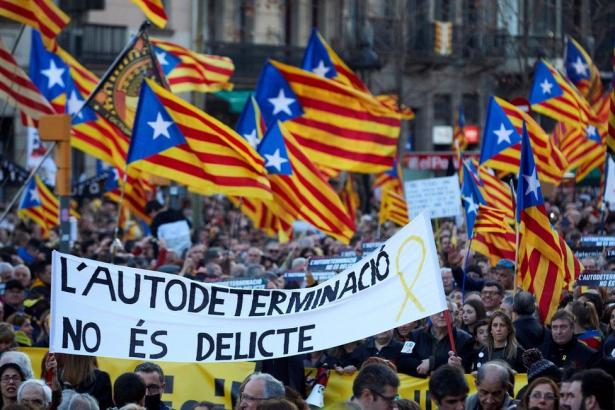 A banner reading "self-determination is not a crime" is waved by protesters in Barcelona. Credit,EPA
__________
Catalonia
Dick Nichols / Links (Sydney)

The Republican Left of Catalonia (ERC) and Together for Catalonia (Junts) reached an unexpected agreement for coalition government. Hammered out in two days of secret meetings between ERC national coordinator Pere Aragonès and jailed Junts national secretary Jordi Sànchez, the accord was ratified on May 19.
__________
Oaxaca
Gerold Schmidt / Rosa Luxemburg Stiftung (Berlin)
Back in 2007, the United Peoples Council for the Defence of the Río Verde was founded. More than 40 villages with Indigenous, Afro-Mexican, and Mestizo populations joined together to resist the half-dozen dam projects along the river. They connected with the nationwide Mexican Movement of Dam Victims in Defence of Rivers, as well as initiatives in Central America.
__________
Scotland
Rory Scothorne / Le Monde diplomatique (Paris)
Last month's elections in Scotland confirmed the position of the National Party. But what vision of an independent future are its supporters backing?
__________
Yazidi Kurds
Chiara Cruciati / il manifesto Global (Rome)
"Here, we heal the wounds of women. And we do it starting from what happened after the attack: women have taken up arms and have shown they can fight, overcoming old prejudices. We also fought in Raqqa, Syria, and we found some of our kidnapped women there. Today we are present all over Sinjar, in neighborhoods and villages."
__________
Cornwall
Naomi Rescorla-Brown / Red Pepper (London)
Mebyon Kernow – the self-proclaimed 'Party for Cornwall' at the forefront of the campaign for Cornish self-government –  defines itself as a 'progressive left-of-centre' party, with its central focus being on securing social justice and protection of the environment.
__________
First Nations
Amanda Follett Hosgood / The Tyee (Vancouver)
Indigenous communities will need time — to grieve, to process and to consider what should happen in the wake of devastating news that has resurfaced the trauma of Canada's colonial legacy and genocide against Indigenous people.
__________
Germany's Aufstehen
Quinn Slobodian and William Callison / Dissent (New York)
Linke figure Sahra Wagenknecht and her allies believed that, to reverse the AfD's electoral success, anti-Merkel and anti-migration politics could not be ceded to the far right. The rules of politics were changing, and "the center" would not hold.
__________
Myanmar: New Solidarities
Myanmar's Spring Revolution is an inflection point in the country's history. The old forces of domination and repression are still present, but it is providing new fissures, solidarities and potential for progressive change.
__________
Left Viewpoints on Palestine Crisis
Hanan Ashwari: Video  / Middle East Eye (London)
Mustafa Barghouti  / Jacobin (New York)
Ramzy Baroud  / Common Dreams (Portland ME)
Markus Bickel  / Rosa Luxemburg Stiftung
Richard Falk  / Middle East Eye
Stephen Zunes  / Tikkun (Berkeley)
__________
India: Haryana Becomes the Nerve Centre of Farmer Protests
Rajeev Khanna / The Citizen (New Delhi)
The farmers' protests that have grown into a countrywide people's movement took off from Punjab and later spread out to other states. But of late farmers in Haryana are taking on the Bharatiya Janata Party–Jannayak Janata Party government in a big way.