labor
Biden Labor Task Force Aims at Federal Purchasing, Agency Moves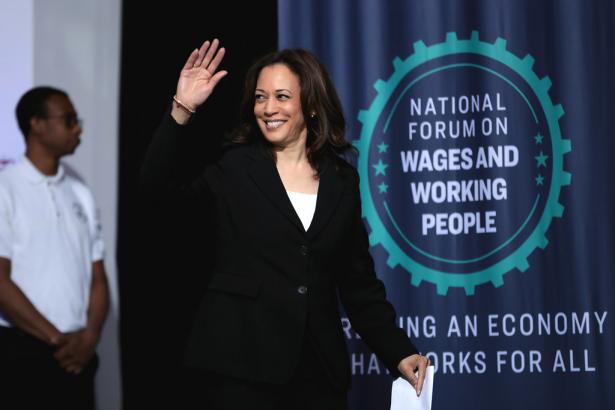 Vice President Kamala Harrison heads a task charged with coming up with recommendations for empowering unions and workers.,Gage Skidmore
When the White House in April launched a task force to promote worker organizing and empowerment, some in the labor movement were skeptical, fearing it could be a symbolic effort to distract from lack of progress on comprehensive labor law reform.
After all, the Biden administration, despite its steadfast support of unions, can't bend labor law to its interests. Nor has it come close to convincing 60 Senators—let alone all 50 Democrats—to do that for them by passing the Protecting the Right to Organize Act, a House-approved bill to revamp labor law and address decades of decline in union membership. 
"I understand the skepticism about it," said Tom Conway, president of the United Steelworkers. "I probably had some of it myself and originally thought: 'Geez, I hope this isn't some workaround for some kind of sense that they can't try and pass the PRO Act.'" 

Yet fresh off a two-week blitz of meetings between task force staffers and union officials representing workers across the economy, Conway and other labor leaders are far more confident. They see it as a legitimate, if incremental, means of helping unions gain membership and clout by tapping into underutilized executive branch authority. 
The task force's final recommendations, due on President Joe Biden's desk by Oct. 23, are designed to tee up a series of potential executive orders, regulations, and policies to reorient Cabinet agencies around the benefits of collective bargaining, according to interviews with eight union or White House officials who have either participated in or were briefed on the meetings. 
Talks have included leveraging federal purchasing to steer agency contracts to companies with unionized labor or that otherwise promote workers' rights, five of the sources said. 
Conway envisions the task force recommending ways to ensure agencies like the Department of Defense procure copper, steel, and aluminum from unionized shops. 
All-of-Government Push
Many of the pitches under review are ideas that were bandied about in various forms by unions and worker advocates well before the task force launched. But unions now believe they have a golden opportunity to re-package their advice. 
For instance, Communications Workers of America and other unions have lobbied the White House to re-imagine how agencies assess contract awards to weed out bids that are deemed so low that they can't be performed under quality workplace conditions. 
That could involve awarding contracts "based on ensuring that you get the best overall value to the federal government," as opposed to the best price, which could lead to higher turnover and more dangerous worksites, said Daniel Mauer, government relations director at CWA. 
It's too early to determine whether this concept—known as price realism—will be part of the task force's recommendations. 
By late-October, unions should have a better gauge of the PRO Act's status. With the filibuster standing in the bill's way, Senate Democrats may include it in an expansive package of Biden priorities that would use a budget procedure to avoid the need for GOP votes.
But if the legislative pursuit falters—key as it may be to Biden's labor legacy—the executive branch playbook will take on heightened importance.
"It has to start with a list of recommendations, and it has to start with enacting policy and enforcing policy at every agency, ," said Jimmy Williams, general vice president for organizing at the International Union of Painters and Allied Trades. "Now it's time to put it into action, and that's how the administration is looking at it."
Public sector unions are reviewing whether Cabinet secretaries have authority to update their agencies' spending practices to advance unionizing—replicating strong standards that currently protect public transit workers.
Legal Limits 
In the service sector, CWA and other unions are hoping to see the U.S. Labor Department close regulatory loopholes that limit the durability of union contracts with agency-outsourced call center companies.
And building trades unions are bullish on the chances of executive actions that strengthen labor rights on federally financed construction projects as Biden seeks to finalize an infrastructure bill on Capitol Hill. 
White House officials say that, separate from the task force, the administration continues to engage with congressional Democrats to find a path forward for at least parts of the PRO Act. The measure would update federal labor law to remove longstanding barriers for unions to mount organizing campaigns. 
The legal limits on union organizing that the bill aims to address also frame an element of the task force's strategy. The unit, led by Vice President Kamala Harris, is targeting recommendations that have the best shot of surviving a lawsuit from the business lobby, which has a track record of litigating progressive labor regulations by arguing executive overreach. 
"What we're going to find in doing that is that there are some barriers to success—some of them are legal, some of them are cultural, some of them are structural," said Seth Harris, deputy assistant to the president on labor and economy, in an interview. "So, we're definitely going to talk about those big barriers that have to be addressed."
That reality resonates with at least some unions. They're balancing a desire for aggressive action with a reckoning that mandates for government contractors to use union labor or recognize a union organizing drive would likely be preempted by the National Labor Relations Act.
Going Big
"That's one overarching message that we've heard from the administration's staff, which is they're trying to do things that not only they can advance but they can defend legally as well," said Mauer, of CWA. "It's not like we have a court system that's friendly to workers' interests, so I think they want to make sure that things are consistent with precedent."
To that end, industries such as construction that rely on government business will scrutinize actions that stem from the task force.
"The government should not dictate labor policies of its private sector employers so long as those policies are lawful under the NLRA and other laws," said Denise Gold, the top labor and employment attorney at Associated General Contractors, a trade group for union and nonunion builders.
Despite the potential for legal challenges, White House and union task force participants see significant leeway for agencies to advance worker organizing, including through measures that don't directly pertain to unionizing and collective bargaining. 
"There is so much that can be done with government contracts that don't have to be steered towards making sure things are 100% union," said Williams, of the painters and allied trades. 
He pointed to precedent in California labor code that mandates utilization of apprenticeships on public works projects. That has contributed to the state's high union density, he said. 
"It's about making sure people have an opportunity and are able to competitively bid work utilizing apprenticeship and prevailing wages," Williams added.
—With assistance from Ian Kullgren