Dispatches From the Culture Wars - July 6, 2021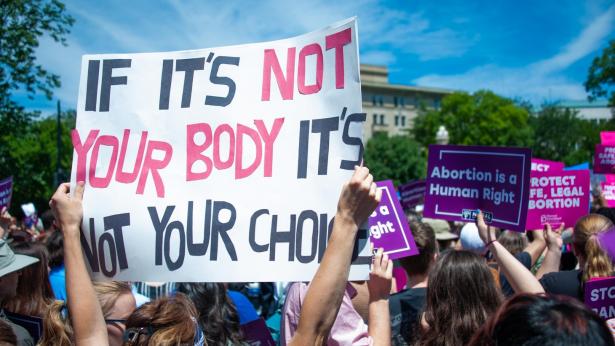 Pro-choice activists rally to stop states' abortion bans in front of the Supreme Court in Washington, DC. Credit,Rena Schild
The Nikole Hannah-Jones Tenure Scandal
By Ian Gordon
Mother Jones
Pulitzer Prize–winning journalist Nikole Hannah-Jones was granted tenure by the University of North Carolina–Chapel Hill Board of Trustees, the latest twist after bitter debates about the influence of big donors on hiring decisions, the increasingly partisan boards that govern public universities, and the conservative freakout over critical race theory. And the story's not over.
The Sha'Carri Richardson Drug Test Scandal
By Samuel Chamberlain
New York Post
Richardson, who won the 100-meter dash in a time of 10.86 seconds at the trials in Eugene, Oregon, June 19, was handed a one-month ban following the test result. The suspension runs through July 27, which puts Richardson out of the race to be crowned the world's fastest woman, though she could still run in the 4X100-meter relay at this summer's Tokyo Olympics.
Nina Turner's Big-Budgeted Foes
By Andrew Perez and Joel Warner
Jacobin
Corporate Democrats and lobbyists for Big Oil, Big Pharma, Fox News, and Wall Street are fundraising for Nina Turner's primary opponent Shontel Brown in the Ohio congressional race.
By Áine Cain
Insider
The waning days of the US coronavirus outbreak have prompted plenty of work-related reflection. The result is a pent-up feeling that is prompting some to walk off jobs in frustration. But is the advent of "rage quitting" really a positive thing for employees? Experts aren't sure.
The Anti–Birth Control Movement Is the New Anti-Abortion Movement
Ever since Obamacare was passed, Republicans cottoned on to the fact that if they can tie birth control to abortion, then publicly funded insurance might not have to pay for birth control. 
Busting Antisemites in the Solidarity Movement
By Shane Burley
Waging Nonviolence
With support for Palestinian freedom hitting a new level, intentional strategies are needed to stop white nationalists looking to hijack the movement.
By Laura J. Nelson
The Seattle Times
Friends and colleagues have watched with alarm as Instagram influencers and their New Age peers — yogis, energy healers, sound bathers, crystal practitioners, psychics, quantum magicians — embraced QAnon's conspiratorial worldview and sprayed it across social media.
By Karen Hao and Eileen Guo
MIT Technology Review
Dozens of scientists, mostly of Chinese descent, have been investigated the US government over the years amid allegations that they were hiding their connections to China. The Department of Justice said China posed a unique threat to US economic and technological superiority. "We're seeing this climate of fear engulfing Chinese-American scientists."
Critical Race Theory and the Scopes Trial
By Charles J. Holden
History News Network
For conservatives in 1925, winning a debate over evolution was not the goal--condemning the modern day teaching of evolution was. Evolution then served as the entry point to attack educators and expertise in general as existential threats to their way of life.
By Nicki Weisensee Egan
New York Magazine
It was a decision that just reeks of special treatment, and it was an outright smack in the face to some of his accusers, who said they cried for hours after learning about it. And they worried about what could happen next.