film
'Summer of Soul' Review: In 1969 Harlem, a Music Festival Stuns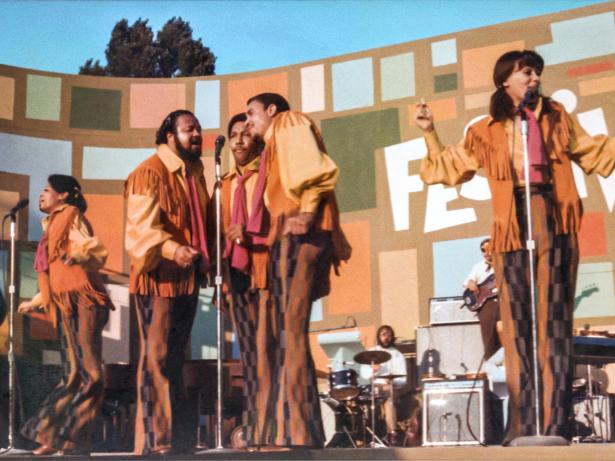 The Fifth Dimension performing at the Harlem Cultural Festival in 1969, in the documentary "Summer of Soul" from Ahmir Thompson, better known as Questlove.Credit.,Searchlight Pictures
There's no shortage of system shocks in "Summer of Soul." This is a concert movie that basically opens with a 19-year-old, pre-imperial-era Stevie Wonder getting behind a drum kit and whomping away — sitting, standing, kicking, possessed. It's a movie that nears its end with Nina Simone doing "Backlash Blues" in a boxing match with the keys of her piano, her hair indistinguishable from the conical art piece affixed to her head.
The movie's got Sly and the Family Stone and B.B. King and Ray Barretto and Gladys Knight & the Pips, in top, electric form. But no jolt compares to what happens in the middle of this thing, which is simply — though far from merely — footage from the 1969 edition of the Harlem Cultural Festival, footage that Ahmir Thompson, better known as Questlove, has rescued and assembled into nearly two-hours of outrageous poignancy. It's all been cooking before this midway moment. But it's once you're there, engulfed in it, that you trust Thompson's strategy.
Sometimes these archival-footage documentaries don't know what they've got. The footage has been found, but the movie's been lost. Too much cutting away from the good stuff, too much talking over images that can speak just fine for themselves, never knowing — in concert films — how to use a crowd. The haphazard discovery blots out all the delight. Not here. Here, the discovery becomes the delight. Nothing feels haphazard

After the energetic asides about Mayor John Lindsay's earnest support of the festival and Maxwell House's sponsorship; after an exuberant montage of the outfits and stage patter of the festival's charismatic and, it must be said, dashing mastermind, Tony Lawrence; after a poignant, illuminating passage on the overlooked, much fretted over quintet the Fifth Dimension, Thompson plunks us down in the middle of a meaty gospel passage.
The Edwin Hawkins Singers kick it off with their rendition of "Oh Happy Day," which at the time was a massive hit. Then the Staple Singers — Pops and his daughters Cleotha, Yvonne and 
Mavis
 — come on and dress "Help Me Jesus" in rockabilly robes. Not far behind is the pulpit dervish Clara Walker, whose exhortative way with a tune doubles as furnace and fan.
Now, these performances took place over six summer Sundays. So I don't know what any particular day's official, chronological lineup was, but Thompson and his editor, Joshua L. Pearson, have done some mighty hefty truncation. Minutes after Walker and her Gospel Redeemers, the Rev. Jesse L. Jackson appears, looking as beatifically beatnik as he'd ever get. Backing him is the Breadbasket Orchestra and Choir, and he begins to tell the many Harlemites densely packed before him that the Rev. Dr. Martin Luther King Jr.'s last words were to the Breadbasket's leader, Ben Branch. King told him that he wanted him to play the gospel pillar "Take My Hand, Precious Lord." And here now to grant that wish is Mahalia Jackson, who many a time sang it at King's request.
It's important to note, that during this passage, Mavis Staples and Reverend Jackson have also been narrating the scene from the present. Speaking today, using her front-porch husk, Staples remembers that Mahalia Jackson, her idol, leaned over and asked for her accompaniment. Mavis Staples was around 30; Mahalia Jackson was in her late 50s and wasn't feeling well.
Staples goes first, alone and a-blast. Jackson follows her with equal force and in defiance of whatever had been ailing her. Then together — Jackson refulgent in a fuchsia gown with a gold diamond emblazoned below her bosom; Staples in something short, lacy, belted and white — they embark on the single most astounding duet I've ever heard, seen or felt. They share the microphone. They pass it between them. Howling, moaning, wailing, hopping, but well within the song's generous contours and, somehow, in control of themselves. My tears weren't jerked as I watched. The ducts simply gave way, and the mask I wore at the theater where I sat was eventually covered in runny, viscous salt.
They're singing for the festival's attendees. They're mourning all of the death — of leaders, of followers, of troops and civilians. They are, if you're willing to see it this way, lamenting what is obviously a generational transition from one phase of Black political expression to another, from resolve to anger, from the grandiloquence of Jackson's pile of hair to Staples's blunter Afro. They are singing this cherished classic of bereavement in order to mourn the present and the past. Listening to them now, in the summer of 2021, plumb earth and scrape sky, you weep, not only for the raw beauty of their voices but because it feels as if these two instruments of God were also mourning the future.
I don't remember how long this performance lasts. It doesn't really even have an ending, per se. It just simply concludes, with each woman heading back to Reverend Jackson, into the band. But when it's over you don't know what to do — well, besides never forget it. It's an extraordinary event not just of musical history. It's a mind-blowing moment of American history. And for five decades, the footage of it apparently just sat in a basement, waiting for someone like Thompson to give it its due.
The whole movie is dues-giving. It's true that nothing matches the high of Mahalia Jackson and Mavis Staples. Yet nothing that surrounds them feels puny or like an afterthought. Thompson has an assortment of people watch footage from the festival — attendees who were kids and teenagers at the time, performers who were there, folks like Sheila E., who learned her craft from some of these artists. And I was almost as devastated by the sight of Marilyn McCoo's putting her hands to her face as she watches her younger self with the rest of the Fifth Dimension, recounting how in-between they felt as Black artists who Black people didn't always think were Black enough. Their sound was light and round and reliant upon strings and harmonies that were commercial for 1969 but not cool. In this film, among Simone and Max Roach and Hugh Masekela, the Fifth Dimension don't at all seem like outsiders. They seem like family.
Throughout this thing, Thompson is dropping explanatory information and montages that are crosscut with more information. A passage about the national climate of '69, for instance, is mixed in with the Chambers Brothers' festival performance. And you're sitting there in awe at how the film hasn't lost you. It's got its own rhythm. The images, the music, the news, the reminiscences, the commentary often come at you at once. And with another director what you'd be left with is noise, with mess. This is certainly where Thompson's being a bandleader — a band-leading drummer; a band-leading drummer who D.J.s — matters. The onslaught operates differently here. The chaos is an idea.
On one hand, this is just cinema. On the other, there's something about the way that the editing keeps time with the music, the way the talking is enhancing what's onstage rather than upstaging it. In many of these passages, facts, gyration, jive and comedy are cut across one another yet in equilibrium. So, yeah: cinema, obviously. But also something that feels rarer: syncopation.
This festival took place the same summer that Armstrong and Aldrin walked on the moon. The movie deftly accounts for the dissonance between the two events. It's the answer to the brief, shrewd passage in Damien Chazelle's "First Man" that intercuts the landing with Gil Scott-Heron's "Whitey on the Moon." These two movies would make a searing double feature of the same moment in American progress, on the ground and up in space. Of course, it's hard not to leave this movie fully aware that, at that point, in 1969, with the country convulsed by war, racism and Richard Nixon, the power of those artists assembled in New York right then makes a firm case that Harlem was the moon.
But the movie's sense of politics isn't so despondent. Thompson winds things down with Sly and the Family Stone doing "Higher." That band was male and female, Black and white — weird, rubbery, ecstatic, yet tight, hailing from no appreciable tradition, inventing one instead. It's been more than half a century, and I still don't know where these cats came from. They simply seem sent from an American future that no one has to mourn.
Summer of Soul (…Or, When the Revolution Could Not Be Televised) Rated PG-13 (some cursing and lustiness, lots of spirit catching). Running time: 1 hour 57 minutes. In theaters and on Hulu July 2.
______
[Wesley Morris is a critic at large and the co-host, with Jenna Wortham, of the culture podcast "Still Processing." He has won two Pulitzer Prizes for criticism, including in 2021 for a set of essays that explored the intersection of race and pop culture. @wesley_morris]