Global Left Midweek - July 21, 2021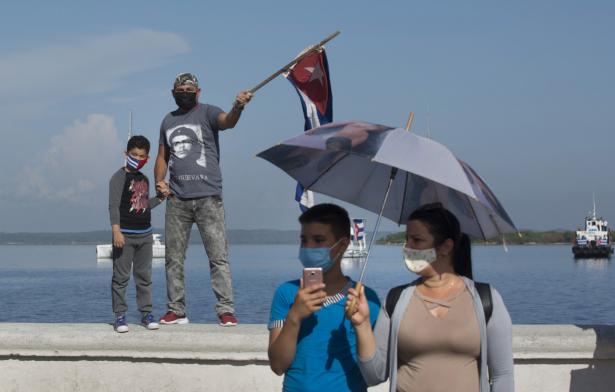 Credit,il manifesto
__________
Cuba's Dilemma
Homeland, People, and Sovereignty Julio César Guanche / OnCuba News (Miami)
Cuba's Distinctive System  Tony Wood / London Review of Books
Aleida Guevara on the Cuban Alternative  Claudia Fanti / il manifesto Global (Rome)
A Non-Party Left View of the Protests  Comunistas Editorial Board / Socialist Worker (London)
__________
South Africa's Gaping Wounds
South Africa's Gaping Wounds Mohammed Jameel Abdulla / Africa is a Country (New York)
No Silver Lining to Zuma Insurrection  Benjamin Fogel / Jacobin (New York)
Durban Food Riots  / New Frame (Johannesburg)
Not a Failed State - A Failed Global System Jess Auerbach / African Arguments (London)
__________
It's Official: Pedro Castillo Is Peru's President
Tanya Wadhwa / Peoples Dispatch (New Delhi)
Pedro Castillo of the left-wing Free Peru party won the run-off elections with 50.126% of the votes, receiving 44,263 more votes than his opponent Keiko Fujimori of the far-right Popular Force party.
__________
Starmer's Witch-Hunt in Labour
Editorial / Labour Horizons
Desperately lacking in political ideas and dragging the Labour Party into a miserable second place behind the Tories, Labour's right wing are resorting to their time-honoured diversionary tactic of attacking the Party's left. A new round of proscriptions was agreed by an NEC meeting, one that will potentially lead to thousands of expulsions.
__________
Preparing For the Philippine Election
National Democrats on Red Tagging  Kenneth Roland Guda / Philippine Center for Investigative Journalism (Quezon City)
Walden Bello on the Laban ng Masa Campaign  Ernesto M. Hilario / Manila Standard
__________
Africa: Women's Battlefronts
Protesting Rape Culture in Senegal  Fatou Warkha Sambe / openDemocracy (London)
Sudan: A Feminist Agenda  Alessandra Bajec / Equal Times (Brussels)
__________
Spain: Forward Andalusia
Dick Nichols / Green Left (Sydney)
Left platform, Forward Andalusia, held its refounding congress on June 26, with more than 2000 participants from the eight provinces of Spain's southernmost mainland region. The congress completed a six-month-long reconstruction of Forward Andalusia as the home of the Andalusian left.
__________
Honduras: Justice for Berta Cáceres
Resumen Latinoamericano (Oakland)
A Sentencing Court with National Jurisdiction found hydroelectric company executive Roberto David Castillo Mejía guilty as a co-perpetrator for the 2016 murder of environmentalist Berta Cáceres in western Honduras.
__________
Warning to the French Left
Ugo Palheta / Verso (London)
The pseudo-concept of 'islamo-gauchisme' [left Islamism], designed to support the (delusional) thesis of such complicity, has spread from its origins on the far right into the media and mainstream politics. The dominant ideology is today impregnated and even saturated with fascist or quasi-fascist categories of thought.
__________
The Importance of Henryk Grossman
Ted Reese / Cosmonaut
In 1929, Henryk Grossman, a Polish Jewish Marxist, published The Law of Accumulation and the Breakdown of the Capitalist System. This vital work did the best job after the deaths of Marx and Engels of defending and clarifying the real, revolutionary content of Marx's Capital, which exposed capitalism as inherently crisis-prone and historically transient.