Media Bits and Bytes - July 27, 2021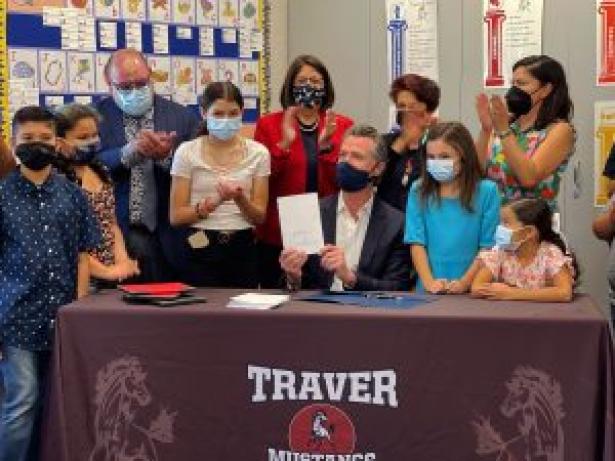 California Governor Gavin Newsom signs expanded broadband into law. Credit,CA.gov
By Prabir Purkayastha
Peoples Dispatch
Spyware like Pegasus is not just dangerous as it wrests complete control over an infected phone. It is menacing also because it introduces the skills and knowledge of nation-states into the civilian sphere.
Terry Gross interviews Sheera Frenkel and Cecilia King
Fresh Air, NPR
A new book investigates Facebook's failure to protect against spreading hate speech, disinformation, conspiracy theories and calls to violence. The book also shows how Facebook became an advertising company, monetizing its users and their data. 
The Corporate Rip-off of Comics Creators
By Aaron Couch
The Hollywood Reporter
The star writers and artists behind major comic book characters are becoming increasingly outspoken about "paltry" deals that don't account for their work being adapted into billion-dollar blockbusters.
By Jordan Lintz
Forbes
The Covid-19 pandemic, which has disrupted traditional ways of communication and doing business, has likewise changed the terrain of social media right before our eyes. More than anything, investing and decentralizing may very well be the blueprint for the future of social media.
The Profit Motive Behind COVID Misinfo
By Jessica González and Carmen Scurato
Common Dreams
Online platforms have designed their products in a way that encourages users to share false content—causing people to reject public-health initiatives against COVID-19, attack public-health workers, and embrace dangerous "miracle cures."
Broadening Broadband in California
By Ernesto Falcon
Electronic Frontier Foundation
Governor Newsom signed into law one of the largest state investments in public fiber in the history of the United States. No longer will the state of California simply defer to the whims of AT and T and cable for broadband access, now every community is being given their shot to choose their broadband destiny.
Covering Rich Boys' Space Antics
By James Baratta
FAIR
Contrary to the false narrative provided by billionaires and their corporate media mouthpieces, space tourism has been funded by and for the wealthy—not the masses. It could worsen the climate crisis and force the most vulnerable to suffer the impacts while the rich snap space selfies.
By Owen Gleiberman
Variety
The documentarian used AI technology to feed 10 hours of Bourdain voice recordings into a computer, which then simulated Bourdain's reading of those sentences — every one of which he had, in fact, written. The words weren't faked; the sound of him speaking them was.
Grassroots Public Radio Team-up
By Anna Brugmann
Current
Michigan Radio is creating a reporting position and a community council to help it tell more inclusive stories about Detroit's neighborhoods. The Ann Arbor–based public radio network has formed a partnership with ARISE Detroit, an organization that works to empower neighborhoods to volunteer and participate in civic action.
By Anna Kramer
Protocol
In a survey of tech industry workers, about 50% of respondents said they are very or somewhat interested in joining a union in their workplace, and more than 60% of millennials said they were interested.