Global Left Midweek - July 28, 2021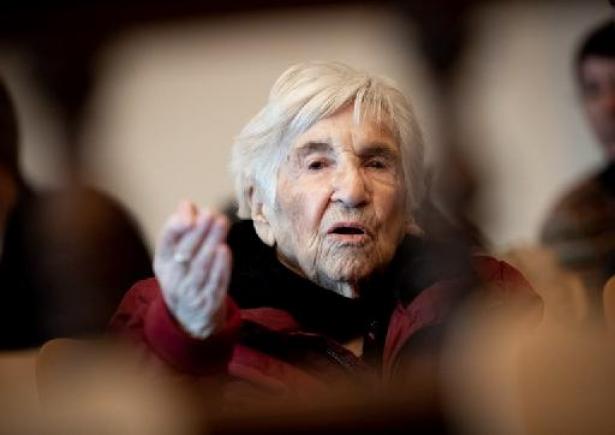 Survivor, musician, antifascist Esther Bejarano. Credit,© Belga
__________
Cuban Reflections
Rafael Hernández / OnCuba (Miami)
In Cuba, we have been going through a transition process, characterized by profound changes in the social structures and in the economic life of the people, but also in the relations between civil society and political power. The very idea of ​​socialism now incorporates new conceptions.
Opposition Rising   / Al Jazeera (Doha)
The Left As Of Last Year  Mohamed Rami Abdelmoula / Assafir Al-Arabi (Beirut)
__________
Eastern European Movements
The Rebirth of the Balkan Left Igor Štiks and Krunoslav Stojakovic / Roar (Amsterdam)
Roma Lives Matter  Michal Mižigár and Nadja Greku / LeftEast
Pride in Budapest  Saskya Vandoorne, Melissa Bell and Kara Fox / CNN (Atlanta)
Poland: Amazon Organizes  Magda Malinovska and Agnieszka Mroz / Jacobin (New York)
__________
Chile's Left Electoral Bloc Chooses Its Candidate
John Bartlett / The Guardian (London)
Former student leader Gabriel Boric took more than 1m votes in Sunday's primary, scoring a decisive victory over the Communist party candidate Daniel Jadue, and vowed to lead the assault on Chile's Pinochet-era economic model.
__________
A Rage in Iran
Middle East Eye (London)
On the evening of 15 July, people took to the streets in a number of cities in Khuzestan province, to protest against the lack of water and frequent power outages. The speed of the protests' spillover to other provinces is unprecedented. In response, security forces stepped in to confront and end the unrest. 
__________
Canadian Parties Get Ready
Election Prospects for NDP  Lee Berthiaume / Global News (Toronto)
Uproar in Green Party  Christopher Reynolds / Toronto Star
__________
Esther Bejarano 1924-2021
Anika Taschke / Rosa Luxemburg Stiftung (Berlin)
Remembering an Auschwitz survivor and lifelong antifascist. On the day of her death, a poster went up in Berlin's Kreuzberg neighbourhood that said: "Esther, we will continue, we are there, we promise! But it will be harder without you. Sincerely, your antifas."
__________
Inside Myanmar's Resistance
Preeti Jha / New Internationalist (Oxford)
Four people on the frontlines of the anti-coup movement in Myanmar tell why they are not giving up.
__________
Online Events to Watch For
Marxist Feminist Conference / November 11-17
Africa: Interrelated Crises, Radical Alternatives / Starting August 5
Remembering Leo Panitch: Beyond Socialist Impasse / Streaming Now
__________
New Publications from transform! Europe (Vienna)
Capitalism's Deadly Threat: 2021 Yearbook