PBS Doc Traces How Chicago Changed Buddy Guy, and How Buddy Guy Changed the World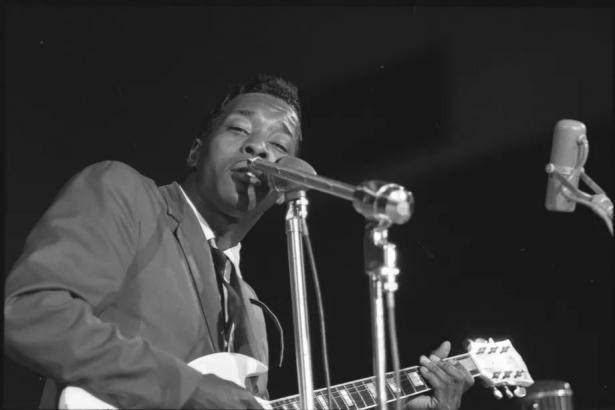 Buddy Guy performs at the University of Chicago in 1966. ,Raeburn Flerlage/Chicago History Museum
In 1957, Buddy Guy was broker than broke and had gone three days without eating when he wandered into the 708 Club on 47th Street and joined a jam session, even though he was so weak he could barely stand. As Guy tells the story in the PBS "American Masters" documentary "Buddy Guy: The Blues Chase the Blues Away," somebody called Muddy Waters, who lived just a few blocks away.

Guy stepped outside, "and there was this red station wagon and out steps Muddy … saying, 'I heard you were hungry.' " Waters gave Guy a salami sandwich, they went back inside, and Guy picked up his guitar — and from that point forward, Buddy Guy discarded the notion of calling his father for a train ticket back to Louisiana and decided he would stay in Chicago and would grind it out for days, weeks, months, years, whatever it would take.
Just as long as he could play the blues.
Versions of the salami-sandwich story have been told for years, and the life and times of Buddy Guy have been chronicled up and down and this way and that for decades (including in Guy's memoir, "When I Left Home: My Story"), but this latest edition in the terrific "American Masters" catalog serves as a reminder of the incredible impact the 84-year-old Guy has had on modern American music since the middle of the last century, and how he was born and raised in Louisiana and never forgot his roots — but became married to the blues in Chicago.
"The Blues Chase Away the Blues" takes us back to Guy's upbringing in Lettsworth, Louisiana, with beautifully rendered illustrations augmenting his recollections of falling in love with music and the joy he felt when his father bought him a guitar with just two strings on it for a couple of bucks. In high school, Guy would play his guitar at the gas station where he worked for the entertainment of customers, but when he was hired to play a local club, he was too shy to sing to a crowd and was fired. Still, he had come to love the blues — and in 1957, when a friend told him he should go to Chicago because the city was teeming with joints where you could hear the blues for free, Guy took the train to Chicago and began soaking up the local music scene.
The rest, eventually, became history, but there were many years when Guy was working days as a tow truck driver and playing in the clubs at night for little or no money. Guy hooked up with the legendary Chess Records, but brothers Phil and Leonard Chess wanted Guy to tone down his louder-than-loud sound and be more of a session player than a front man. But when Buddy Guy played live, his freewheeling style killed. He'd play with his teeth, he'd hit the guitar with a drumstick, he'd walk into the crowd or even outside and onto the sidewalk while still playing. John Mayer calls Guy "a sonic tsunami," while Carlos Santana says he was "like a tornado or a hurricane."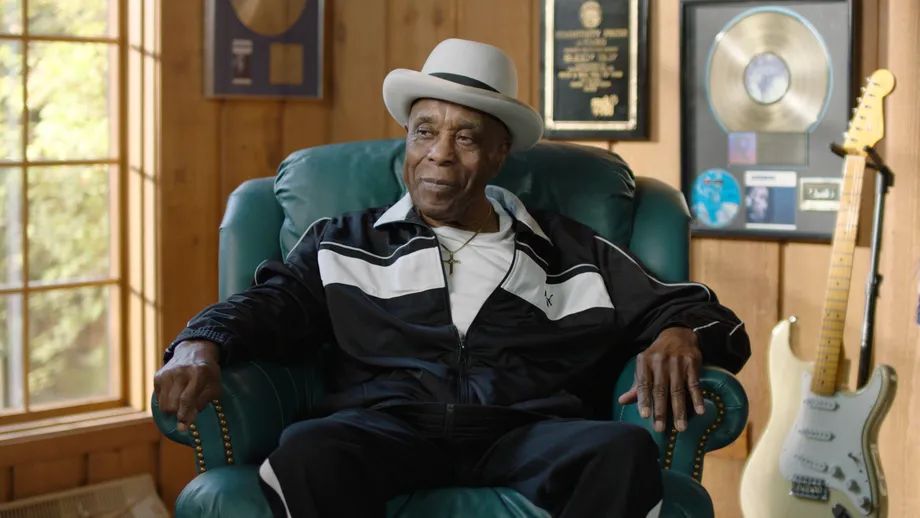 "The Blues Chase the Blues Away" weaves in archival footage with vignettes titled "The Blues According to …" with the aforementioned Santana and Mayer, as well as Willie Dixon, Kingfish and Eric Clapton offering their own unique definitions of the meaning of the blues. We follow Guy's career through its many ups and downs, as he'd go years without a record contract but then would be playing with the Rolling Stones and Stevie Ray Vaughan, raking in Grammys and even playing the White House at Barack Obama's request. It's a great American story of a great American life, and "The Blues Chase the Blues Away" does that story justice.
---
Richard Roeper, Entertainment columnist. Richard Roeper,  a Sun-Times contributor since 1987 and a Chicago native, is the author of seven books and the former co-host of "Ebert & Roeper and the Movies." He is the film critic for ABC-7's "Windy City Live."
Chicago Sun-Times. Try 1 month for $1 Subscribe