labor
Trumka Dies Leaving the American Labor Movement at a Crossroads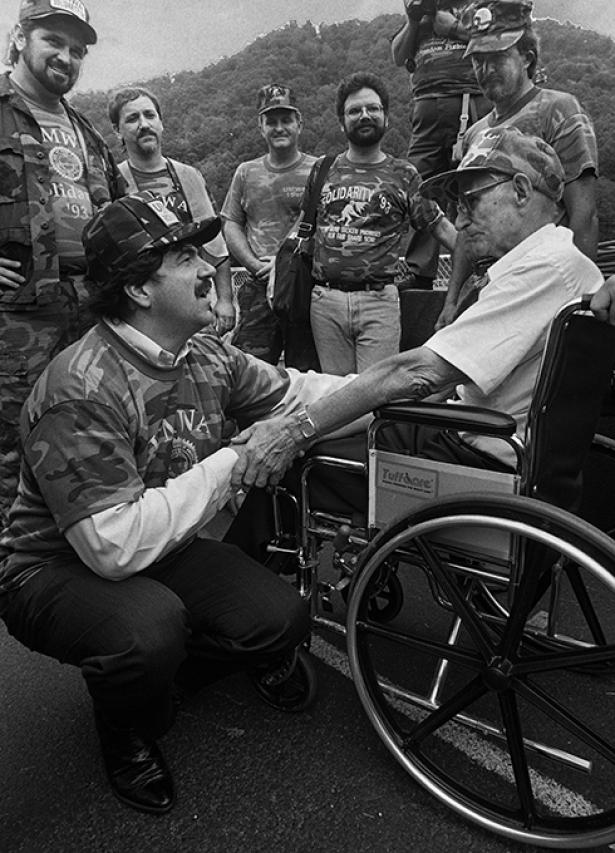 Late AFL-CIO President Richard Trumka,Photo and copyright: Earl Dotter
WASHINGTON—AFL-CIO President Richard L. Trumka died suddenly on August 5, apparently of a heart attack. A former coal miner from western Pennsylvania who became head of the United Mine Workers of America at age 33, he was 72.
Tributes poured in. "Rich was a lion of the labor movement," said International Brotherhood of Electrical Workers International President Lonnie Stephenson. "He practiced what he preached, and he brought the voices of working people to the forefront of our nation's consciousness," said American Federation of Teachers President Randi Weingarten. 
His death deprives the labor movement of a central figure at a time when a resurgence of union activity has brought hope of undoing the defeats of the past decade and the decline of union membership, particularly in the private sector.

Union successes of the past few years include the wave of statewide teacher strikes in 2018-19, in places like West Virginia, Kentucky, Oklahoma, and Arizona, along with local strikes in Chicago, Los Angeles, and Denver. Workers ranging from online journalists to JetBlue flight attendants to Texas poultry processors have won union representation. While the structure of work at gig-economy employers and fast-food franchises makes it difficult, if not illegal, to win a traditional union contract, that hasn't stopped organizing. Organizing among fast-food workers was crucial for moving the $15-an-hour minimum wage from something seen as an unrealistic extravagance to the floor-level measure of a living wage, what people now have to get paid in New York City, Los Angeles, San Francisco, and Washington.
"This is a continuation of the workers' revolt I've been seeing for the last few years," AFL-CIO Executive Vice President Tefere Gebre told LaborPress at a rally by striking UMWA coal miners in New York in late July. "Starting from teachers in red states and blue states and everywhere, saying 'enough is enough,' we're seeing workers not only walking out on strike, but actually winning."
The years after Trumka became AFL-CIO president in 2009, however, were an era of numerous defeats for the labor movement. Five states enacted "right to work for less" laws prohibiting the union shop; all were in the industrial Midwest and the Ohio Valley, once union strongholds. Other states, most notoriously Wisconsin under Governor Scott Walker in 2011, imposed draconian restrictions on bargaining by public-sector workers. (When Walker was defeated for re-election in 2018, Trumka issued a one-sentence statement: "Scott Walker was a national disgrace.")
These two themes culminated in the Supreme Court's Janus v. AFSCME Council 31 decision of 2018, which prohibited the union shop for government employees.
Organizing campaigns have also so far failed to gain a significant foothold in the fast-growing and historically anti-union South, with the loss of unionization votes at Volkswagen's plant in Chattanooga, Tennessee; Boeing in North Charleston, South Carolina; and Amazon's distribution center in Bessemer, Alabama. 
Some employers are so big they believe they can get away with rapacious demands. Spectrum, which bought New York City's cable-TV franchise for $57 billion in 2016, tried to eliminate workers' pensions and slash their health benefits; IBEW Local 3 members there have been on strike for more than four years, with no end in sight. 
Union members are now only 10.8% of the workforce — 34.8% in the public sector, but only 6.3% in the private sector. The percentage increased in 2020 for the first time in more than 10 years, but that was mainly because union members were more likely than nonunion workers to keep their jobs during the COVID-19 pandemic.
The labor movement's hopes of reversing all that now rest on the PRO Act (Protecting the Right to Organize), which Trumka made the center of the AFL-CIO's political agenda. While not a panacea, it would outlaw many of the practices that have impaired workers' power. Amazon's hour-long "captive audience" meetings, in which workers are forced to listen to anti-union propaganda, would be illegal. Repealing the federal ban on "secondary boycotts" would have given New York City building-trades workers' "Count Me In" campaign the power to shut down construction at Hudson Yards to stop the use of nonunion contractors.
But as of now, the only way the PRO Act, passed by the House in March, will make it through the Senate is if the filibuster is eliminated or drastically modified. The Biden administration and the handful of centrist Democrats who are the swing votes in the upper house have shown either little appetite for doing that — or sometimes outright opposition — despite its clear consequences for labor, voting rights, and a host of other issues.
"Without the right to vote and without the right to organize, there is no democracy," Trumka told the Texas AFL-CIO on July 27. "Now is our moment to save our rights in the country we built. And that includes the right to organize! It is time for 21st-century labor laws. It is time for big corporations to play by the rules on a level playing field. It's time for the Senate to pass the PRO Act so that the 60 million workers who want to join a union right now can do so freely and fairly. In Texas. Everywhere."
"We will honor his legacy by continuing his fight," said United Steelworkers President Tom Conway.