Conscientious Objector: 'I Don't Want to Wear a Uniform That Symbolizes Violence and Pain'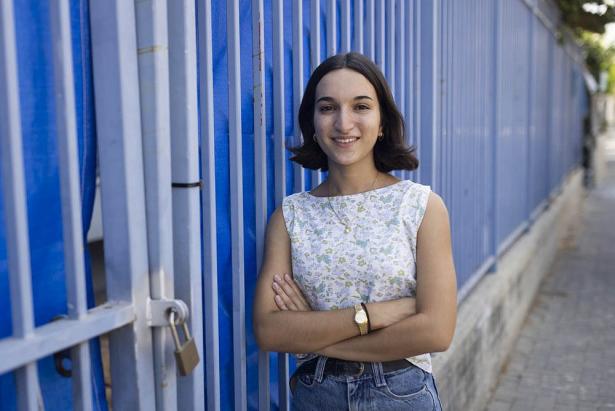 Israeli conscientious objector Shahar Perets.,photo: Oren Ziv // +972 Magazine
Israeli conscientious objector Shahar Perets was sentenced to 10 days in military prison on Tuesday after announcing her refusal to join the Israeli army over its policies toward Palestinians. 
Perets, 18, from the town of Kfar Yona, is one of the 120 teenagers who signed the "Shministim Letter" (an initiative with the Hebrew nickname given to high school seniors) in January, in which they declared their refusal to serve in the army in protest of its policies of occupation and apartheid. In June 2020, she was one of the 400 Israeli teenagers who signed a letter to the Israeli leadership demanding it halts its erstwhile plans to annex parts of the occupied West Bank as part of former U.S. President Donald Trump's so-called peace plan. 

On Tuesday morning, dozens of supporters, including Joint List MK Ofer Cassif, accompanied both Perets and conscientious objector Eran Aviv — who will enter his fourth stint behind bars — to the Tel Hashomer induction base in central Israel, where they both told the army they would not serve. Aviv has spent a total of 54 days in military prison for refusing to serve in the army, and was sentenced to an additional 10 days behind bars. After they are released, they will have to return to the induction base and repeat the process until the army decides to discharge them. Military conscription is mandatory for most Jewish Israelis.
Aviv arrived to the induction base in uniform after he began the enlistment process in May, when the army promised him a position that was unrelated to the occupation. When army officials reneged on the promise, he chose to refuse — yet from the IDF's point of view, he is considered a soldier.
Shahar's father, Shlomo Perets, who himself sat in prison four times for refusing to serve in Lebanon and the occupied territories, was also there to support his daughter. "These are her choices, she does what she has decided out of awareness, care, and a desire to make a change. I support her and hope that she will succeed in not doing the things that go against her principles and refusing to be what she is not."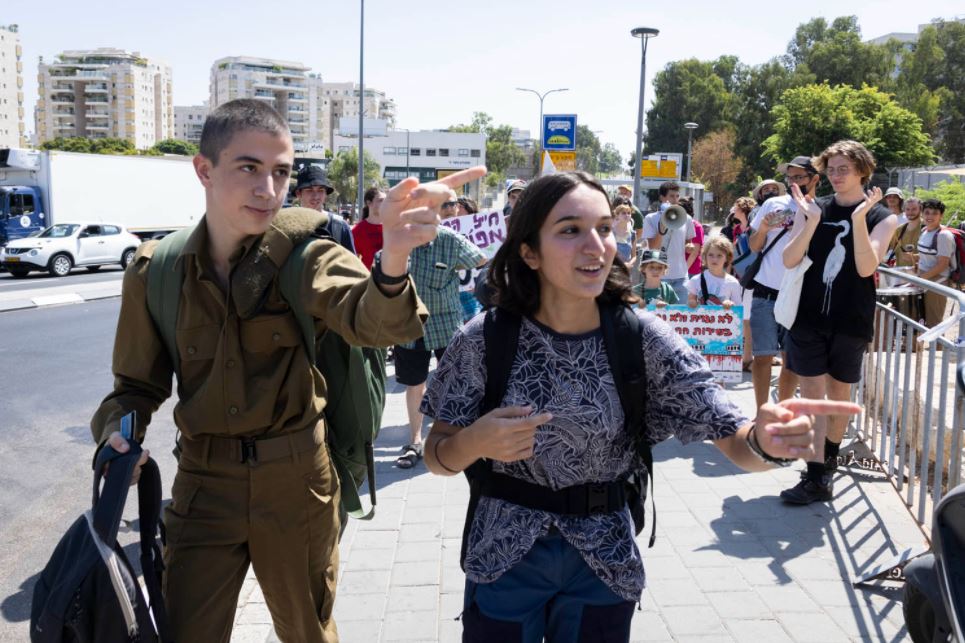 I spoke to Perets in the days leading up to her sentencing about her reasons for refusing, her visits to the occupied territories, and what she plans on bringing with her to prison.
"I decided to refuse [service] after participating in a meeting in eighth grade between Palestinians and Israelis at a summer camp," Perets told me. "I met Palestinian friends, I realized that I do not want to hurt them, I do not want to meet them as a soldier and become their enemy. I do not want to take part in a system that oppresses them on a daily basis."
What process have you undergone since that first encounter with Palestinians?
"I was exposed to what is happening in Gaza and the West Bank. I began to learn more about the realities of Palestinian life, and I made a decision not to enlist — and to do so publicly."
Did your visits to the West Bank help you make the decision to refuse? 
"I have been on tours and also participated in all kinds of activities, including volunteering and helping [Palestinian] farmers in the South Hebron Hills and the olive harvest in the northern West Bank.
"It's a difficult experience, I always come back shaken. Something bad is happening, and it must stop. The transition from looking at photos or hearing testimonies to visiting the area is crazy. Seeing the settlements where children are attacked as they walk to school. Seeing the places that Palestinians cannot reach, for example in the South Hebron Hills in Area C [under full Israeli military rule].
"I made the decision before I was ever in the West Bank, but seeing the soldiers and settlers standing before the Palestinians made it clear to me that I do not want to be one of those soldiers, I do not want to wear this uniform, which symbolize the violence and pain the Palestinians experience."
Over the past year you have spoken to many teenagers as you prepared to publish the Shministim Letter. What kind of reactions did you get?
"The initial response is always a bit frightened, since there is no critical conversation on the military, recruitment, and occupation in most circles of teenage boys and girls in youth movements and schools.
"Both my close friends and those in my wider surroundings were surprised. People did not know there was an option not to enlist. At the same time, many teenage boys and girls could suddenly connect to something, to sign the letter. I want to believe that these meetings are significant. They give [people] a lot of strength and a real alternative."
Do you hope that your refusal will allow teenagers to see another option?
"Teenagers meet Palestinians for the first time as soldiers, when they wear uniforms and hold weapons. It is clear that if there were encounters with Palestinians at school or conversations about the Palestinian narrative, things would have been different.
"Obviously this is part of the system's policy, of the same desire to separate, to create a reality of 'enemies' and 'terrorists,' instead of looking at everyone who lives here — Palestinians and Israelis — and saying let's live and create security for everyone. Let's not hurt each other, let's stop killing and being killed."
How did your family react?
"By and large, both my friends and family are really supportive. Obviously not everyone is happy that I am going to jail. It is strange to answer the question 'What is the next thing you will do?' I am going to jail in a week. I think those in my immediate surroundings have been able to understand my refusal."
Is there a desire to convey a message to the Palestinians as well?
"[The message is that] although the refusal movement is in the minority, it exists and has influence. Some people are unwilling to lend a hand to what is happening, they resist and act so that others know [what is taking place]."
Over the last 50 years, teenagers have published numerous letters in which they have announced their refusal to participate in military service either in the occupied territories or in general. The first Shministim Letter was published in 1970 amid the War of Attrition between Israel and Egypt. The Shministim Letter published this year was signed by teenagers who are either expected to sit behind bars or have been otherwise exempted.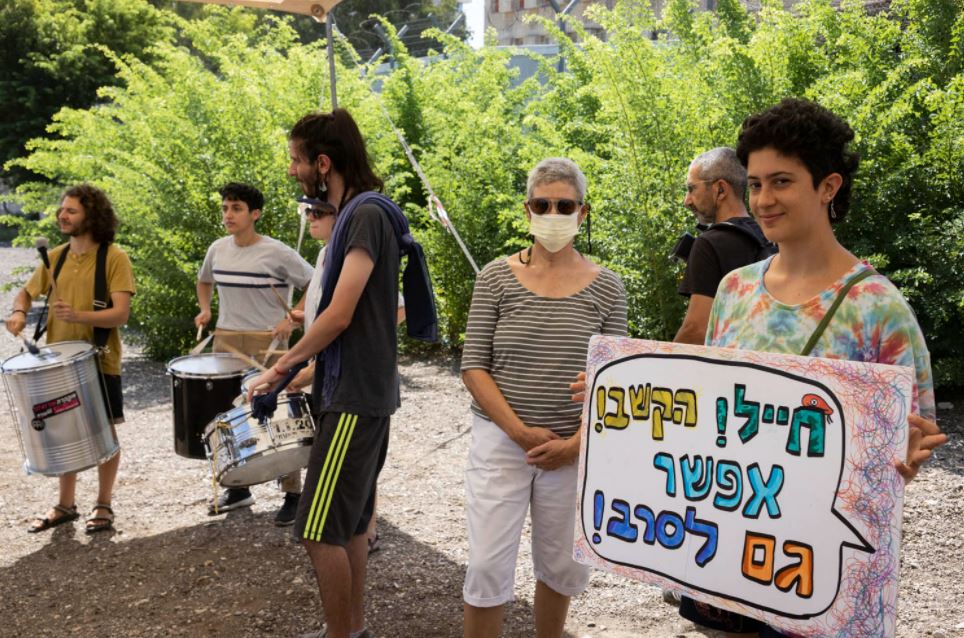 Perets originally began the process of conscription but stopped it in the middle and chose not to apply for an exemption from the army.
"I decided not to go before the conscientious objectors committee, a medical committee, or the IDF mental health officer," says Perets, "because it is important for me to stand by my principles and not to create the impression that I am the problem and I should be exempted [from service]. I chose to go to jail and take part in a campaign because I hope it will reach the most people. I hope that through my refusal, people will think about their place in this reality."
Do you think that today people, especially teenagers, do not know what is happening in the occupied territories? Or do they know and choose to repress it?
"There is a very large dimension of repression; people do not know or they do know and do not want to know. The repression is not always our fault, it is of the Education Ministry, of the government, of all kinds of other organizations that do not talk about [the occupation]. History lessons do not talk about the Palestinian narrative. Of course this deters people. People get extremely defensive when I tell them that I do not plan on enlisting. They take it personally and get angry. It clearly comes from a place of unwillingness to cope."
How are you preparing for prison?
"For the last three years I have been part of a network of women who refuse to serve. I was able to speak and think about what is happening in prison. Before my imprisonment, I spoke to conscientious objectors who sat in prison. They helped me put together the lists of things to bring. I will bring many books, sudoku, and coloring books. I started learning Arabic, so I will bring a few notebooks to continue practicing, if they let me bring them in."
How does the refusal process work in practice? What happens on the day of recruitment?
"I will arrive at the IDF induction base and refuse to go through the chain of enlistment. This is the initial confrontation with the system. From there I will be sent to all sorts of officers for all sorts of conversations and attempts at persuasion until they understand [my position]. There will be a trial in the base itself, where they will decide my sentence [usually between 10 days and two weeks]. After the trial, I will be held in detention until I am transferred to prison.
"After my release, I'll refuse again and then undergo another trial and be sent back to prison. I know that this is what I'll be doing in the coming months. I'll celebrate my 19th birthday in jail."
A version of this article was first published in Hebrew on Local Call. Read it here.
[Oren Ziv is a photojournalist, a founding member of the Activestills photography collective, and a staff writer for Local Call. Since 2003, he has been documenting a range of social and political issues in Israel and the occupied Palestinian territories with an emphasis on activist communities and their struggles. His reportage has focused on the popular protests against the wall and settlements, affordable housing and other socio-economic issues, anti-racism and discrimination struggles, and the struggle to free animals.]
+972 Magazine is nonprofit journalism based on the ground in Israel-Palestine. In order to safeguard our independent voice, we are proud to count you, our readers, as our most important supporters.
Become a member of +972 Magazine with a monthly contribution, so that we can keep our journalism as a strong, independent, and sustainable force changing the global discourse on Israel-Palestine.
+972 Magazine is nonprofit journalism based on the ground in Israel-Palestine. In order to safeguard our independent voice, we are proud to count you, our readers, as our most important supporters.
Become a member of +972 Magazine with a monthly contribution, so that we can keep our journalism as a strong, independent, and sustainable force changing the global discourse on Israel-Palestine.