labor
Regulating Amazon's Warehouse Algorithms Is About More Than Injuries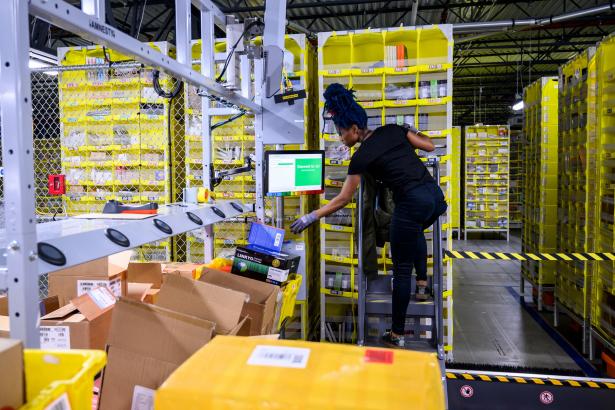 JOHANNES EISELE/AFP/GETTY IMAGES
Early last year, 24-year-old Jaclyn Castro graduated from college with a degree in history and began working as a counselor at the University of California, Los Angeles. Then the pandemic hit. Millions of white-collar professionals began clocking in from their laptops, adjusting to the new rhythm of work-from-home arrangements by ordering boxes upon boxes of stuff from online retailers.
Castro might have been among the new ranks of remote workers. Instead, she became one of the people getting those boxes to them. Grant funding was pulled from the program that employed her at UCLA. Jobless in an economy in shambles, she turned to one of the few places hiring: Amazon. Castro, who asked to be identified by a pseudonym to avoid retaliation from her employer, was one of roughly 350,000 new workers the company brought on during an unprecedented hiring spree at the onset of the pandemic, as demand for online shopping increased.
Amazon made a record $74 billion in sales in the fourth quarter of 2020, with annual revenue up nearly 40 percent, to $386 billion. Part of that increase is owed to high earnings from workers delivering packages to the company's 147 million U.S. Amazon Prime subscribers during the plague-induced shutdown. And those workers have paid the price.

One year into the job at one of Amazon's delivery stations in East Los Angeles, Castro says the company's punishing productivity requirements—which force workers to scan and sort some 450 boxes of various weights per hour—lead them to take shortcuts and, often, get injured as they rush to make the quota.
"They're breaking our bodies. Yeah, there is a high turnover rate, but why is that? Because they're breaking us; they're literally breaking us," Castro said.
California is now attempting to regulate the quotas and algorithms that Amazon uses to monitor and extract maximum efficiency from workers like Castro. The state Senate passed legislation Wednesday that would require the warehouse industry to disclose productivity requirements and restrict the imposition of any quota that interferes with a worker's right to pee or that otherwise compromises their protection under health and safety laws. The bill now awaits signature by Governor Gavin Newsom, who has not said whether he is in favor of it.
Taking aim at Amazon without naming the juggernaut, the bill would lift standards and, its supporters hope, stabilize the staggeringly high turnover at the company's warehouses.
"Amazon Hurts" has become a rallying cry emblazoned on protest signs in the United States and around the world. Work-related injuries at the e-commerce retail giant's mammoth warehouses occur at an almost 80 percent higher rate than in the rest of the industry, according to a May study by the union-backed Strategic Organizing Center, using data reported to the Occupational Safety and Health Administration from 2017 to 2020. Amazon doesn't deny its grueling work environment, where workers routinely suffer from musculoskeletal disorders caused by sprains and strains. It boasts about it—cynically dubbing workers "industrial athletes" capable of walking 13 miles a day and lifting 20,000 pounds during any given shift.
Sheheryar Kaoosji, executive director of the Warehouse Worker Resource Center, says that the high injury rates and high turnover at Amazon are inextricably linked.
"The warehouses have so many workers coming through," Kaoosji said. "And so many people stay for such a short period of time. It's really hard for them to connect and build power among themselves because you don't know if that person across the conveyor is going to be there tomorrow."
"The main focus of this is for safety," Kaoosji added. "But an initial peripheral effect is that it'll stabilize some of the workforce and give workers a little bit more time to talk to each other and think about how to make things better."
In June, the Teamsters union passed a resolution making organizing Amazon a priority, including using political pressure to bring the company to the bargaining table. Since then, the union has fought Amazon on tax abatements, in light of the estimated $3 billion the company has received in state and local subsidies, and its plans to open new facilities.
Randy Korgan, the Teamster's national Amazon director, told me in April that organizing Amazon is about upholding standards fought for over the course of decades.
"Amazon is hiring hundreds of thousands of workers in this industry and expanding rapidly with what appears to be one goal in mind, and that is to push down those working conditions, push down those wages, push down the protections that have been long established in this industry," Korgan said. "Amazon wants to be patted on the back for paying $15 an hour in an industry that was paying more than $15 an hour in the 1990s."
The tracking of workers' productivity by algorithm and through sophisticated surveillance mechanisms isn't simply a concern for the Teamsters, which represents workers across the logistics industry, warehousing, package delivery, freight, airline, and food distribution. The model is spreading into other professions, too. Kaoosji noted the rise in employers tracking the keystrokes of at-home workers and other retailers emulating Amazon's surveillance regime. UPS drivers, for instance, ferry packages across the country in trucks loaded up with sensors, monitoring their every move; the company exploits loopholes to jack up drivers' workweeks to 70 hours, squeezing every iota of productivity from the overstressed bodies of workers.
The push to move faster led to Castro's injury and, ultimately, her joining in efforts to speak out against working conditions at Amazon. Castro recalls one Friday when her manager came up to her three times to tell her that she wasn't meeting the necessary rate. She then moved her to another aisle of the warehouse.
"She saw it as an opportunity to [be] like, 'Well, I'm going to help you out by giving you more work, so that you can meet your rate,'" Castro said. But the aisle was loaded up with other bags full of packages, leaving her little space as she scanned the boxes, and when she reached down for one, she says, "I twisted and popped my knee."
Even though she was injured, Castro kept working to complete the shift. The next day she couldn't get up. She went to the emergency room, where a doctor told her that she had sprained her knee and that she should buy a knee immobilizer. She had called her supervisor before going into the emergency room and afterward thought she had logged in to the A-to-Z app that Amazon workers use for time-off requests. But Castro received a job abandonment notice via email because she didn't show up to work. Fearful that she'd lose her job, she went back in the next day.
"I had crutches and an immobilizer. I live in a two-story apartment, so I had to basically crawl down my stairs and drive myself to my warehouse so that I could report my injury," she told me.
At the warehouse, her managers questioned the E.R. diagnosis. She says one manager told her, "If you drove yourself here, I hate to ask, but are you even injured?" The managers had her do a video visit with a doctor through a telehealth company portal; the doctor told her to touch her knee and assessed that she didn't have a sprain and could return to work. (I reviewed a copy of the company medical report.) She says she had to see multiple doctors and physical therapists before she managed to get six months off without losing her job, through worker's compensation.
On April 19, in a stunt to advocate for the new warehouse bill, the Los Angeles County Labor Federation built a mock conveyor belt on the steps of the California State Capitol building in Sacramento. They challenged elected officials to meet the average quota of an Amazon warehouse worker: seven boxes per minute, or 420 boxes per hour. The politicians who took up the task were timed for just three minutes. No one met their quota.
Castro was there in the crowd. She says it was "validating" to see her labor recognized as hard work.
"You were tired doing it for a couple of minutes. Now imagine doing that for eight hours, five days a week, sometimes longer," she said. "I hope that the policy takes into consideration how fast our bodies can humanly go, or can humanly move, what's humanly possible for us."
Luis Feliz Leon is an organizer, journalist, and independent scholar in social movement history making good trouble in New York City.
Want more updates on inequality, labor, and justice?
Sign up for TNR's Sold Short weekly newsletter.
Summer Sale: 50% off fearless reporting.
1 year for $10 Subscribe