House Progressives: 'When We Said These Two Bills Go Together, We Meant It'

Rep. Pramila Jayapal (D-Wash.) speaks at a "Go Bigger on Climate, Care, and Justice" rally on July 20, 2021 in Washington, D.C.,Photo: Shannon Finney/ for Green New Deal Network // Common Dreams
Congressional Progressive Caucus Chair Pramila Jayapal on Wednesday stressed a need for the "transformational investments in programs" that her party's Build Back Better package stands to make and said House progressives wouldn't "be fools" by agreeing to a vote on a pending bipartisan infrastructure bill until the legislative text for a larger social spending package was finalized.
"If we're 90% there on the legislative text, which is what I keep hearing from the Speaker and others, then let's finish.. and we can get both bills done," Jayapal (D-Wash.) told MSNBC's Hallie Jackson.
"The big problem right now," she said, "is we still don't have that full agreement."

Asked by Jackson how many members of the CPC would vote no or withhold their vote on the bipartisan bill without having secured the legislative text for the reconciliation bill, Jayapal said that "the Speaker never brings a bill to the floor that goings to fail."
 "I think we're up to 40 that really believe we have to vote both of these bills through," she said. "We're just saying we need both bills to pass the House, and we need everybody to agree that this is the agreement," meaning that it wouldn't be changed once it goes through the Senate.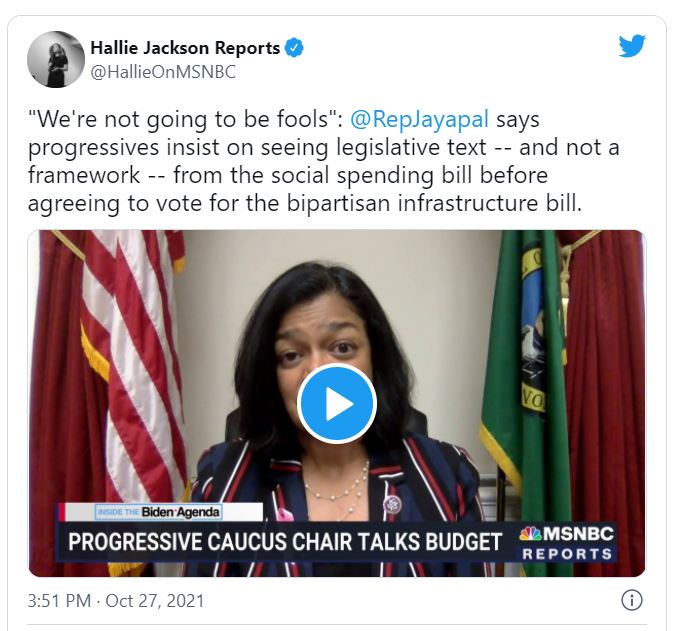 Jayapal's remarks came just after the CPC reaffirmed its insistence that House passage of the smaller bipartisan infrastructure bill must be accompanied by a vote on and the legislative text—not simply the framework—for the broader Build Back Better package.
"When we said these two bills go together, we meant it," the group tweeted.
Jayapal also delivered that message in a tweet shortly after.
"Moving the infrastructure bill forward without the popular Build Back Better Act risks leaving behind working people, families, and our communities," Jayapal wrote. "That's not a risk we can take. These two bills must move together at the same time."
Democrats, facing obstruction of the Build Back Better package by right-wing members of the party like Sens. Joe Manchin of West Virginia and Kyrsten Sinema of Arizona, are still working out the specific contents and exact price tag of the reconciliation package. Already slashed down to around $2 trillion over 10 years, the package could make significant investments in climate action and the care economy. The party needs the support of all its members for passage.
Jayapal's message Wednesday echoed the one she had a day earlier following a meeting with House Speaker Nancy Pelosi (D-Calif.).
While Pelosi reportedly pushed for a framework on the broader package to suffice for progressives to vote on the bipartisan bill, Jayapal rejected the approach. Rep. Alexandria Ocasio-Cortez agreed, telling Bloomberg that "a mere framework is not enough."
Sen. Bernie Sanders (I-Vt.), meanwhile, is doubling down on his demand that the reconciliation bill include Medicare expansion as well as reforms to lower prescription drug prices.
[Andrea Germanos is a senior editor and staff writer at Common Dreams.]
Our work is licensed under Creative Commons (CC BY-NC-ND 3.0). Feel free to republish and share widely.