Far-right Populist, Ex-Protest Leader Set for Runoff Vote in Chile's Presidential Election
José Antonio Kast, Wikipedia
The far-right populist José Antonio Kast is on course for a convincing victory over former protest leader Gabriel Boric in the first round of Chile's presidential election.
With more than 90% of the votes counted, Kast led Boric by 28% to 25.6%. The two will meet in a runoff next month. Chileans also voted for a new congress in the general election.
Kast is a devout Catholic and father of nine who opposes marriage equality, abortion and political correctness. He has run a campaign focusing on migration, public security and conservative social values.

The Broad Front's Boric, by contrast, is a 35-year-old former student leader who espouses social liberties and a green post-pandemic recovery.
The result suggests that Kast's hardline stance on several big issues resonated more with voters than Boric's plans to expand and improve Chile's social welfare system.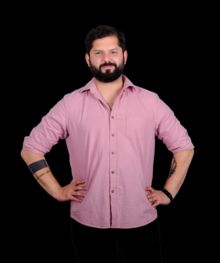 Elsewhere in a divided field, Franco Parisi, a businessman who has conducted his entire campaign from the US without once setting foot in Chile, surprised analysts by taking nearly 14% of the vote.
Two other presidential hopefuls, centrist Yasna Provoste and former minister Sebastián Sichel, underperformed notably – each drawing about 12% of the vote.
The vote marks a sharp departure from the progressive trajectory Chile has followed since era-defining anti-inequality protests exploded in October 2019.
Millions took to the streets in demonstrations to decry a host of inequalities and injustices, leading to the country opting to rewrite its dictatorship-era constitution in a plebiscite last October.
When the referendum was held nearly 80% of Chileans voted to draft a new constitution, and in a subsequent vote this year independent and leftist candidates swept into the assembly that is currently writing the new document.
But abstention is often high in Chile. Since voting became voluntary in 2013, the first round of a presidential election has never had a turnout of more than half of registered voters.
On this occasion, more than 15 million Chileans were registered to vote both in the country and abroad. Turnout data will be available shortly.
The runoff between Boric and Kast will be held on 19 December, and Chileans face an anxious wait to see how the other candidates' first round votes will be divided between the two leading candidates and their starkly contrasting national projects.
---
John Bartlett is a journalist based in Chile writing on Latin American politics and current affairs for The Guardian, The New York Times, the BBC, The Washington Post and other outlets. He holds an MSc in Latin American Studies from the University of Oxford and is a regular contributor of political and macroeconomic analysis to the Economist Intelligence Unit and Oxford Business Group.
The Guardian has a small favour to ask. Tens of millions have placed their trust in the Guardian's high-impact journalism since we started publishing 200 years ago, turning to us in moments of crisis, uncertainty, solidarity and hope. More than 1.5 million readers, from 180 countries, have recently taken the step to support us financially – keeping us open to all, and fiercely independent.
With no shareholders or billionaire owner, we can set our own agenda and provide trustworthy journalism that's free from commercial and political influence, offering a counterweight to the spread of misinformation. When it's never mattered more, we can investigate and challenge without fear or favour.
Unlike many others, Guardian journalism is available for everyone to read, regardless of what they can afford to pay. We do this because we believe in information equality. Greater numbers of people can keep track of global events, understand their impact on people and communities, and become inspired to take meaningful action.
We aim to offer readers a comprehensive, international perspective on critical events shaping our world – from the Black Lives Matter movement, to the new American administration, Brexit, and the world's slow emergence from a global pandemic. We are committed to upholding our reputation for urgent, powerful reporting on the climate emergency, and made the decision to reject advertising from fossil fuel companies, divest from the oil and gas industries, and set a course to achieve net zero emissions by 2030.
If there were ever a time to join us, it is now. Every contribution, however big or small, powers our journalism and sustains our future. Support the Guardian from as little as $1 – it only takes a minute. Thank you.