labor
Canada Goose workers vote to unionize in Winnipeg.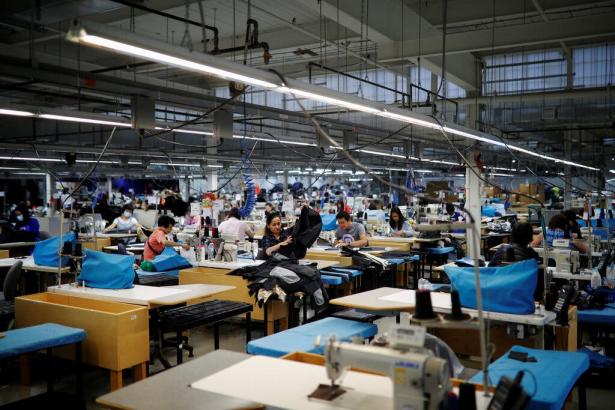 Workers making jackets at a Canada Goose factory in Toronto in 2018.,Mark Blinch/Reuters
Workers United, an affiliate of the giant Service Employees International Union, said it would represent about 1,200 additional workers as a result of the election.
Canada Goose, which makes parkas that can cost more than $1,000 and have been worn by celebrities like Daniel Craig and Kate Upton, has union workers at other facilities, including some in Toronto, and has frequently cited its commitment to high environmental and labor standards. But it had long appeared to resist efforts to unionize workers in Winnipeg, part of what the union called an "adversarial relationship."
The company denied that it sought to block unionization, and both sides agree that it was neutral in recent weeks, in the run-up to the election. The union said 86 percent of those voting backed unionization.

"I want to congratulate the workers of Canada Goose for this amazing victory," Richard A. Minter, a vice president and international organizing director for Workers United, said in a statement. "I also want to salute the company. No employer wants a union, but Canada Goose management stayed neutral and allowed the workers the right to exercise their democratic vote."
Reacting to the vote, the company said: "Our goal has always been to support our employees, respecting their right to determine their own representation. We welcome Workers United as the union representative for our employees across our manufacturing facilities in Winnipeg."
Canada Goose was founded under a different name in the 1950s. It began to raise its profile and emphasize international sales after Dani Reiss, the grandson of its founder, took over as chief executive in 2001. Mr. Reiss committed to keeping production of parkas in Canada.
The private equity firm Bain Capital purchased a majority stake in the company in 2013 and took it public a few years later.
The union vote came after accusations this year that Canada Goose had disciplined two workers who identified themselves as union supporters. Several workers at Canada Goose's Winnipeg facilities, where the company's work force is mostly immigrants, also complained of low pay and abusive behavior by managers.
The company has denied the accusations of retaliation and abuse and said that well over half its workers in Winnipeg earned wages above the local minimum of about 12 Canadian dollars (about $9.35).
Workers United is also seeking to organize workers at several Buffalo-area Starbucks stores, three of which are in the middle of a mail-in union election in which ballots are due next week.
Nearly 30 percent of workers are unionized in Canada, compared with about 11 percent in the United States.