Global Left Midweek - National Governments and Elections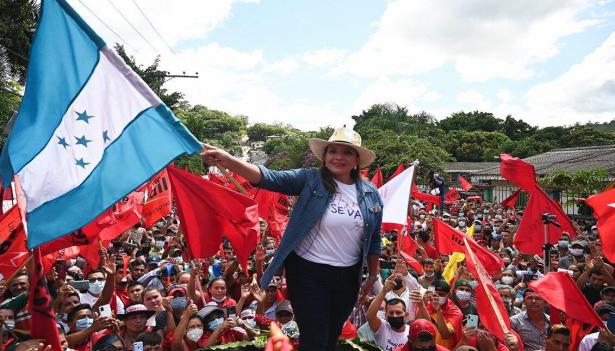 Xiomara Castro on the campaign trail in Honduras. Credit,@brunorguezp
__________
A Plan to Save the Planet
Vijay Prashad / Tricontinental (New York)
Tricontinental: Institute for Social Research and the Instituto Simón Bolivar in Caracas, Venezuela have started an international discussion responding to the broad crises of our times. We brought together twenty-six research institutes from around the world whose work has now culminated in a report called A Plan to Save the Planet. 
__________
Cuba's Vaccine Success
Sam Meredith / CNBC (Englewood Cliffs NJ)
The WHO's potential approval of Cuba's nationally produced Covid vaccines would carry "enormous significance" for low-income nations.
__________
China and Africa: Three Views
South-South Cooperation?  Kristin Plys, Amenophis Lô and Abdulhamid Mohamed / Review of African Political Economy (London)
Foreign Minister Wang Yi Visits Africa  / The Indian Express (New Delhi)
Beijing on Relations With Africa  / Xinhua (Beijing)
__________
Libya: Women Are Running For President
Mustafa Fetouri / Al-Monitor (Washington DC)
Two women stand out among the crowd of 73 candidates in the upcoming Libyan election. Laila bin Khalifa and Honeda Tomeya are making history by becoming the only two women candidates in the first ever presidential elections since the country gained independence in 1951.
__________
Brazil: Lula's Military Opposition
Oliver Stuenkel / Americas Quarterly (New York)
Ten months ahead of the first round on October 2, political analysts wonder whether President Bolsonaro will attempt to obstruct the transition of power if he loses to former President Luiz Inácio Lula da Silva. The country's armed forces, which have accumulated an enormous amount of political power, are set to be the key power brokers if Lula defeats Bolsonaro.
__________
France: People's Primary?
Kim Willsher / The Observer (London)
A group of political activists will attempt o save the bitterly divided French left from an electoral catastrophe in the presidential election with a "people's primary" to designate a single candidate. The Primaire Populaire was initiated by young people dismayed by the fractures that could mean no leftwing or socialist figure will reach the second round of the election in April.
__________
Chile: People Power
Pierina Ferretti / Rosa Luxemburg Stiftung (Berlin)
The student collectives that formed the core of the public education movement eventually led to the creation of new parties, many of which gathered under the Frente Amplio or "Broad Front" coalition. Allied with the Communist Party, they later became the basis of what is known today as Apruebo Dignidad, an electoral alliance that supported Boric's candidacy. 
__________
Turkey: Uniting Against Erdogan
Alex MacDonald / Middle East Eye (London)
The CHP, a centre-left secular-nationalist party, has in recent years managed to score a number of major electoral victories, even winning over sections of the public who might have never considered them in past. They have also formed alliances, both official and tacit, with a wide spectrum of other opposition parties, including the left-wing pro-Kurdish People's Democracy Party. 
__________
Honduras: How Women Elected Xiomara
Suyapa Portillo Villeda / NACLA Report (New York)
This could be a new Honduras. And as the first woman president, Xiomara Castro is one part of a larger legacy of women actors and their daughters who made her victory possible.
__________
South Asia: Human Rights Activists Align in Region
South Asia Peace Action Network
Participants at an online session on "Human Rights and Equality in South Asia: Growing up, Growing together" called on governments in the region to ensure establishment and strengthening of national human rights institutions and support the development of a dedicated regional human rights institution.