Tidbits - Feb. 3, 2022 - Reader Comments: Black Woman on Supreme Court; Ukraine Crisis; Banned Books; Crypto Currency; Peter Haberfeld; Migrant Quilt Project; Book Sale; Global Day of Action to Prevent War with Russia this Saturday; Announcements;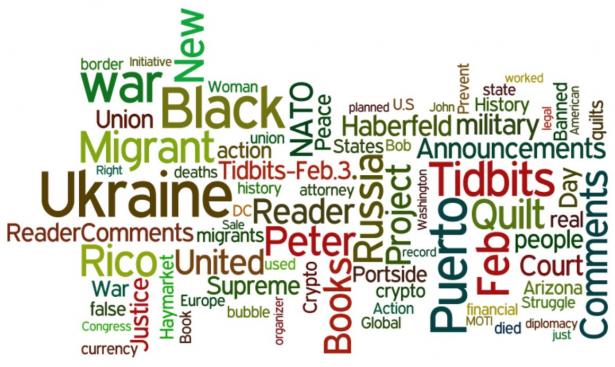 Tidbits - Reader Comments, Resources, Announcements, AND cartoons - Feb. 3, 2022,Portside
Resources:
Announcements:
Re: The Right Is Losing Its Mind at the Idea of a Black Woman on the Supreme Court
Anita Hill for the Supreme Court. Why? It's obvious why.
Thank you 
Claire O'Connor
      =====
What's wrong with that? There have been a bunch of old white men in the Supreme Court who should have been in a nursing home instead. By the way, most caretakers in nursing homes are black women, which means that they are in better mental faculties than their old white male patients.
Ramon Capois
Posted on Portside's Facebook page
      =====
If we don't get to appoint the justice we want, we have to shut down the country. There is no other choice. We cannot allow ourselves to be ruled by a hostile, ignorant minority. Block the streets, shut down the cities, close the stores. The majority must be permitted to have a say here.
William Cutlip
Posted on Portside's Facebook page
It's a New Day - Unions Are Brewing Up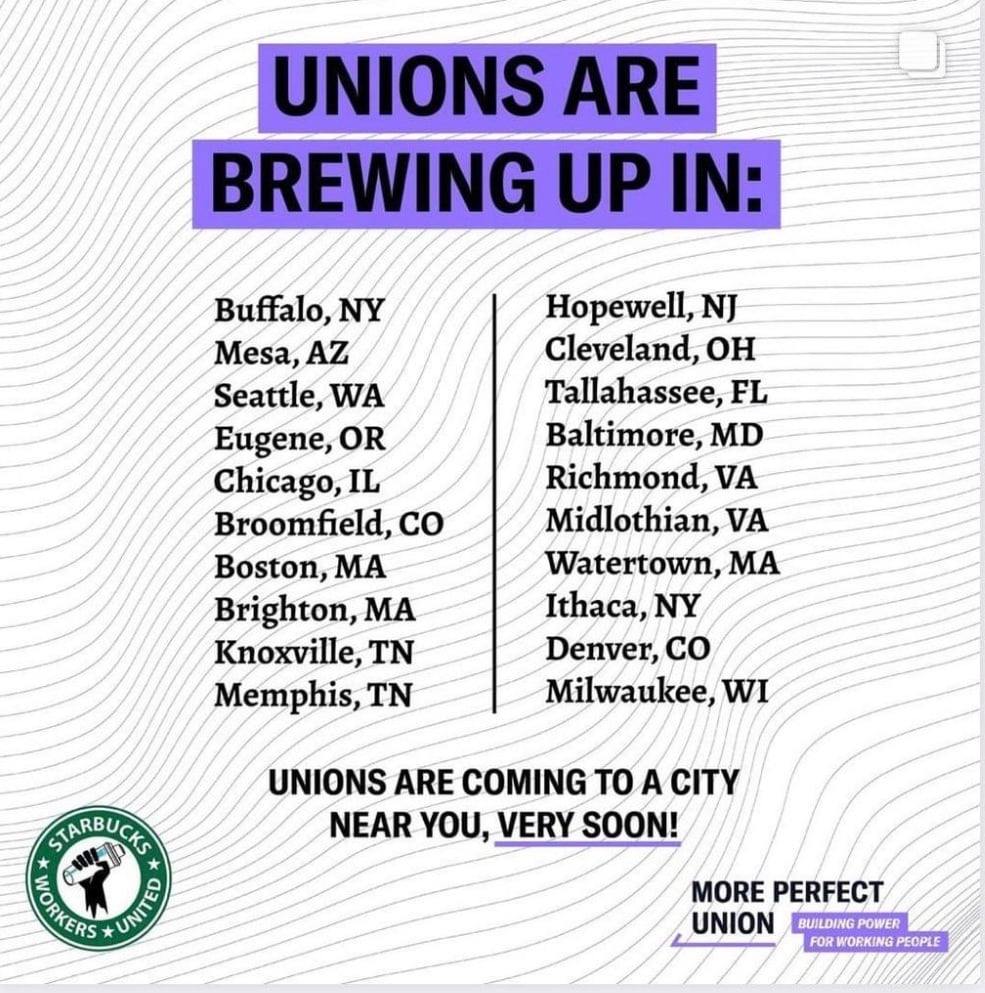 Re: Why Putin Has Such a Hard Time Accepting Ukrainian Sovereignty
It would be interesting to hear more about three matters related to the Ukraine. First what is the role of the "Cookie Lady" and the CIA. What is the role of the "Old fascists" and their spawn groups today. Finally are there any political progressives with significant support in the Ukraine or are we calling anyone who isn't a fascist a good guy? Any chance the authors can or will answer these questions?
William Bryce
      =====
This opinion piece is mighty selective with the facts.
Why no mention of US interference in the Ukraine's presidential election-- (see Victoria Nuland)?
Why not report the vote results by the Crimean population  over whether they wanted to join Ukraine or Russia? Why not explain the principles of either international law or foreign policy whereby it's fine for the US to interfere in almost all Western Hemisphere elections, or for Britain to retain the Falklands by force, but some different standard is applied to Russia?
Why no acknowledgment of the fact that the jingoistic propaganda barrage now agitating for intensifying this regional conflict is a repeat of the public opinion-molding barrages that were used to justify US launching of wars against Vietnam and Iraq?
John Woodford
      =====
looks like the war profiteers, consultants, and hangers on have gotten to Portside's filterer.
Peggy Dobbins
      =====
Or is it that NATO, i.e., US Diplomats engineered a coup in the Ukraine,
How and why the U.S. Government Perpetrated the 2014 Coup in Ukraine
By Eric Zuesse
June 4, 2018
Modern Diplomacy
Eric Ahlberg
Posted on Portside's Facebook page
      =====
Balderdash! This article reads like it came directly from the Atlantic Council writing for Radio Free Europe, in other words pure anti-Russian propaganda in denial of the reality of US intervention and interference in the "sovereignty" of Ukraine.
Alan Gregory Wonderwheel
Posted on Portside's Facebook page
      =====
Or are the Russian people upset with Nazi's on their border?
Kathryn Evann Wegner
Posted on Portside's Facebook page
      =====
Please provide some documentation, anything, to back up the claim of a Russian military buildup on border of Ukraine. The photos have been definitively debunked as cropped images of longstanding Russian military bases. Please. How did you verify the veracity of this article?
Randy Shannon
Re: Europe for Peace. Stop the war in Ukraine
The Ukraine crisis is one manufactured by NATO and the USA. NATO has been in Ukraine since the coup there and has been giving every assistance other than strict military. (In September 2020, President Volodymyr Zelenskyy approved Ukraine's new National Security Strategy, which provides for the development of the distinctive partnership with NATO with the aim of membership in NATO.)
see:  NATO official report Relations with Ukraine
This is in direct opposition to the Baker / Gorbachev "gentleman's agreement" (James Baker a gentleman? Well . . . ) of 1990. It is NATO that is pushing this confrontation.
see:  NATO Expansion: What Gorbachev Heard
On September 27, 2018, Yale's Program in Russian, East European and Eurasian Studies, and the Poynter Fellowship for Journalism hosted Vladimir Pozner, the acclaimed Russian-American journalist and broadcaster. Pozner spoke on the impact of US foreign policy towards Russia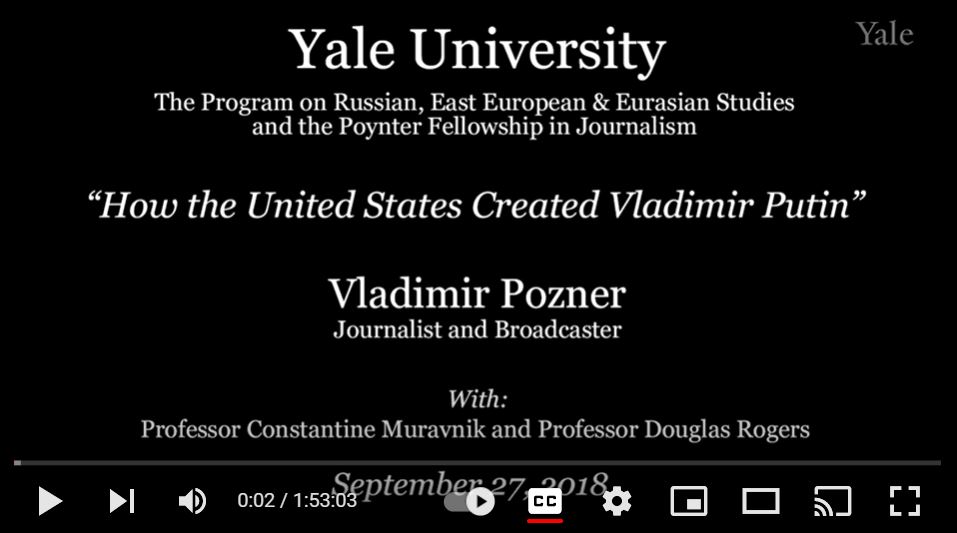 Andrew Smith
Posted on Portside's Facebook page
Re: Looking for the Casus Belli to Justify War in Ukraine
Just remember - they lie; they lie all the time; they've been doing it for a long time; they're good at this.
Susan Collier Lamont
Posted on Portside's Facebook page
      =====
Here we go again?
Joan Reynolds
Posted on Portside's Facebook page
      =====
"the pretext of the Tonkin Incident, which started the ten-year intervention of the United States in Vietnam, was false, as revealed by the Pentagon Papers of 1964; just like the Racak Massacre of 1999 was false, which provided the pretext for the NATO war in Kosovo (the bodies found, touted as evidence of a "massacre," were a collected group of UCK casualties who died in fighting over several days and in a very large area), and the Western military advisors did the rest. The pretext of Saddam Hussein's weapons of mass destruction that brought the United States into another war was also false; all in the middle of the Afghan war, which was itself started on false pretenses, whose real reason—revenge for September 11, 2001—was finally revealed by the White House only at the time of the disastrous withdrawal last year, after 20 years of bloody and useless occupation.
And now ---what do we believe about Ukraine?"
Bob Alft
Posted on Portside's Facebook page
      =====
The military industrial complex abhors a vacuum, with no active war going on that vacuum will be filled.
Steve Powers
Posted on Portside's Facebook page
      =====
Even the short-lived Spanish-American war in 1898 was declared with a false pretense after the USA exploded the Maine in Havana harbor blaming the Spaniards. It led to an invasion of and appropriation of Cuba and Puerto Rico. Even Americans were in favor of Cuba's independence but press media went into an orchestrated frenzy of yellow outcry asking for the USA to retaliate and occupy the two territories. As of today, Cuba gained its independence and Puerto Rico remains as one of the last colonies in the world.
Jose Felipe Gonzalez Pabon
Posted on Portside's Facebook page
      =====
There's plenty of precedent for going to war based on lies.
Norm Littlejohn
Posted on Portside's Facebook page
Re: The Anti-vaccine Right Brought Human Sacrifice to America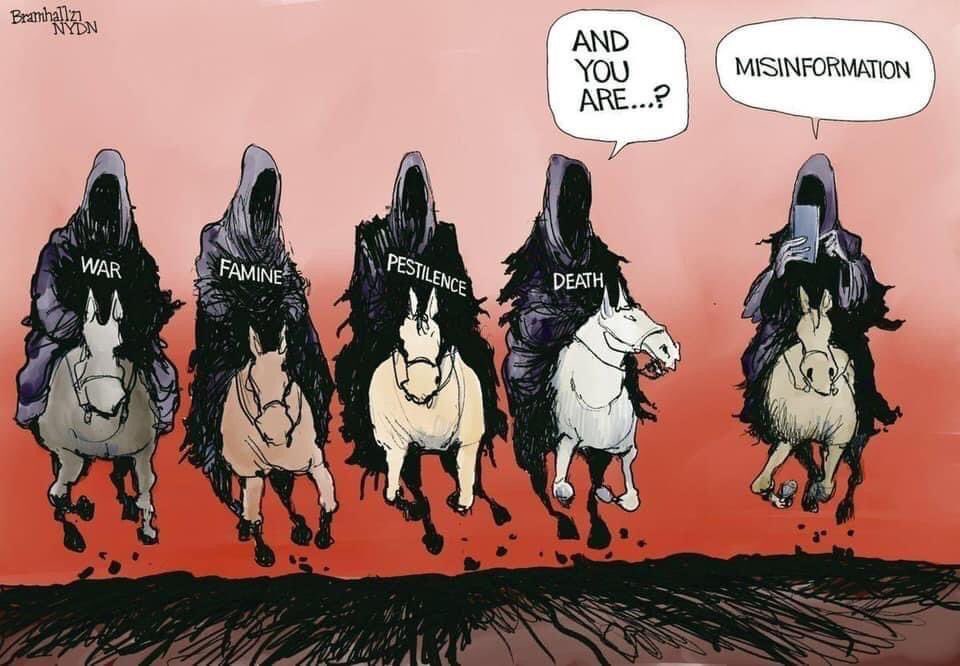 Bill Bramhall
January 22, 2022
New York Daily News
Ralph Stephens
Posted on Portside's Facebook page
Re: A Jewish Congregation Considers Affirming Anti-Zionism as a Core Value
Admirable. A step toward justice for Jewish and Palestinian people.
Georgia Wever
Posted on Portside's Facebook page
      =====
I really like the information/explanation in your article. Thank you
Heinz Raidel
Posted on Portside's Facebook page
Re: The 13th Amendment's Fatal Flaw Created Modern-Day Convict Slavery
Slavery is still legal if you are in prison....
Didn't learn this in history class...
Jean Douthwright
Posted on Portside's Facebook page
Re: Leaked Messages Reveal New York Times' Aggressive Anti-Union Strategy
It's not the ones who tell you to your face they're anti-working class, anti-labor, and anti-union you have to worry the most about. The one's who'll hurt you most are the ones who pretend to be your allies, who pretend to have "your best interests" at heart.
Eleanor Roosevelt
Posted on Portside's Facebook page
      =====
Hmm, it's my understanding that it has been proven that unions help workers.
Alyssa Bonilla
Posted on Portside's Facebook page
Re: The Dark History of Medicare Privatization
One thing you gotta say about the insurance companies: their robberies are very well planned and coordinated.
Sonia Cobbins
Posted on Portside's Facebook page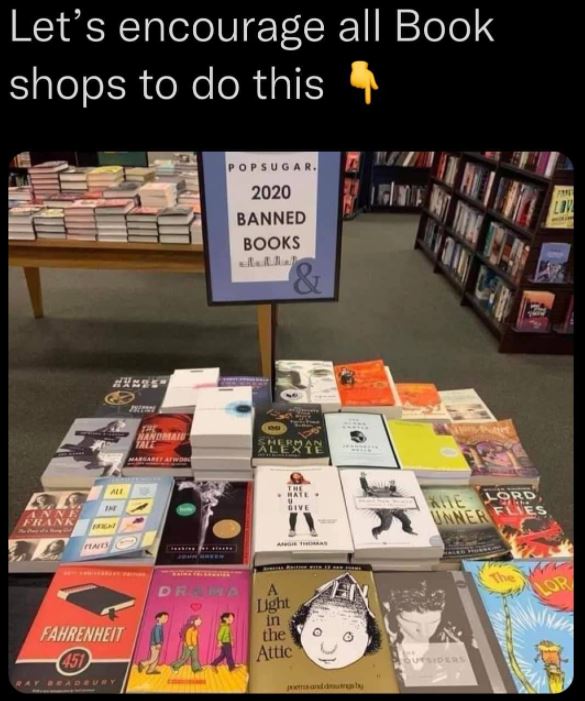 The Talk On Main St
post on Facebook
Psst! Hey Kids  --  cartoon by Ward Sutton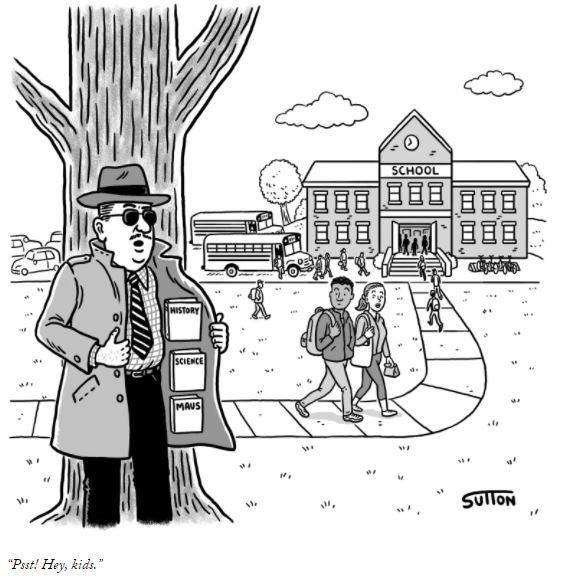 Ward Sutton
January 31, 2022
Daily Cartoon - The New Yorker
Re: A Hidden Figure in North American Archaeology
Terrific article on the black New Mexico cowboy, George McJunkin and on the Folsom site finds.
Really appreciated Mr. Nash's honest evaluation of the findings, inconsistencies, and efforts to get to the truth of all matters.
This is my first exposure to SAPIENS also.
Well done, Portside, too!
Brian P. Moore
Spring Hill, Florida
Born and raised in California, worked in New Mexico, other states; plus, Peru, Panama and other Latin American and Caribbean nations for eight years as US Peace Corps Volunteer and health consultant. Formerly presidential candidate of the Socialist Party USA in 2008, qualifying on only 8 state ballots.  Still antiwar, social justice activist in Florida.
Re: Mexican Auto Workers to Choose New Union in Landmark Vote
see:  Left out of the observation process, unions monitor GM vote from outside Silao plant
Union representatives said the Mexican labor authority initially approved their presence as observers of the historic referendum only to revoke the invites as quickly as an hour later.
By Cody Copeland
February 1, 2022
Courthouse News Service
Ethan Young
Posted on Portside's Facebook page
Re: Crypto currency is a Giant Ponzi scheme
The crypto currency phenomenon is often depicted as an outlaw attempt to circumvent the constraints of really-existing capitalism. If fact it is quite surprising how well it fits into the financial bubble that first emerged during the Reagan Administration. That bubble emerged because the real economy was unable to provide suitable investment opportunities for the huge amounts of capital being shoveled into the ravenous maw of the wealthy. The growth of crypto currencies is fed by the same imbalance. In the financial bubble this led to the near-catastrophic invention of new investment vehicles having ever more tenuous connections with state of the real economy: collateralized debt obligations, credit default swaps, etc. The crypto currencies are an ideal solution precisely because they have even less relation to the real economy; their use as a medium for the exchange of real goods and services it at best an afterthought to the operation of the crypto markets. And just as asset values in the financial bubble rise and fall with seemingly little regard for the state of the real economy, crypto capital is created and destroyed with an insouciance only found in the greatest financial bubbles known to history. It is a machine which runs of itself, hanging out there is midair, driven by good, old fashioned fear and greed.
Like much of the financial bubble, crypto currencies seem to have at last escaped the bondage insisted upon by Marx: that wealth ultimately derives from human labor. In a world full of fake politics, fake news, and false consciousness we are witnessing the creation of fake wealth on a scale previously unknown. If the past is any guide, it will all come down to earth.
Robert Supansic
Remembering Peter Haberfeld, labor attorney who worked alongside Cesar Chavez and Dolores Huerta
By Robin Henderson
February 2, 2022
Berkeleyside
Haberfeld was proud of his arrest record — watching the polls in Mississippi in 1967, protesting the Iraq war in 2003 and twice in Berkeley in the '60s.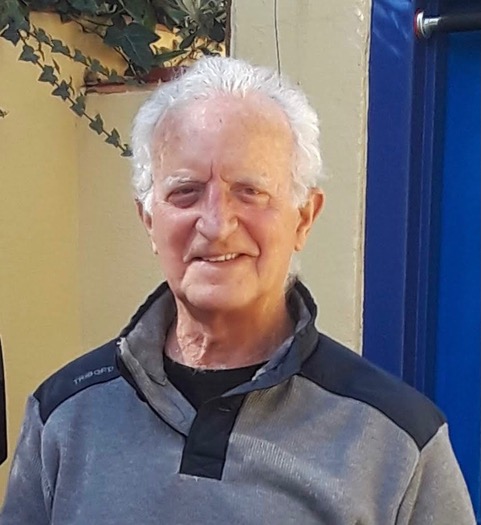 Peter Haberfeld, a lawyer for the people and a community organizer, died of a heart attack at his home in Oakland on Dec. 1, 2021. He was a fighter and a nurturer, disciplined and hard-working, with an enormous capacity for friendship and love. He was intelligent, generous, witty, kind, fun, mischievous and relished the absurd. Peter hated abuses of power and loved challenging authority. He was always there for his family and friends. 
Born in Portland, Oregon, on Oct. 23, 1941, Peter was eight minutes older than his identical twin, Steven, and 10 years older than his sister Mimi — all children of a Swiss mother and Austrian father who immigrated to the United States to escape the rise of Nazism...
Peter was proud of his arrest record:
During the 1964 Berkeley Free Speech Movement
While serving as a poll watcher during the election campaign of the Mississippi Freedom Democratic Party to elect candidates to the state's legislature in 1967
At People's Park in 1969
And with his wife, Victoria Griffith, in the streets of San Francisco protesting the 2003 U.S. invasion of Iraq.
During "Freedom Summer" in 1966, Peter worked for C.B. King, the pioneering civil rights attorney and only Black lawyer in Southwest Georgia. He was deeply influenced by his mentor's brilliance and profoundly affected by the glaring oppression and lack of equity for Black people in the Jim Crow South. Progressive attorney Francis Heisler, a beloved mentor, encouraged Peter to go to Mississippi to register voters. The experience cemented his determination to defend, and work closely with, the marginalized, the abandoned and the powerless.
Between 1968 and 1975 Peter was an attorney and organizer in the California Central Valley providing legal aid to Latino youth and farm workers.  In 1975, he joined the United Farm Workers (UFW) legal staff working with iconic leaders Cesar Chavez and Dolores Huerta, and another mentor, the renowned community organizer Fred Ross, Sr., during the legendary battle to establish the farm workers union. He helped win the landmark legal case, Murguia v. Municipal Court, which successfully sought to limit racially discriminatory prosecution of the defendant UFW members.
Los Desconocidos: The Migrant Quilt Project (Arizona History Museum)

Los Desconocidos: The Migrant Quilt Project
opening January 20, 2022
*****
January 2021: Arizona Historical Society Receives Donation of The Migrant Quilt Project.
The Migrant Quilt Project will be preserved in the Arizona History Museum collections and be accessible for the public to view.
*****
See the Migrant Quilt Project on Craft in America's Quilts on PBS!
The Migrant Quilt Project is a grassroots, collaborative effort of artists, quiltmakers, and activists to express compassion for migrants from Mexico and Central America who died in the Southern Arizona deserts on their way to create better lives for themselves and their families. Materials used in the quilts were collected at migrant layup sites used for rest and shelter on established trails in the Sonoran Desert.
Between 2004 and 2005, a record number of 282 migrants perished in the Tucson Sector, the border region between New Mexico and Yuma. The increase in deaths moved Jody Ipsen to take action to alleviate the tragic loss of life. As she hiked remote migrant trails with fellow humanitarians, they collected clothing, cans and water bottles left behind by migrants. Initially, they recycled some items and threw away the dirty clothes until Jody realized that the textile-based discards could be used to make quilts to communicate the reality of migrants' deaths. She reached out to quiltmakers and artists to create quilts from the blue jeans, bandanas, work shirts and embroidered cloths she gathered in the desert. Quilts would represent deaths from each year since 2000 when the Pima County Medical Examiner's Office began documenting the names of deceased migrants.
Each Migrant Quilt lists the deaths for a specific federal fiscal year, coinciding with the U.S. government's record-keeping. The name of each individual who died that year is inscribed on the quilt, with the word "unknown" or "desconocido" used to designate an unidentified person's remains. Quiltmakers are free to design their quilts however they desire. The Migrant Quilt Project shares the quilts at exhibits and immigration conferences and on its Facebook page.
The Migrant Quilts carry the stories of those who died so that viewers of the quilts may understand the real, personal, and fatal results of inhumane policies, including NAFTA, CAFTA, Operation Gatekeeper, Safeguard, and Hold the Line. 
While immigration into the United States from its southern neighbors has slowed in recent years, the deaths continue to occur as migrants are forced to cross the border into more remote and dangerous areas.
We hope that viewing the Migrant Quilts will inspire you to consider the conditions under which our fellow human beings take the ultimate risk to find more secure lives for themselves and their families and that you will be inspired to support humane changes in border policies.
This project was made possible in part by an American Quilt Study Group Endowment Grant and a generous grant from the Tucson Quilters Guild
40% OFF Haymarket Books on the Struggle for Black Liberation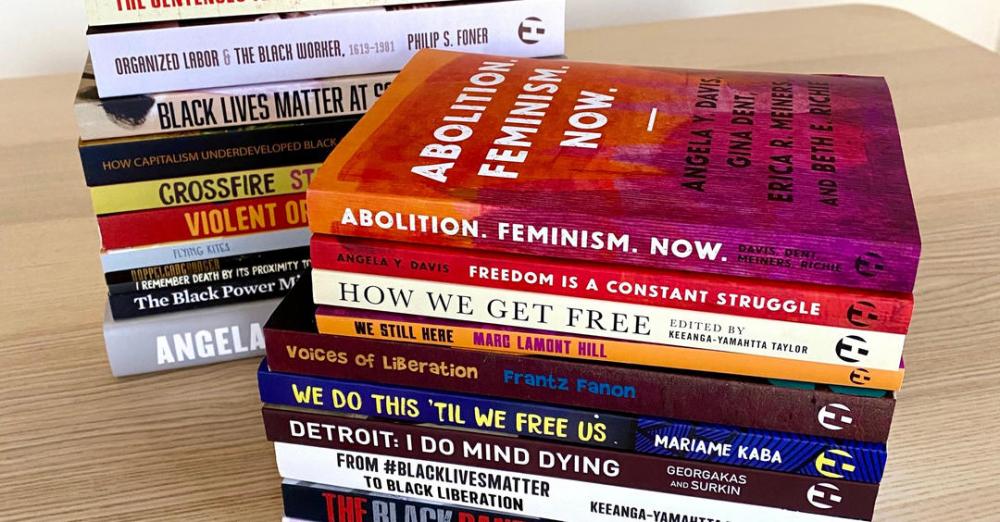 40% OFF Haymarket Books on the Struggle for Black Liberation
Black History Month is not only a celebration of the rich history of Black life, politics, culture, and struggle. It is also a reminder to engage every day with that history as we do the work to build an anti-racist resistance movement today.
In that spirit, we offer 40% Off an extensive selection of books on the history and politics of the Black freedom movement.
Get a FREE Ebook bundled with every book purchase!*
Get FREE Shipping on orders over $25 inside the US.
Policing, Prisons, and Abolition
Black Feminism
Books for Young People
Anti-Racist Education
Black Workers
Civil Rights to Black Power
Black Radical Traditions
Art and Struggle
Sports and Struggle
Faculty and instructors interested in adopting Haymarket titles for their courses can request Exam and Desk copies directly from our distributor, here.  
More in #Black politics
Haymarket Books
P.O. Box 180165
Chicago, IL 60618
Tel: 773-583-7884
Email: info@haymarketbooks.org
Global Day of Action to Prevent War with Russia this Sat. Feb 5. (United for Peace & Justice)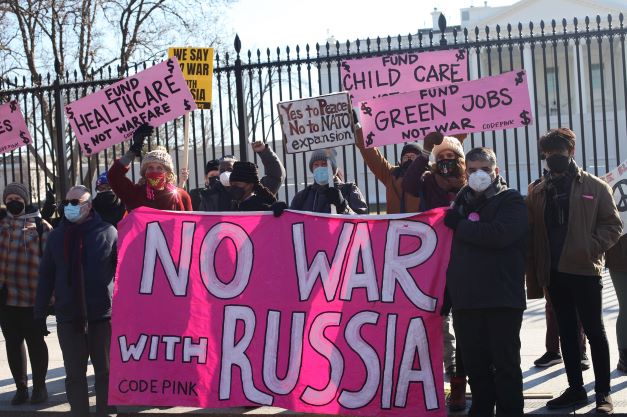 This is bad! The Pentagon just announced that 3,000 U.S. troops are being moved to Eastern Europe, the majority of them to Poland — and another 8,500 troops remain on heightened alert.
A military confrontation between the United States and Russia, the world's most heavily armed nuclear nations, could spell disaster. The military forces of all the nations involved in this confrontation must stand down, and their governments must stop insisting that this crisis is necessary. It is up to the peoples of each of the antagonists to demand this of their governments. We all need to come out into the streets for peace. So, this Saturday, February 5 we are calling for a global day of action to prevent a war with Russia.
LA, Baltimore, Minneapolis, Chicago, Portland, D.C. NYC, New Orleans, and many more cities already have actions planned. Click here to see all the cities where people have protests planned. If your city doesn't already have an action planned, we can help you organize one. We have posters, sample press releases, and more for you to use and we will help you promote your action.
There is very little being done in Congress to de-escalate this situation, but Congressional Progressive Caucus chair Pramila Jayapal (D-Wash.) and Representative Barbara Lee (D-Calif.) did release a letter stating, "there is no military solution out of this crisis — diplomacy needs to be the focus". We agree! Read the United for Peace and Justice Statement calling on the United States government to use all diplomatic means necessary to de-escalate immediately.
Representative Barbara Lee was the only Congresswoman who voted against the U.S. Invasion of Afghanistan. She was right then and she's right again: we need diplomacy NOT war! Get out in the streets to oppose war between the world's two largest nuclear powers, and tell your senators and representative to listen to the peacemakers and prioritize diplomacy!
Everyday Americans don't want another deadly, dangerous war. Recent polling data indicates that the majority of Americans are against war with Russia. We need our representatives to hear from us NOW! Tell them you expect them to pursue diplomacy, NOT war!
In Solidarity,
United for Peace & Justice Coordinating Committee
UFPJ  
P.O. Box 71523
Oakland, CA 94612
info.ufpj@gmail.com
(917) 410-0119
Film and Book Talk - Confessions of a Union Buster with Bob Muehlenkamp - February 8 (Metro Washington Council AFL-CIO)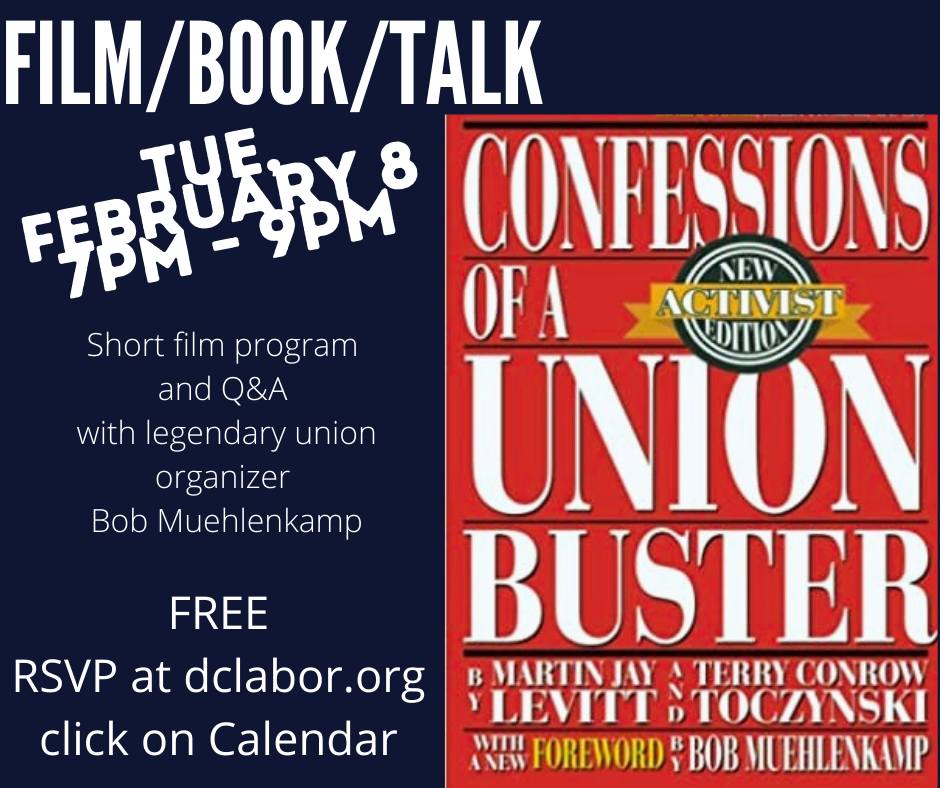 Tuesday, February 8, 7pm – 9pm
Short film program and Q&A with legendary union organizer Bob Muehlenkamp, author of the forward for Confessions of a Union Buster: New Activist Edition (2022).
Union Busting: Last Week Tonight with John Oliver (2021; 23m)
John Oliver discusses the mechanics of union busting, why the companies who do it face so few consequences, and what it really means when your manager wants to talk to you about "your attendance."
Alice's Egg Plant (1925, 8m)
Walt Disney directed this short in which chickens at an egg factory are organized to strike for shorter hours and smaller eggs by Little Red Henski from Moscow, Russia, and the bosses have to come up with a clever way to extract more eggs from the striking chickens.
Busted: how unions are stopped before they start - a call to action (7:20)
Producer Jimmy Day will join us to discuss the feature film now being made about how companies stop unions before they start with manipulative tactics. "The best way to stop this is to expose how this really works by sharing our stories. This short video is just one story and a call to action for others to share theirs." If you are organizing your workplace, please reach out at: bustedthefilm@gmail.com.
Co-sponsored by: Old Labor Hall (Barre. VT), London Labour Film Festival, Construir Cine Film Festival (Buenos Aires, Argentina).
DC Metro Labor CounciL AFL-CIO
202-974-8150 - streetheat@dclabor.org
Musicians for Justice Valentine's Celebration Concert - FREE - February 13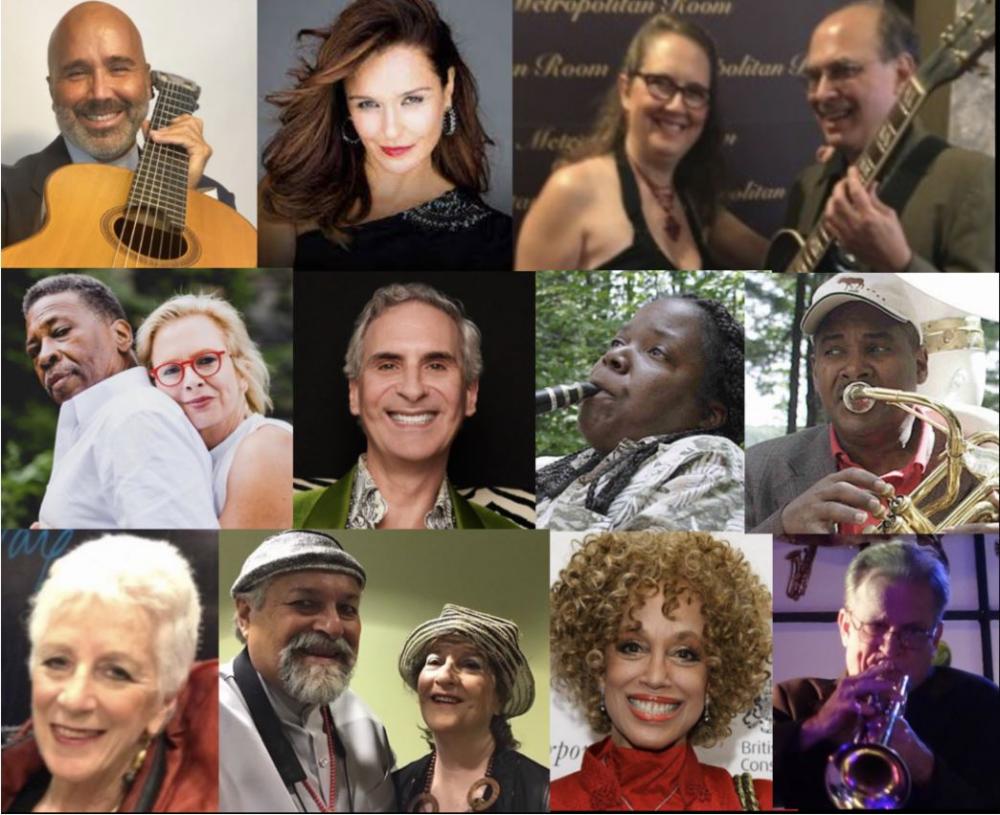 Join us on Sunday, February 13th at 6PM ET for our free "Musicians for Justice" Valentine's concert via Zoom.
Join us as jazz and pop luminaries and formerly incarcerated musicians perform their favorite love songs in a Valentine's celebration concert.
Featured MOTI Musicians for Justice include:
Mercedes Ellington
Vanessa Falabella and Richard E. Miller
Rick Harris
Joe Lovano and Judi Silvano
Doreen and Lawrence Ketchens
Katie McGrath and Chet Whye, Jr.
Moonglow
Mark Nadler
Hosted by Katie McGrath and Chet Whye, Jr. with Associate Producer Richard E. Miller and MOTI Founder Alina Bloomgarden
Musicians for Justice concerts highlight the talents of musicians supporting MOTI music education and mentorships in criminal justice. Over 500 musicians have taught, mentored and performed with MOTI..
You'll receive the Zoom login with your registration.
Our concerts are free, but please donate as generously as you are able. We're grateful to all the musicians contributing their talents and hearts to uplift us all.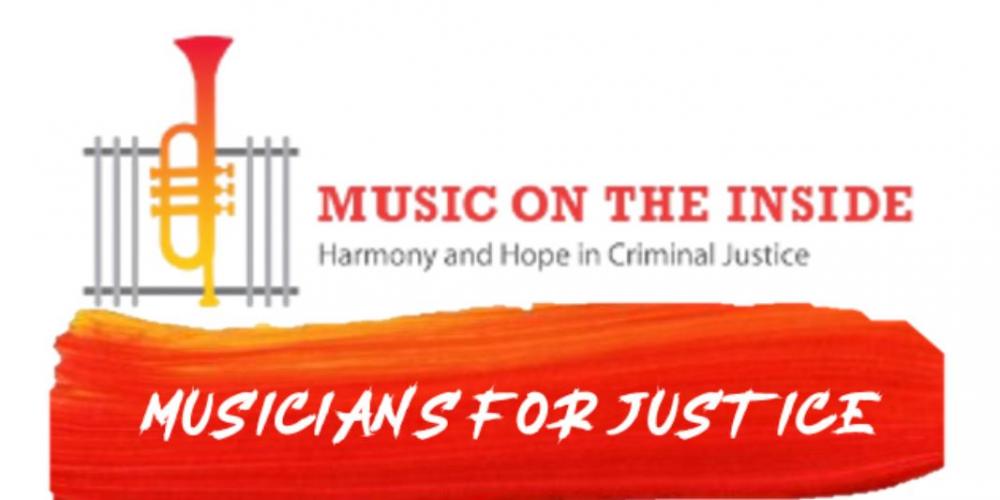 Music on the Inside
205 West End Avenue, #26V
New York, NY 10023
Mobilization to Washington DC on March 1 called by Frente Independentista Boricua (Friends of Puerto Rico Initiative)
Saludos,
This coming March 1 will mark the 68th Anniversary of the Nationalist Party of Puerto Rico's bringing their demand for freedom for Puerto Rico to a chamber of Congress. Led by Lolita Lebron they undertook the heroic action as freedom fighters for the colony that Puerto Rico remains to this day. At present all those who took part are now deceased. They are patriots who fought for the decolonization and freedom of Puerto Rico.
As it happens in the colony of Puerto Rico today there are pro statehood forces who have become emboldened to claim that the people of Puerto Rico prefer to consummate the colonization by becoming a state of the United States. This is not true as repeatedly the majority of the people in Puerto Rico have not expressed that sentiment. In spite of that the governing pro statehood Party, the PNP has a group from their party lobbying Congress for statehood. Disgraced in 2019 and forced to resign as Governor, Ricardo Rosello has claimed that on March 1 he will storm Congress as a lobbyist for statehood. He choose March 1 in an attempt to negate the patriotic mature of this historical event.
The Frente Independentista Boricua with other organizations, as well as the member's of FIB  have called for a mobilization to DC for March 1 to commemorate the valor of the Nationalists on March 1 , 1954. Friends of Puerto Rico Initiative (FoPRI) is a member of FIB and the coordinating committee staunchly supports this mobilization.  We will be renting a van for 15 people to leave from Union Square @ 9 am in order to make it to DC for the 2 pm rally. Protocols re COVID will be strictly followed. Participants should present their vaccination record and wear masks. Hand sanitizer will be provided. FoPRI has agreed to support  50% of the cost of the van thus lowering the price for each participant.
We urge your participation. You can reach out to Pedro Reyes (reyfran1997@gmail.com) who represents us in the FIB regarding this mobilization.
Que Viva Puerto Rico Libre!!
Friends of Puerto Rico Initiative
Digna Sanchez
Pedro Reyes
Zenon Arribalzaga
Nancy Cabrero