Curtis Hayes Muhammad, Civil Rights Veteran and Grass Roots Organizer, Feb 24, 1943-Feb 1, 2022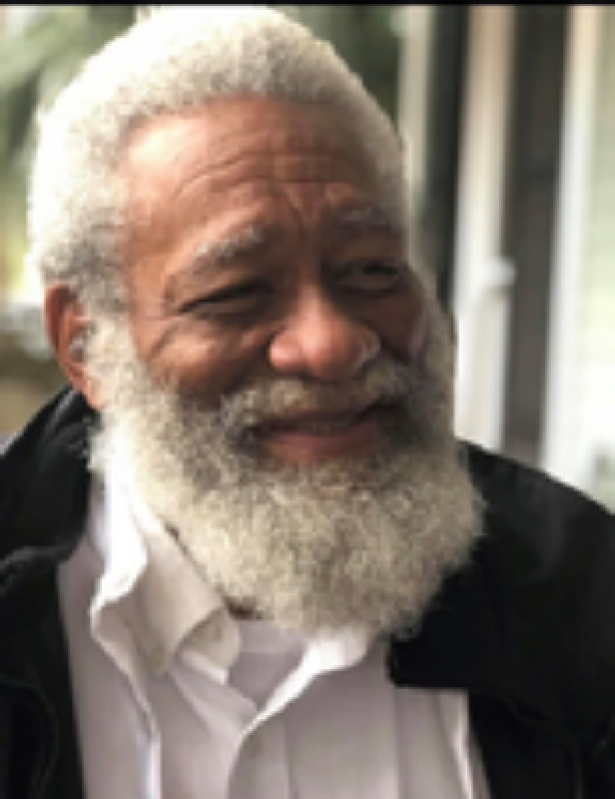 Curtis Hayes Muhammad spent his entire life participating in various struggles for human rights and civil rights. His activism began in the fall of 1961. Only 18 years old, he was one of five young people from McComb, Mississippi, brave enough to respond to Bob Moses's call to begin direct action and community organizing there.  He was a key member of SNCC's dangerous and groundbreaking efforts all over Mississippi throughout the sixties. Jailed many times for civil rights work, Curtis kept the principles of bottom up organizing learned from Moses and Ella Baker as the guiding foundation to subsequent efforts of union and community organizing and struggles for African Liberation.  These beliefs in a cooperative society and bottom up organizing led by poor and dark-skinned people have been embraced by many contemporary movements for social justice today.
Curtis's early life experiences made him responsive to these movement ideals.  He grew up in a family of sharecroppers in Chisolm Mission, Mississippi who had joined with 26 other sharecropping families and purchased a plot of land which they worked together. Raised by his grandmother, a midwife, he was taught principles of black independence and strength.  Learning that his father had to flee Mississippi after killing several Ku Klux Klansmen in a gun fight, Curtis was determined to find ways to fight against Mississippi segregationists.  He began preaching as a child and was encouraged by his grandmother that he had an important role to play in the liberation of black people. 
Curtis's post-civil rights activism included helping to organize the 1963 Chicago School Boycott when 225,000 students walked out demanding an end to racial segregation and the disparate treatment of Black students.  He was an organizer for the New Politics Convention that ran Dr. Benjamin Spock and Dick Gregory in the 1968 presidential election as third-party candidates. Curtis helped establish a radical Black bookstore in Washington, DC and helped create an early version of a Community Supported Agriculture project, bringing produce from Black farmers in the South to northern progressive communities in DC and NYC.  He also worked on housing issues for poor people with the Harlem Reclamation Project which urged homeless people to take over abandoned brownstones and rehabilitate them, and thus extract ownership from the City.  In Jersey City, NJ, following the same model, he assisted in the handing over of more than 60 brownstones to poor folks. 

Later he worked as a union organizer for Unite in Monroe, La.  He successfully organized several dozen locals, mostly of Black women garment workers, using the Ella Baker model of organizing. As a result, the organized workers sometimes made decisions independent of and criticized by national union leaders such as calling for and enacting wildcat strikes. He went on with the now federated Unite-HERE to New Orleans organizing hotel and restaurant workers there and mentoring young folks in Union Summer.  He also joined local New Orleans community members in Community Labor United, which worked on improving public education in New Orleans as the laboratory for a national Quality Education as a Civil Right Campaign.  That organization was the united front that was supporting and sponsoring community organizing in New Orleans when Hurricane Katrina hit in 2005.
After Hurricane Katrina, Curtis worked with several organizations to aid the devastated black community there. One group founded Survivors Councils, governed through consensus-based decision making and story circle, which took on the work of fashioning their own return and rebuilding of their community. Their work focused on establishing the basic needs for a sustainable community and included seizing control and rehabilitating school buildings to provide for their own community's education, taking over and rehabbing federal housing developments to provide opportunities to people from these communities to come home, developing their own hospitals, clinics and child care and health care institutions, and developing and sharing art and culture to develop their own educational and personal lives, again, maintaining the Ella Baker method of organizing. He also held classes and helped fund programs to familiarize younger organizers with Ella Baker's principles and tactics.  His message was always to go deep, go to the bottom and have the people lead.  He insisted on self-discipline and the ethics of love and care and respect for self and others.  
Curtis traveled to several Latin American, Central American and West Indian communities researching the history of particular groups of black citizens.  He organized projects in Colombia, Brazil, Venezuela, Mexico and Jamaica (where he launched the International School for Bottom Up Organizing). Though he spoke only English, he was well received with his message of "Your people are my people, your enemies are my enemies, we are together in fighting oppression." He also traveled to several African countries and developed a special interest in Liberia after learning one set of his ancestors, the Upkins, moved there in the nineteenth century.  He founded an orphanage there and as a supporter of a democratically run Liberia he was arrested and tortured in 1992. He was finally released through the efforts of his family and friends. 
During his final days, struggling with a malignant brain tumor, he was surrounded by his children and grandchildren listening to freedom songs and Sweet Honey in the Rock. He was a force of love and clarity to the end and left behind a legacy of dedicated, revolutionary organizing.  At (almost) 79, he kept organizing his people until his final months. He was preceded in death by his daughter Sanovia Muhammad (2000) and is survived by his children (in birth order: Abdullah Muhammad (Tsa), Ishmael Muhammad (Calandrah), Olosunde Ajala (Akintunde), Saad Muhammad, Llena Chavis (Dereck), Musa Sodaye (Rebecca), Afrika, and Dekonte (stage name: Curt Morlaye), his 14 grandchildren (Amerah, Freedom, Sanovia, Xavier, Spirit, Elias, Dialo, Ian, Santiago,  Jahni, Nilaja, Amira, Dominic and Funmilayo), his sister Barbara, brother Jim, and thousands of organizers, activists, and community members whose lives he deeply touched. One of the slogans he held most dear came from those poor and black people affected by the Katrina disaster "Nothing about us, without us, is for us." 
We see it as no coincidence that Curtis's transition occurred on both the first day of black history month as well as the anniversary of the first lunch counter sit-in. Rest in power, Curtis Muhammad! 
In lieu of flowers, the family has requested donations for the Curtis Muhammad Celebration of Life Event. Donations can be made via Zelle to curtismuhammad@gmail.com. If you would like to donate in a different way, please contact Becky Belcore at bbelcore2007@gmail.com and write "Re: Curtis Muhammad" in the email subject line.
https://video.search.yahoo.com/search/video?fr=mcafee&ei=UTF-8&p=curtis+muhammad&type=E211US1289G0#id=1&vid=b3d231c998cb42bee5e7844b427e2c63&action=click
https://www.democracynow.org/2007/9/4/the_privatization_of_new_orleans_curtis