Progressives Double Down on Opposition to Clyburn's Anti-Labor SCOTUS Choice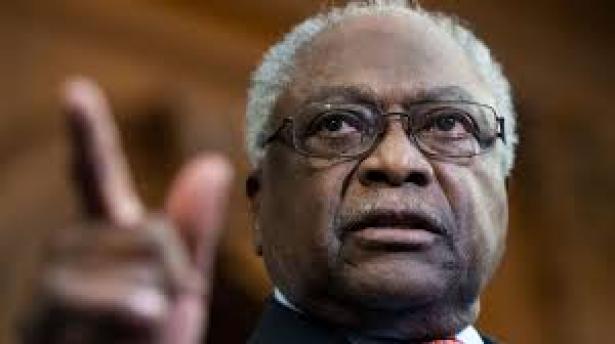 U.S. Representative Jim Clyburm, cnn.com
Progressive lawmakers and advocates are intensifying calls for President Joe Biden to consider the interests of working people—not corporations—when he nominates a judge to replace Justice Stephen Breyer on the U.S. Supreme Court as House Majority Whip James Clyburn ramps up his lobbying campaign on behalf of Judge J. Michelle Childs.
"You want somebody who is going to be reflective of the needs of working families and understands that we are moving towards an oligarchy in this country," Sen. Bernie Sanders (I-Vt.) told Politico Wednesday, without naming a preferred candidate.
As Common Dreams reported last week, Clyburn (D-S.C.) has openly called on Biden to nominate Childs, who is from his home state of South Carolina and who represented numerous employers rather than workers in workplace discrimination and civil rights cases while a partner at law firm Nexsen Pruet.

At The American Progressive, Alexander Sammon wrote on February 2 that Childs has handed down numerous punitive decisions in criminal justice cases, with several being "eventually overturned on appeal by higher courts."
"Judge Childs's repeated opposition to leniency in sentencing and alleged abuse cases brought by prisoners is notable in its own right," wrote Sammon. "That she made those decisions on such dubious grounds that they were routinely overturned by higher courts indicates a commitment to tough-on-crime rulings."
In addition to garnering support from far-right Sen. Lindsey Graham (R-S.C.), Clyburn's push for the U.S. district judge appears to have been effective with some Democratic senators who have a history of supporting workers' rights and other progressive causes, including Sen. Sherrod Brown (D-Ohio).
Brown told Politico Tuesday that he would be "enthusiastic" if Childs is the nominee and that Clyburn and others had "reassured" him that she would be a good candidate for the lifetime appointment.
Journalist Emma Vigeland asked on Wednesday how Brown, an ardent backer of the Protecting the Right to Organize (PRO) Act, which would strengthen protections for workers, would square that with his support for Childs.
Representatives of the American Federation of Government Employees and the Association of Flight Attendants told the Washington Post last week that they were wary of Childs' potential nomination, particularly considering the more progressive record of another possible contender—federal Judge Ketanji Brown Jackson.
Brown Jackson, who was confirmed to the U.S. Court of Appeals for the District of Columbia Circuit last year, spent two years as a public defender, an experience she said resulted in her taking "extra care" as a trial judge later in her career to ensure that defendants "were aware of what was happening to them and why," according to Amy Howe of SCOTUS Blog.
The judge also served as vice chair of the U.S. Sentencing Commission.
"During her tenure, the commission sought to alleviate harsh sentences for drug crimes by enacting several amendments to the Federal Sentencing Guidelines, including allowing some people with crack-cocaine convictions to seek lighter sentences," wrote Howe earlier this month.
Between Brown Jackson and Childs, the choice for Biden—who has made history by nominating numerous former public defenders to federal judicial seats—"should be easy," tweeted Vigeland.
With Childs appearing to be "the establishment pick," said Reason associate editor Billy Binion on Tuesday, Biden's selection is "a test" of whether he will work to rectify what the president has said were past mistakes regarding the criminal justice system.
Speaking to New York Times columnist Charles Blow on the Black News Channel last week, economist Julianne Malveaux acknowledged that Childs is distinct from many Supreme Court justices and nominees in that she does not have an Ivy League law school education.
"At the same time, I'm extremely concerned about the many ways she has gone with the predatory capitalist view of the world," she said, noting Childs' past labor and criminal justice legal cases.
"There is an embarrassment of riches," Malveaux added, regarding Biden's pledge to nominate a Black woman to the Supreme Court. "There are so many Black women who are not only qualified, but they are more than qualified."
Julia Conley is a staff writer for Common Dreams.
---