labor
Amazon Organizers Target a Potent Anti-Union Weapon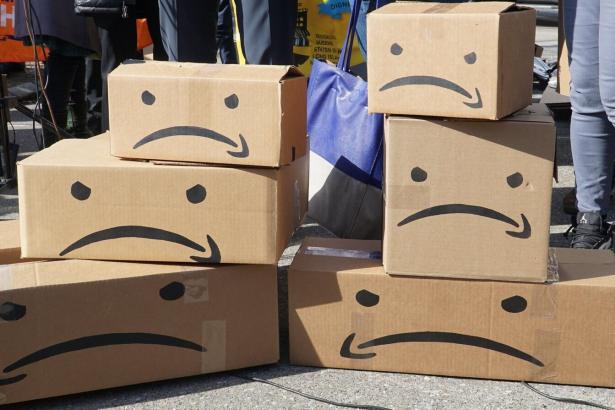 New Labor Forum
Amazon.com Inc. was recently hit with unfair labor practice allegations that could give the National Labor Relations Board's Democratic majority a chance to ban one of the most potent weapons used by employers to repel union campaigns.
The unions attempting to represent Amazon workers at facilities in Bessemer, Ala., and Staten Island, N.Y., filed separate charges this month claiming federal labor law violations arising from the company convening mandatory anti-union meetings. 
Such "captive audience meetings," which critics call inherently coercive, have been legal under board precedent dating back to the 1940s.

The NLRB general counsel's office, which acts as a prosecutor in unfair labor practice charges, would need to issue a complaint based on one of the charges to put the issue on a path to the board.
Amazon is confident it complied with the law, spokeswoman Barbara Agrait said in a statement. The choice to unionize will impact everyone at that facility, so Amazon hosts "regular informational sessions" and lets workers "ask questions and learn about what this could mean for them and their day-to-day life working at Amazon," she said.
While a win in one of the Amazon union elections would have huge significance for the labor movement, a legal challenge to a core anti-union employer tactic could have a nationwide impact on unionizing.
More than 75% of private-sector employers respond to organizing drives with aggressive anti-union campaigns, typically involving mandatory meetings where the employer makes its case against unionization, said Kate Bronfenbrenner, director of labor education research at Cornell University's School of Industrial and Labor Relations.
"Everyone does captive audience meetings, it's just routine," Bronfenbrenner said.
The meetings are coercive because workers must attend, employers make dire claims about the consequences of unionization, those who question the company line can face discipline or termination, high-ranking company officials often attend and present, and union activists are pointed out for derision, she said.
Employers are barred from expressly intimidating or coercing workers during the meetings. But management messages still threaten even when companies play by the rules, said Seth Goldstein, a pro bono attorney for the Amazon Labor Union in New York.
"We all know what the game is," Goldstein said. "Employers say 'may' instead of 'shall.' But when they say that 'voting for the union may result in shutting down the factory,' workers aren't concentrating on 'may.' They're concentrating on 'shutting down the factory.'"
Roger King, an attorney for the HR Policy Association, which lobbies for employers, counters that the term "captive audience meeting" is a misnomer that unions use to discredit legitimate employer communication.
Unions have numerous opportunities to communicate with workers, King said. Employers regularly hold meetings to communicate with workers on a variety of topics, including unionization, he said.
A federal court would overturn an NLRB decision outlawing mandatory employer meetings on unionizing, likely due to conflicts with the First Amendment and employer speech rights under federal labor law, King said. "It seems that what unions are really attacking," he said, "is speech and communication itself."