labor
After More than 10 Months of Public Organizing, New York Times Tech Workers Vote 404-88 to Unionize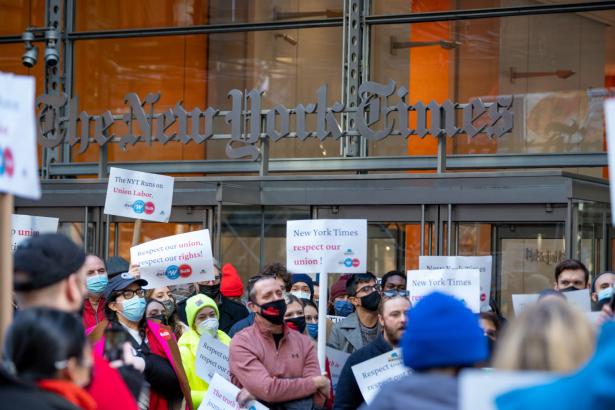 New York Times workers rally outside company headquarters on Nov. 16 in protest of "anti-union" tactics. ,Courtesy: NewsGuild of New York
Tech workers at The New York Times voted 404-88 to unionize as the New York Times Tech Guild, the union announced Thursday.
The guild, which includes more than 500 engineers, project and product managers, designers and analysts, is now the largest unit of tech workers with bargaining rights in the country. They are organized by the NewsGuild, the largest union of journalists.
As an official from the National Labor Relations Board counted the ballots Thursday, the guild marked the occasion with a live vote tracker.

"This is a historic win," the union tweeted. "We stand in solidarity with all workers organizing to build better workplaces in the tech and media industries."
The road to unionization has been contentious. Workers publicized their organizing efforts last April and asked The New York Times to voluntarily recognize their union, as it had done when employees at Wirecutter unionized in 2019. The company refused, and in the months since, the union has held a work stoppage and filed multiple unfair labor practice charges with the NLRB.
Though the NLRB typically schedules an election within six to eight weeks after a petition has been filed, the Times Tech Guild's election faced delays after the company challenged the eligibility of some proposed members. The company argued that the union should only include software engineers, excluding more than 230 employees who worked in project and product management, data analysis and design.
The union pushed back, saying that the divisions didn't make sense given the collaborative nature of their work. The NLRB ruled in January that the contested employees were eligible to be part of the proposed bargaining union, paving the way for an election.
Now that it is certified, the Tech Guild will be able to start contract negotiations with the company. In its mission statement, the union identifies pay discrepancies, at-will employment, opaque promotion processes, lack of diversity and unpaid overtime as key issues.
In addition to the roughly 70 unionized Wirecutter workers, more than 1,300 editorial and business employees at the Times are already represented by the NewsGuild of New York. The latter group is currently negotiating a new contract with the company.
The New York Times also faces a complaint from the NLRB alleging that the company violated federal labor law by interfering with some tech workers' ability to show support for the union. The company has denied acting improperly, and a hearing is set for March 14.
Workers in both journalism and tech have been unionizing in droves in recent years. Last year, workers at Google parent company Alphabet formed the Alphabet Workers Union, and digital employees at NPR received voluntary recognition of their union. Workers at Activision Blizzard's Raven Software are currently organizing. Meanwhile, the NewsGuild broke its annual organizing record last year with 1,542 journalists joining the union. In the first two months of 2022, it publicly launched union drives at Outside magazine, Grist, the Financial Times and The Charlotte Observer.