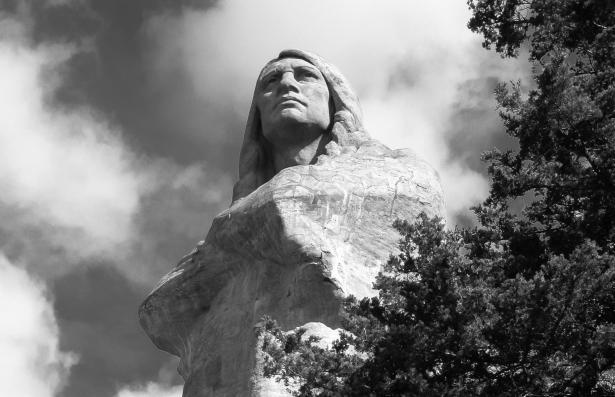 Connie Secor
The Corpse in the Kitchen: Enclosure, Extraction, and the Afterlives of the Black Hawk War
Adam John Waterman
Fordham University Press, $30 (paper)
Twenty miles from the small quarrying town where I grew up in Illinois, Moredock Lake sits nestled in the Mississippi River's bottom lands. I passed it often as a child, on a bike or in a school bus, looking at it in the flat terrain below the bluffs. Local pronunciation drawled the lake's name, which was said often but appeared only rarely on signs. I heard it as "Modoc Lake," which gave it what sounded like an Indigenous origin.
But the truth of the lake's name turned out to be much grimmer. I located it while teaching Herman Melville's The Confidence Man (1857) in a college course. Near the book's center, readers encounter the story of "Colonel John Moredock, of Illinois," which is related, in a very Melville way, second- or thirdhand from a then-popular account, loosely plagiarized and wonderfully repurposed. Colonel Moredock, the book describes, stopped just short of being the "Indian hater par excellence." He, having repeatedly lost family in clashes with Indians and devoting much of his life to revenge, is offered by the novel as an example of what it memorably calls "the metaphysics of Indian-hating." Though he had quickly risen in the Illinois legislature on a path toward a shiny political career, Moredock sacrificed it, in Melville's account, to be always at the ready to attack those whom he hated.
Was the Moredock Lake of my childhood named for this "Indian hater"? I found the answer in a local history book: "One of the most remarkable persons who ever lived in this part of the country, was John Moredock. In his honor this precinct received its name. His house was on the south side of Moredock lake." What Melville describes as Moredock's "vacations" from genocide and his indulgences in the "soft enticements of domestic life" took place on the shore of that familiar little lake.
This anecdote foregrounds the difficulty Illinois has had in understanding its history as a settler-colonial state. Almost 130 years ago, Frederick Jackson Turner famously described the "significance of the frontier in U.S. history," with the Chicago 1893 World's Columbian Exhibition and settlement in mind. Recent writings on race and indigeneity by displaced Midwesterners situate this part of the country's history as a crucial part of the U.S. present. Think, for example, of Missourian Walter Johnson's recent attempt to reinterpret U.S. history from the vantage of St. Louis and its imperial penetrations in The Broken Heart of America (2020). Or think of Ohioan Tiya Miles's thrilling account of the Indigenous, Black, and settler histories of early Michigan in Dawn of Detroit (2017). Adam John Waterman's new book The Corpse in the Kitchen (2021) puts him in the company of these historians. Waterman is an out-migrating Iowan, born just off Black Hawk Drive in Prairie du Chien, Wisconsin. The Corpse in the Kitchen examines how racism shaped Illinois before, during, and especially after the Black Hawk War of 1832.
---
Waterman acknowledges that the history he gives is one of settlers, even as he hopes that someone will soon offer a full telling of the story of Black Hawk and his forces from an Indigenous point of view. Black Hawk nevertheless remains a haunting presence throughout Waterman's book, shaping the settler imagination even in his unmaking and dismembering.
The great Sauk and Meskwakis (Fox) war leader was born in 1767 in what was then considered by the British colonial state to be Quebec, but is now Rock Island, Illinois. In his language he was named Makataimeshekiakiak. Black Hawk fought, a little fitfully, in the War of 1812. He served on what was called the British side, although he might have thought of it as the side of Sauk and Fox traditionalists who had refused to recognize land cessions in Illinois, Missouri, and Wisconsin that had occurred in the one-sided Treaty of St. Louis in 1804. Moredock served the U.S. side in 1812, but perhaps identified it as the Indian-hating one.
Black Hawk was over sixty when he was driven with his people into Iowa in 1828. He returned four years later, in the spring of 1832. A settler militia quickly attacked a delegation from his party. He fought mostly losing battles in the short war that followed, one named—in the colonial and slaveholding style of connecting important social mobilizations with a single menacing figure—for him (see also: the Vesey Plot, Gabriel's Revolt, or the Nat Turner Rebellion).
The conflict revolved around the continued refusal to recognize the legitimacy of the 1804 cessions, and around settlers keeping Black Hawk's people out of tribal lands. The land-back forces rallied some support from those in other nations, especially the Kickapoo, Ho-Chunk, and Potawatami people. Black Hawk's longstanding trans-Atlantic ties from the War of 1812 led colonial authorities to call his forces the "British Band." After a victory for the insurgents at Stillman's Run, troubles mounted for the outgunned Indigenous side. Movement into Wisconsin delayed defeat for only a short time. Defeated, imprisoned, and then put on public display, Black Hawk was allowed to dictate an oral history that was soon published—a very early case of an Indigenous autobiography. He returned to Iowa, where he died of malaria in 1838.
Waterman draws readers into the book by beginning inside a domestic space: the cabin kitchen of a Dr. James Turner, of Lexington, Iowa, shortly after Black Hawk's death. Turner, having robbed Black Hawk's grave, sets about cooking the flesh off Black Hawk's head, believing that there is a fortune to be made off of the sale or exhibition of the remains. Black Hawk's skull, Turner thought, held commercial promise back east. In the heyday of the head-reading pseudoscience of phrenology and of sensational imperial displays, Turner could have profited greatly. But the remains never traveled beyond the Midwest. Black Hawk's family soon secured return of the corpse, which was subsequently displayed at a Burlington, Iowa, museum until it was lost in a fire in the 1850s. Turner fled to live out his life in St. Louis.
Waterman contextualizes Turner's story within a greater desire to control Black Hawk's dead body and profit from what has been wrested from the earth. Doing so allows him to tell broader stories. Waterman connects this atrocity to the material life of empire, but without ever losing track of how the violence attending colonialism exceeded rational commercial calculation. Waterman argues that such bloodiness must have a psychoanalytic explanation, not just a political economic one. His interpretation hinges on projections of who was committing atrocities, disrupting families, and desiring whom, to be sure. But it also hinges on a very sharp discussion of the ways in which memory of the war became, in Freudian terms, a "joke": endlessly repeated, though completely unfunny.
Waterman writes tellingly about the role of extraction in expropriation, detailing how ore containing lead was taken from Indigenous lands in Illinois. Indeed, the mining frontier in Illinois set the precedent for the still bloodier history of mining frontiers in the Rockies. The massive expansion of lead mining, especially around Galena, Illinois, both perpetuated more aggressive settler appetites for expansion and enabled their satisfaction. As Johnson writes in The Broken Heart of America, "Lead was to the military-industrial complex of the nineteenth century . . . what rubber, then oil, then uranium would be to the military-industrial complex of the twentieth." In the four years surrounding Black Hawk's initial expulsion to Iowa, there was a population surge which can be directly linked to the mining boom. Settler populations in the upper Mississippi Valley increased fiftyfold, reaching 10,000.
In fact, it was this boom in Galena that drew Melville to Illinois just after the Black Hawk War and circuitously led to his writing on the Mississippi Valley and "Indian hating." Theorist Stuart Hall's insistence that identity is never "outside representation" perhaps deserves to be recalled here, alongside the reality that even the best representations of white supremacist identities have long material roots in property and production. The lead mined in Illinois ended in the history-making precision of both lead bullets and lead type.
Much of the lead put into type came to be shaped into words describing Indigenous people. Waterman captures the alternating currents into which this writing flowed. The Native became an object to be desired, as well as a force to be kept at bay—rendered amidst "bloodletting," while simultaneously enclosed by bureaucratic "bloodlessness." In "tragic fiction and gothic romance," not to mention in narrated histories, imaginations of "torture and rapine," even "fantasies of annihilation," commanded popular fascination. They did so not only because they were so reliably calmed by appeals to the "patriarchal violence" of the state, but also because they could be so easily reignited to warm subsequent rounds of the same drama.
Public displays of Black Hawk himself during the time when he was a political prisoner—"sovereign and savage," a "little, old, dried up Indian king" and a broken old man—are similarly doubled. Settler society needed both his "containment and exhibition." Indeed, Waterman offers a layered interpretation of the journals of the actress Fanny Kemble, which report seeing the captured fighter displayed in 1833 in an opulent New York City setting. These entries illuminate how the desire to master a conquered and aged sovereign also bespoke a desire to be seen and submit to authority.
---
In The Corpse in the Kitchen, Waterman draws a clear line from the planning for extraction and processing of lead—a process tolerating incredible waste—to the destructive trajectory of commodity production in agriculture. In this sense, Turner's horrific "excarnation" of Black Hawk simply adopted lead mining's logic of taking wealth from the earth.
Turner was not alone. The robbing of ancestral graves was integral to campaigns of Indian removal and was also continuous with practices of body-snatching in the pursuit of anatomical knowledge. It is worth recalling that Turner was a medical doctor. Waterman goes further still by linking Turner's speculative grave-robbing, larger processes of enclosure and dispossession, and the Jackson-era U.S. white obsession with "proper" burial—"proper" standing here in opposition to the Native's allegedly "emotional" relation to land—and lasting monuments. These civilizational accomplishments served as yet another concrete manifestation of the settlers' claim to property.
Waterman also explores property rights in his discussion of agriculture. For example, corn was momentarily for Black Hawk "both emblem and mechanism of these intimacies [shaping] relations among Indigenous peoples and settlers" in possibly hopeful ways. Corn, however, quickly became the basis for fiercely marketed whiskey. This heralded militarily and culturally enforced misery on the Native side, and an endlessly expanding need for square fields on the colonial one. Black Hawk's adversary General Edmund Gaines systematically rooted out Indigenous women's small plots of corn—and threats of sexual violence always inhered in such destructiveness. This dynamic encapsulated what Black Hawk considered the crux of his conflict with settlers.
Settler violence long united white people, masters, and non-slaveholders—Jefferson Davis and Abraham Lincoln both served in the Black Hawk War, the future presidents of the Confederacy and the Union coming together in a little patch of the Midwest to further the cause of expansion. In 1832 Black Hawk surrendered to a young Davis, a cruel reminder of slavery and settlement's deep entanglement.
Waterman's book benefits from being read in the company of other recent works that point to the relations between white settlement and Black slavery, including Johnson's River of Dark Dreams (2013), Zach Sell's Trouble of the World (2020), and Ikuko Asaka's Tropical Freedom (2017). Recent books by Darrel Dexter, M. Scott Heerman, and Jon Musgrave also help us to see how the settler history of the Illinois region blended seamlessly with the free state's continued toleration of bondage and its role in the slave-catching and free Black kidnapping of the "reverse underground railroad."
We have long known of a "frontier against slavery" in the Midwest, an antislavery region also inhospitable to Black settlement. The history detailed in The Corpse in the Kitchen helps explain Illinois's peculiar qualities as a "settler antislavery" state: its anti-Black racism—expressed in color bars, sundown towns, and white riots—obscured by the license plate racial liberalism that it has also produced. The generative recent work of Hannah Bailey on the role of antislavery politics in effacing the role of settler violence and Indigenous dispossession in early Kansas ought to inform us here. The forgetting of settler violence and dispossession, Bailey demonstrates, makes post–Civil War, anti-Black racism seem somehow surprising. This perspective is congruent with too much of the self-image and historical memory of Illinois.
---
In 1823, just as Black Hawk and his community were about to face expulsion from the state, the Supreme Court decided Johnson v. M'Intosh, a case that continues to command attention in law schools. It articulated the "doctrine of discovery" as part of a logic giving "radical title" to settler states, so that Native inhabitants had a "right to occupancy" of land that had to yield in the face of colonizing power's right to remove. Although the case came out of the District Court of Illinois, it is seldom thought of as an Illinois case; certainly few in Illinois ever think of it now. When license plates proclaim the state to be a Land of Lincoln, it is clear that they mean Lincoln the Great Emancipator, not the Lincoln who received forty acres for his service against the forces of Black Hawk.
The Black Hawk War has lent itself well to imperial forgetting. The whole affair did not stretch to five months, and Lincoln served only half of that. His joining of the volunteer militia reflected a sense of duty, inadequate employment, and calculations regarding what mattered for political success (perhaps taking Moredock's popularity into account). Nevertheless by 1848 he was already eager to deflate aggrandizements of the war and his role in it. Again the joke provided form to his remarks, when he told Congress: "Did you know that I am a military hero? Yes sir, in the days of the Black Hawk War I fought [and] bled." Seeing no "live, fighting Indians," he recalled, did not mean that he had not "had a good many bloody struggles with the mosquitoes."
A giant 1908 statue by Lorado Taft would draw inspiration from, but not seek to physically represent, Black Hawk. Said to be the second-largest concrete monolith statue in the world—exceeded only by Brazil's Christ the Redeemer towering over Rio—it is often colloquially called the Chief Black Hawk Statue. But the monument carries the actual name The Eternal Indian—eternally looked to, eternally mourned, and above all imagined as eternally gone. My happiest day as a university undergraduate was spent fishing with friends in the shadow of Taft's statue, in Black Hawk's Rock River homeland. The night before we'd occupied buildings in opposition to 1971 attacks in Southeast Asia by the Nixon administration. For me, there was no glimmer of recognition connecting the enormous Black Hawk statue with the Vietnam War. Today there remain many cousins to Moredock Lake in the Midwest. The Corpse in the Kitchen reveals the historical processes that produced and then disappeared them.
---
David Roediger teaches in American Studies and History at University of Kansas. His books include The Sinking Middle Class and How Race Survived US History.
While we have you...
…Boston Review needs your help. Confronting the many challenges of COVID-19—from the medical to the economic, the social to the political—demands all the moral and deliberative clarity we can muster. In Thinking in a Pandemic, we've organized the latest arguments from doctors and epidemiologists, philosophers and economists, legal scholars and historians, activists and citizens, as they think not just through this moment but beyond it. While much remains uncertain, Boston Review's responsibility to public reason is sure. That's why you'll never see a paywall or ads. It also means that we rely on you, our readers, for support. If you like what you read here, pledge your contribution to keep it free for everyone by making a tax-deductible donation.