Media Bits and Bytes - March 8, 2022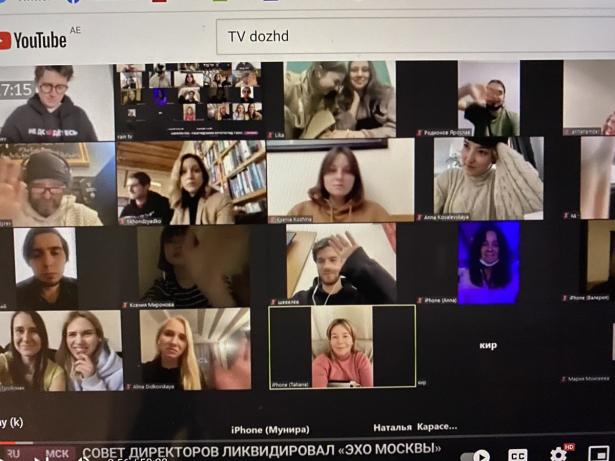 Staff of Russia's independent TV channel Dozhd on Zoom during last broadcast as they shut down, vowing to return to the air. Credit,Twitter
International Women's Day: Flipping the Script
By Vicki Saunders
Toronto Star

On IWD, women are asked to work harder than we already do, hosting and participating in events to showcase women — it is the one day media and corporations seem to actually reach out and look for stories of what women are doing. The rest of the year we're met with relentless apathy.
Russian TV Staff Resigns On Air
By Sophie Mellor 
Fortune
The entire staff of a Russian television channel resigned live on-air after declaring "no to war" in the final telecast. The decision was taken by the staff of TV Rain (Dozhd) after Russian authorities suspended its operations over its coverage of Ukraine war.
Women Directors Who Helped Invent Cinema
By Shalon van Tine
Left Voice
Women have been important contributors to the development of cinema from the beginning, but films by women directors have often been underappreciated and overlooked. Here we present some of the greatest films made by women from around the world.
The Problems with Western War Coverage
Racism   By Bina Fernandez, The Conversation
Cheerleading   By Jonathan Cook, Middle East Eye
Livestreaming and the Metaverse
By arti
Analytics Insight
In the metaverse, livestraming will take place in various formats like a static webpage or app into a more dynamic 3D space. For instance, many metaverse projects have "Voice Over Internet Protocol" that gives a voice to those in the vicinity. Online streamers will have an opportunity to build a platform on which they will sit their 3D avatar and talk openly.
Turmoil at WNYC
By Savannah Jacobson
Columbia Journalism Review
Internal warfare that seems urgent and all-encompassing comes off as petty office politics outside of the newsroom. But, journalists say, the infighting and instability has fundamentally affected the (listener supported) journalism. 
RT America is O-U-T
By Rebecca Alter
New York Magazine
Tech companies and telecom providers in Europe, Australia, and Canada are blocking Russian state-controlled media outlets in light of the Putin regime's invasion of Ukraine. 
African Americans in Tech
By William Lazonick, Philip Moss and Joshua Weitz
Institute for New Economic Thinking
EEO-1 employment data document the vast over-representation of Asian Americans and vast under-representation of African Americans at tech companies in recent years. How did this happen?
How a Tiny Far Right Website Dominates Facebook
By Judd Legum
Popular Information
Most people have probably never heard of the website Conservative Brief. It employs just three writers and it does not produce any original reporting. Yet Conservative Brief has emerged in 2022 as a dominant force on Facebook. It has recently become more popular on the platform than the New York Times and the Washington Post. 
Wartime Is a Bad Time To Mess With the Internet
By Corynne McSherry and Konstantinos Komaitis
Electronic Frontier Foundation
Governments around the world are pressuring internet companies to interfere with fundamental internet infrastructure. Tinkering with the internet as part of a political or military response is likely to backfire in multiple ways.