Dispatches From the Culture Wars - March 15, 2022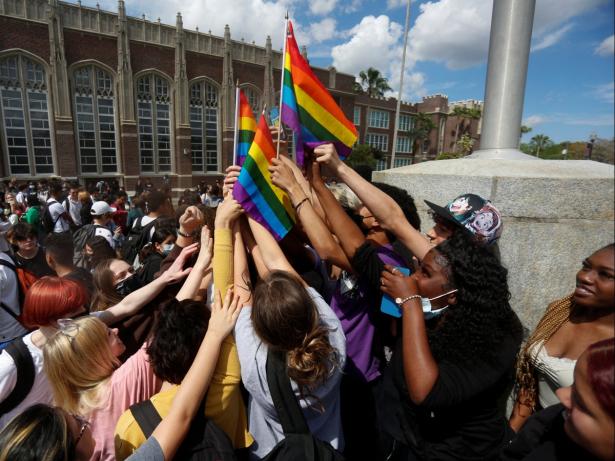 Thousands of Florida high schoolers have walked out to protest the "don't say gay" bill. Credit,The Independent
Fighting the Haters in Florida Legislature
By Lawrence Mower, Ana Ceballos and Mary Ellen Klas
Miami Herald
With potential presidential candidate Gov. Ron DeSantis helping set the agenda, GOP legislators championed bills that stoked passions and resonated with their base on wedge issues that included sexual orientation, abortion, immigration, voting and the teaching of the nation's racial history.
US Christians Who Pray For Putin
By Bethany Moreton
Boston Review
The mystical connection between white Southern nostalgia, the global family values movement, and Russia.
Why Convoy Protesters Hate Journalists
By Jen St. Denis
The Tyee
While many of the protesters in Ottawa appeared to be simply frustrated with pandemic rules and restrictions, some convoy organizers had links to the far right. In Vancouver, protesters seem to be intensely focused on the news media, attracting around 100 people every weekend outside the offices of news broadcasters like CTV and CBC. 
A Family Split By January 6
By Tara McKelvey
BBC News
The deep political divide in the US has affected ordinary Americans and their families, often in a way that is emotionally wrenching and deeply personal. The divide has reached beyond the dinner table to pit family members against one another - in this case father against son - with far-reaching consequences.
Demystifying Dune
By Andrew Stewart
CounterPunch
The problem is that the source novel is utterly humorless, a severe impediment 45 years after George Lucas successfully fused space opera with campiness. The sheer absurdity of the genre's rejection of astrophysical truisms like gravity in outer space makes it a fertile ground for the best kind of slapstick, and failing to take advantage of this hinders the project.
Reform Judaism and Palestine
By Martha Schoolman
The Revealer
Reform Judaism promotes social justice activism in the United States, but stays mostly silent on Israel's treatment of Palestinians.
Janet Sobel Recognized At Last
By Kelly Grovier
BBC
In 1938, a Ukrainian-born grandmother created one of art's biggest shocks – but it was attributed to the US painter Jackson Pollock. 
Sensitive Exploitation 
By Alex T. Press
Jacobin
The fad of employers using workers' "love languages" as an HR tool is a good reminder that the boss will do anything to avoid giving you a raise.
Turning Red Cast Speaks Out
By Ryan Lattanzio
IndieWire
A CinemaBlend review of Disney/Pixar's "Turning Red"  suggested the target audience was "very specific and very narrow"  for a story about a Chinese-Canadian girl going through puberty.
From Reform to Eviction​​​​​​​
By Jenifer B. McKim, Grace Ferguson, Mia Khatib and Luwa Yin
WGBH
More than 51 percent of properties that went into receivership between 2008 and 2017 in Springfield ended up being purchased by the businesses appointed to bring them back to code. And receivers were not shy about how profits were drawing them into the business, research showed.