Rise in Defense Spending Means Smaller Increase for Science in New U.S. Budget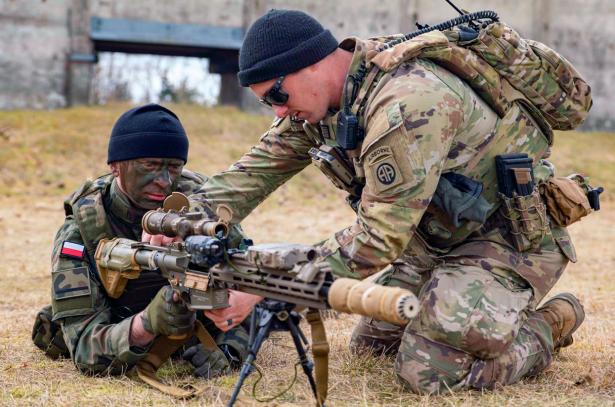 A U.S. Army paratrooper trains a Polish soldier after Russia's invasion of Ukraine.,ARMY SGT. CLAUDIA NIX/U.S. DEPARTMENT OF DEFENSE
Last week, Congress agreed to give roughly 5% more money to many federal science agencies when it passed a $1.5-trillion government budget for 2022. But what science advocates had hoped would be a banner funding year fell victim to a bipartisan push to spend much more on defense than President Joe Biden had requested—and to one Democratic senator's rejection of a separate Biden plan to allocate billions of additional dollars for research.
Besides beefing up the U.S. military, appropriators reduced by more than half the 16%, $110-billion increase Biden had sought for civilian programs—including a slew of new and expanded research initiatives. Biden had proposed boosting defense programs by only 1.8%, or $12 billion, but the annual spending package he signed into law on 15 March gives defense a 5.6% boost and civilian programs a 6.7% bump. Having a final 2022 budget also ends a 5-month governmentwide spending freeze that prohibited any new initiatives.
For the National Institutes of Health (NIH), the government's biggest funder of academic research, that shift in priorities shrunk Biden's proposed 21% hike, much of it for a new Advanced Research Projects Agency for Health (ARPA-H) to develop cutting-edge medical treatments, to 5%. The final bill, which gives NIH $45 billion, means ARPA-H will be launched with $1 billion rather than the $6.5 billion Biden had requested.

The National Science Foundation (NSF) had an even wilder roller-coaster ride. In addition to Biden's request for a 20% boost, to $10.2 billion, NSF was slated to get several billion more under the president's proposed $2.2 trillion social welfare initiative, called Build Back Better (BBB). Some of the money was for a new research directorate aimed at accelerating emerging technologies. But Senator Joe Manchin (D–WV) balked at BBB's scope and price, dooming efforts to pass the legislation in the evenly divided Senate. NSF ultimately received $8.84 billion, a 4% increase—but no additional funds to launch its Technology, Innovation, and Partnership (TIP) directorate.
The demise of Biden's plan also deprived the Department of Energy's (DOE's) Office of Science of several billion dollars for building and upgrading user facilities at its 10 national laboratories. Even so, Congress gave it a 6.4% boost, to $7.48 billion. Applied energy programs aimed at combating climate change did better, jumping 12% to $3.2 billion. NASA's science programs received a 4% increase, to $7.61 billion, reflecting bipartisan support for its next fleet of planetary missions. Smaller science agencies also did well, including nearly 8% more for in-house research at the National Institute of Standards and Technology (NIST) and 6% more for the U.S. Geological Survey.
The Department of Defense's basic research program benefited from the military's gains. Funding for those programs will rise by 4%, to $2.7 billion, reversing Biden's plan to cut them by 13%.
Republicans are claiming victory for adjusting what they called a misguided imbalance in spending priorities, given rising tensions with China and Russia's invasion of Ukraine. "I insisted on dollar-for-dollar parity between defense and nondefense increases," said Alabama Senator Richard Shelby, the top Republican on the Senate appropriations panel, adding that the final version cuts "billions of dollars in wasteful proposed spending by the president."
Most Democrats agreed to the reshuffling, although Senator Patrick Leahy (D–VT), who chairs the spending panel, disputes Shelby's view that Biden's original request was excessive. Still, Leahy says the final bill "makes bold investments in critical areas that went underfunded or even neglected in the previous administration, including education, child care, health care, the environment, science and research."
The 2741-page spending package also features the return of more than 4000 earmarks—projects proposed by individual lawmakers that agencies have not requested. Academic institutions typically seek earmarks for new buildings and equipment. But this year Shelby, a master earmarker, also won $50 million for the University of Alabama (UA) to create "a permanent endowment to support the recruitment and retention of exceptional faculty in science and engineering." The money will enable UA to offer more competitive startup packages to top scientists, says a senior administrator who requested anonymity. Senator Roy Blunt (R–MO) delivered $3 million each to the University of Missouri and Missouri State University for a similar endowment targeting health and life sciences researchers, some working at a facility that already bears his name.
Earmarks are a sensitive issue for the U.S. research community: Critics say they violate the principle of using merit to select projects, whereas supporters say they level the playing field and allow institutions to address pressing needs. Congress banned them in 2010 but revived them in 2021 under new rules designed to curb excesses. Now, Shelby and Blunt have broadened what earmarks can fund. "I've never heard of using earmarks for a school's endowment," says one higher education lobbyist.
A spokesperson for UA defended its earmark, saying the endowment "supports real-world issues," and thanked Shelby for "recognizing the value" of the research being done on its campus.
Next month Biden is expected to submit his 2023 budget request to Congress. Science advocates hope it will ask lawmakers to match the aspirational spending levels for several research agencies, including NSF, DOE science, and NIST, contained in separate pending legislation that addresses China's growing economic and military might. Last week Biden urged Congress to pass the bill, which has spent nearly 2 years wending its way through both bodies.
The time frame for that bill and for appropriations is uncertain. Science lobbyists don't expect to see a final 2023 spending bill until after the November elections. If Republicans win control of one or both chambers of Congress, their disagreements with Biden's priorities could complicate a final deal.
---
Jeffrey Mervis reports on science policy in the United States and around the world in an effort to explain to scientists how government works. He keeps a close eye on the changing fortunes of science across the federal government. He also follows efforts to improve science and math education, as well as the factors that shape the U.S. and global scientific workforce.
Jeff has reported from five continents, including Antarctica, and speaks regularly about the politics of U.S. science to both scientific and lay audiences. He's covered science policy for more than 30 years, including a stint at Nature, and joined Science in 1993.
Support nonprofit science journalism
Help News from Science publish trustworthy, high-impact stories about research and the people who shape it. Please make a tax-deductible gift today.