Let Them Eat (Jubilee) Cake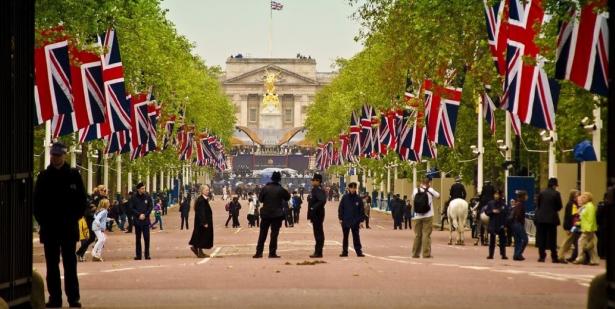 Pall Mall on the first day of the Jubilee weekend in June 2012,Photo by Garry Knight
When Marie Antoinette discovered her subjects were facing a bread shortage and starvation in around 1789, due to multiple poor crop harvests and rodent infestations, she apparently exclaimed 'let them eat cake!' Her hereditary privilege meant she had no grasp of the severity of their suffering, or the fact that cake was much more expensive than bread to produce.
Inequality during this period, immediately before the French revolution, was very high. Historians have estimated that around 90 per cent of working-class families lived at or below subsistence level, meaning they could only afford bare necessities. Marie Antoinette's comment made her a symbol of hatred, which fuelled the French revolution and the fall of the monarchy.
Unequal Britain
Fast forward nearly 250 years, and Britain is celebrating Queen Elizabeth II's Platinum Jubilee amidst an intensifying cost of living crisis and the ongoing Covid-19 pandemic. The privilege of the monarchy and the national crisis stand in sharp contrast. In Derbyshire, many have been angered by the council putting aside £200,000 to fund its Jubilee celebrations while food bank use in the county increased by 11 per cent in 2020. 

The wider economic context paints an equally bleak picture. Earlier this year, the Office for Budget Responsibility forecast that household post-tax incomes would fall 2.2 per cent this year, the largest fall since records began. The Health Foundation found that working age people in the poorest 10 per cent of England were four times more likely to die from Covid-19 than those in the wealthiest areas. While the Queen gave a rare televised speech in April 2020, invoking the 'Blitz spirit', it was frontline workers who bore the brunt of the pandemic. 
Yet, today, we are encouraged to buy decorations and food for Jubilee street parties. I'm personally getting bombarded with adverts for 'special edition Platinum Jubilee macarons', retailing for between £20-30. What better symbol of inequality than an expensive, Instagrammable patisserie with a portrait of a hereditary monarch on it?
It is not just that these inequalities are being sharpened alongside the existence of monarchy, but rather that the inequality inherent to systems of monarchy provide the conditions for inequality within wider society.  There can be no call for socialist revolution and greater equality without including a call for Republicanism.
A global Republican rise
Of course, despite this, it seems unlikely that our monarchy will meet the same fate as Marie Antoinette. Republicanism in the UK is still not widely spoken about. When Prince William was booed by fans at the recent FA Cup final, Commons speaker Sir Lindsay Hoyle said he 'utterly condemn[ed]' their behaviour: 'In this year of all years – the Queen's Platinum Jubilee – this is dreadful.' Such saccharine defence of the royals remains much more commonplace in UK mainstream media than critical consideration of alternative constitutional futures. When was the last time you saw a Republican commentator on a BBC News story about the monarchy?
Elsewhere, however, anti-monarchy sentiment is on the rise. In November 2021, Barbados became a republic after a public referendum, meaning the Queen is no longer Head of State. The prime minister of Barbados described it as a 'seminal moment' in rejecting the country's colonial past as one of England's first slave colonies, being occupied in 1627. 
The Duke and Duchess of Cambridge's recent visit to Jamaica was designed to strengthen the monarchy's ties to the Caribbean. Instead, it was so widely protested by anti-monarchy activists that it has drawn global attention to the monarchy's (neo)colonialism, and strengthened the campaign to make Jamaica a republic. Images  of Prince William and Kate Middleton shaking the hands of Jamaican children through wire fencing went viral for their colonialist overtones. 
Just weeks later, during another royal visit, Gaston Browne, the prime minister of Antigua and Barbuda – another apparently soon-to-be republic – asked Prince Edward if he would use his diplomatic influence to achieve 'reparatory justice' for slavery and colonialism. Prince Edward laughed, and made a joke about how he hadn't taken notes during Browne's speech and so couldn't respond to all the points. (Prince Edward and his wife Sophie, Countess of Wessex, were previously criticised for presenting Saint Lucian prime minister Philip J. Pierre with a signed photograph of themselves.) 
Over in Australia, meanwhile, things appear to be moving fast: the Republican movement have said that the new prime minister, Anthony Albanese, will be the person to remove the Queen as head of state.
What next?
The wider view amongst the UK general public does seem to be slowly shifting. A 2021 YouGov poll found that 41 per cent of 18-24 year olds think Britain should have an elected head of state, and only 31 per cent would like to see the monarchy continue. This is a big shift from the polls in 2019, which found 46 per cent of 18—24 year olds were in favour of the monarchy, and compares to 70 per cent of 50-64 year olds today who support the monarchy.
The recent accusations of Prince Andrew's alleged sexual abuse of children, and Meghan Markle's experiences of racism in the institution, seem to have widened an existing generational gap in support for monarchy. The debates around monarchy now mirror many of the divisions in wider society, tapping into the #MeToo movement, right-wing debates about 'woke culture', and notions of what Britishness looks like today.
What does this mean for the future of monarchy? Could this be the last Jubilee? It's worth bearing in mind that the monarchy has weathered crises before, from the 1992 'annus horribilis' when the funding of monarchy was widely criticised, to backlash after Diana's death. 
However, it does feel like we're at a particular crunch point now: with the Queen aged 96, it won't be long before we see a change of monarch, the first in most people's lifetimes. The Queen seems to represent one of our last living links to a particular version of Britishness (or more accurately, Englishness) built on World War 2 stoicism, history and heritage, which the Conservative government has attempted to revive. Will King Charles III hold the same sway?