Global Left Midweek - Electoral Action and Strategies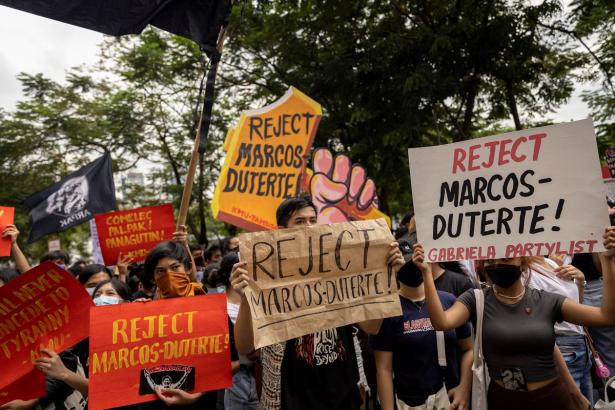 Students and activists gather outside the Commission on Elections to protest its unofficial tally of the national elections, showing presidential candidate Ferdinand "Bongbong" Marcos Jr. on course to win the presidency, in Manila. Credit,REUTERS/Eloisa Lopez
__________
An Activist's Guide to Getting Elected
Peggy Nash / Canadian Dimension (Winnipeg)
Leading an organization or running for and winning office is very time consuming. You need to be motivated and energized. If it will tear you apart to run when you are pregnant or have your kids at home, then don't do it. But know that it can be done and done successfully. 
__________
Brazil: Lula Ahead, Bolsonaro Still Raising Hell
Andrew Fishman / The Intercept (New York)
Lula's lead is most dramatic among women and younger, poorer, and less educated voters, as well as Catholics, unemployed people, and Black Brazilians, who are a demographic majority. Bolsonaro's highest approval ratings are among business leaders and the wealthiest voters.  
__________
Makabayan in Philippines
Jodesz Gavilan / Rappler (Manila)
The results of the May 9 polls reflect the fruition of the Duterte government's long-running effort to malign and harass progressive groups. From six seats in the 18th Congress, the Makabayan bloc is set to occupy only three seats in the incoming 19th Congress.
__________
New Zealand's Māori Party
Tess McClure / The Guardian (London)
Election year is approaching, and it seems increasingly likely the party could hold the balance of power in New Zealand's next government. The next election could deal Te Pati Māori a winning hand, but it's not yet clear how they'd like to play it.
___________
Some Takes on France's New Left Electoral Coalition
__________
Setback for the Left in Kerala
The Wire (New Delhi)
Voters swung to the center in a by-election in Thrikkakara. Uma Thomas' victory is being perceived as a shift in the public mood against chief minister Pinarayi Vijayan, and against the K-Rail project, which the LDF government has been pushing aggressively.
__________
Petro's Progress
Forrest Hilton / London Review of Books
Along with the cities of Cali, Bogotá, Barranquilla, Cartagena and Buenaventura, Petro took the areas most devastated by war and by the cocaine, mining, agribusiness and petroleum industries; the majority of the country's Indigenous and Afro-Colombian peoples live there.
__________
Denmark Red-Green Alliance Gets to Work
Dick Nichols and Line Barfod / Green Left (Sydney)
Last November, the radical left Red-Green Alliance (RGA) shook up Danish politics, coming first in the elections for Copenhagen City Council. Line Barfod is now in charge of the council's work in the fields of urban renewal and development, climate, housing and traffic. 
__________
Québec Solidaire Talks to Die Linke
Alejandra Zaga Mendez, André Frappier and Stefan Liebich / Rosa Luxemburg Stiftung (Berlin)
In a wide-ranging discussion that covered Quebec's independence movement, anti-racist politics, social housing, and the task of engaging grassroots networks, Linke's Liebich and QS's Zaga Mendez and Frappier talk about left platforms and campaigns on both sides of the Atlantic.
__________
Why Lebanon's MMFD Couldn't Budge Hezbollah
Farah-Silvana Kanaan and Wael Taleb / L'Orient-Le Jour (Beirut)
Opposition party MMFD (Citizens in a State) appeared well positioned to secure several seats in Parliament in the May 15 elections. The party's secretary general, Charbel Nahas, gained significant popularity, but when the votes were counted, MMFD came up empty-handed.