Biden-Lapid Joint Declaration Takes Aim at Bds Movement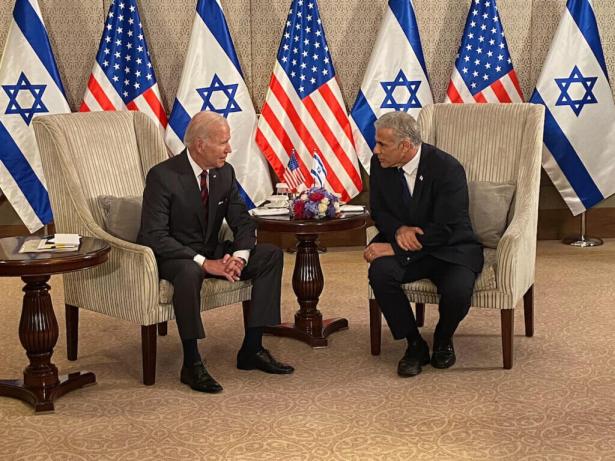 Yair Lapid and Joe Biden speak to the media after their meeting in Jerusalem, July 14, 2022. ,Can Merey/dpa via ZUMA Press/APAIMAGES
On July 14 U.S. President Joe Biden and Israeli Prime Minister Yair Lapid signed a joint strategic declaration that highlights the bonds between the two countries, pledges further bilateral cooperation, and vows to prevent Iran from obtaining a nuclear weapon. It also takes aim at the Boycott, Divestment and Sanctions movement (BDS), the nonviolent effort to pressure Israel in meeting its obligations under international law.
"The United States and Israel affirm that they will continue to work together to combat all efforts to boycott or de-legitimize Israel, to deny its right to self-defense, or to unfairly single it out in any forum, including at the United Nations or the International Criminal Court," reads the Jerusalem U.S.-Israel Strategic Partnership Joint Declaration. "While fully respecting the right to freedom of expression, they firmly reject the BDS campaign."
"The two countries will use the tools at their disposal to fight every scourge and source of antisemitism and to respond whenever legitimate criticism crosses over into bigotry and hatred or attempts to undermine Israel's rightful and legitimate place among the family of nations," it continues. "In this context, they express their deep concern over the global surge in antisemitism and reassert their commitment to counter this ancient hatred in all of its manifestations. The United States is proud to stand with the Jewish and democratic State of Israel, and with its people, whose uncommon courage, resilience, and spirit of innovation are an inspiration to so many worldwide."

The United Nations has consistently been accused of being anti-Israel by both U.S. political parties. After the UN Human Rights Council's Commission of Inquiry launched a probe into alleged Israeli war crimes in June, State Department said that the group's very existence symbolized "a longstanding pattern of unfairly singling out Israel."
The Palestinian BDS National Committee (BNC) immediately put out a statement condemning the "hate-filled" declaration. "The two governments' propaganda attack on the Palestinian-led BDS movement is only the latest desperate attempt to shield apartheid Israel from growing calls for meaningful accountability in accordance with international law," it reads. "By placing BDS among their top priorities, their declaration simultaneously attests to the fast rising impact of the BDS movement and shreds to pieces the U.S. administration's already flimsy pretense of respect for freedom of expression and human rights."
While running for president Biden upset Palestine activists by rejecting BDS multiple times. A policy paper posted to his campaign website declared that the movement veered into antisemitism and let "Palestinians off the hook for their choices." Biden reiterated the antisemitism charge during a phone call with donors. When asked about progressive House members who criticize Israel during a television appearance this week Biden said, "There are few of them. I think they're wrong. I think they're making a mistake. Israel is a democracy. Israel is our ally. Israel is a friend, and I think that I make no apologies."
Anti-BDS laws have been passed in over 30 U.S. states. Last month a court of appeals upheld an Arkansas law that prohibits state contractors from boycotting Israel. Earlier this month the ice cream manufacturer Ben & Jerry's sued its parent company, Unilever, over its decision to sell off its Israeli business and thus continue to sell the product in illegal West Bank settlements.
Mondoweiss
This movement needs a newsroom that can cover all of Palestine and the global Palestinian freedom movement.
The Israeli government and its economic, cultural, and political backers here in the U.S. have made a decades-long investment in silencing and delegitimizing Palestinian voices.
We're building a powerful challenge to those mainstream norms, and proving that listening to Palestinians is essential for moving the needle.
Become a donor today and support our critical work.