Elvis: A Study in Talent Mis-Management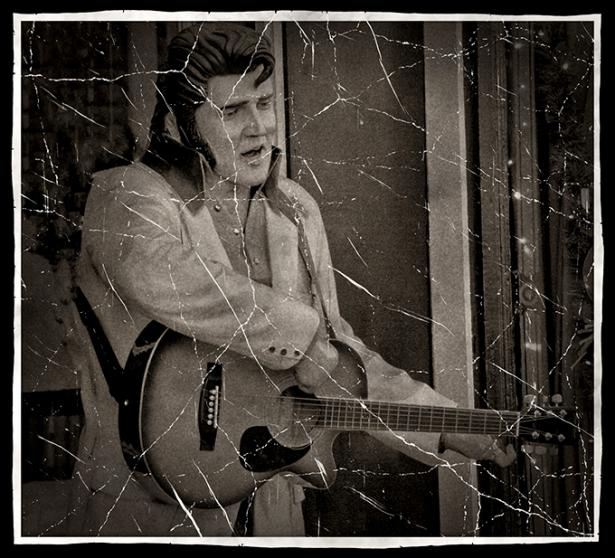 Baz Luhrman's recent movie, Elvis, was on my Maybe list, but never jumped into Must-See. Watching his Moulin Rouge (2001) had left me feeling like I'd binged on custard-larded pastries. His The Great Gatsby (2013) didn't win me back. When a friend wrote that Luhrman seemed to have dumped a load of Elvis lore into a Cuisinart and pressed Puree, I quit thinking about seeing it.
I was far more interested by a quote I came across recently, John Lennon saying that none of the Beatles' recordings could equal Presley's "Heartbreak Hotel." (I agree.)
While perceptions of Elvis, if we're playing fair, can include his Glittering White Vampire attire from the Las Vegas years, it needs to be said that his early work – when he was an expression of racially different yet congruent strands of old American traditions – constitute the Elvis movie most worth watching. All of it was shot before mismanagement, greed, and bad contracts sapped the best out of a great American star. As they have long done for far too many workers in our dog-eat-dog society.

My own Elvis movie was conceptualized around the time I lived on the eastern outskirts of Fresno and was waiting for puberty to hurry up and assert itself. Courtesy of a big brother I entrusted with a folding dollar, whose friend had a car that could travel to downtown Fresno, I bought the two-sided monster, "Hound Dog" b/w "Don't Be Cruel," just as it was climbing the charts.
For years my teachers had sent my parents notes like this: "Byron responds to music and should have an instrument of his own." They were on the right track, but surely had no idea how powerfully I'd respond to a musical guy who no girl could possibly reject. I wanted to be cool, or at least to fake it successfully. I wanted girls to like me a whole bunch. Elvis Presley seemed to have the opposite-sex-attraction thing going, effortlessly, with no end in sight. So when he released his second album, Elvis (March 1956), I invested the $2.95. It had a country crooner vibe, not the raw and visceral personality of his first album (Elvis Presley, October 1956), and nothing as powerful as, say "Blue Moon" on the essential collection called The Sun Sessions, recorded when he was only 19 and not released until 1976, five months before he kicked from multiple forms of overindulgence. Which, again, I blame on mismanagement, greed, and bad contracts.
Those pre-fame tracks re-engineer the DNA of American music. They press the Black and white elements closer, until a few diverse chromosomes bond onto the same strands. Some have said that Elvis got famous because he was a good-lookin' white guy who copied Black artists. That's just as shallow as saying Chuck Berry was a Black guy who got over by borrowing from white country artists. (Note: You can sing "Promised Land" over the chord changes for "Wabash Cannonball." So Chuck and Elvis did much the same thing from opposite starting points.)
Elvis did much more than copy. Cherokee and Jewish genes helped shape his soulful looks, along with both old-style blues shouters like Big Boy Crudup and postwar jump-blues shouters like "Good Rockin'" Roy Brown, Wynonie Harris, and Elvis's go-to R&B songwriter, Otis Blackwell.
But as William Carlos Williams wrote in 1923, and Greil Marcus quoted to kick off his essay on Elvis for The Rolling Stone Encyclopedia of Rock & Roll: 
"The pure products of America
go crazy – "
Elvis went crazy because he was thwarted as an artist by a terrible contract with a greedy manager, "Colonel" Tom Parker. Luhrman tried to make Parker more palatable, casting Tom Hanks, but the facts of his life are these: He was a carney with exceptional sucker-fleecing skills: painting sparrows yellow to sell as canaries, shorting hot dog buyers with sleight of hand. He saw Elvis as a cash machine, and induced him to sign a contract that lasted for way too many years, and which gave him half of everything Elvis brought in. Such contracts are no longer legal, but tricking up-and-coming performers remains a strong tradition. Which explains why Steve Stills (of Crosby, Stills and Nash) wrote:
"Somebody tell me – Have I been gifted or robbed?"
Being effed by his manager allowed Presley to experience something well known by the Black artists who inspired him. 
When Parker was asked if he took 50% of everything Elvis earned, he said "That's not true at all. He takes fifty percent of everything I earn." It gets worse. Earlier, he had failed as a manager to register Presley with BMI, losing his songwriting royalties on 33 songs. When Parker in 1973 sold RCA the rights to 700 Elvis songs, he got $6.2M and the guy who'd sung them to the world got $4.6M. In the three years after Presley died, Parker took an estimated $7-8M rakeoff. 
A 1982 suit by the Presley estate recouped some but was settled out of court. 
A couple of years before Parker's death he was seen standing in front of a slot machine in Vegas, a cigar in his jaw and a fistful of silver dollars in his right hand, which rested on his full belly, facilitating insertion of money earned by others into the slot machine for the amusement of an epic greedhead. A fitting final scene for the old bandit.
What happened between Presley and Parker is parallel with all exploitation of workers. As Woody Guthrie wrote: 
"Some rob you with a six-gun, some with a fountain pen." 
The researches of Dr. Paul Zak, a founder of the neuroeconomics discipline, have shown conclusively that inequality destabilizes nations. Lack of trust rips a nation's social fabric. 
America's current passage through Trumpian/Repuglican hell is only one of several examples around the globe. It's too late to turn around Elvis's degradation, but America may recapture its promise – to the extent that equity replaces "trickle down" mythology. But if you're reading The Stansbury Forum, you already agree, and are probably doing plenty to restore American integrity.
So, as a bonus, here are my suggestions for reflecting on the Elvis legend. "Just Like New," by Jesse Winchester, a songwriter who decamped to Canada during the Vietnam war and returned following Carter's granting of amnesty, and "Elvis Presley Blues," by Gillian Welch, whose haunting songs exemplify the "No Depression" category of America's musical traditions.
Byron Laursen is a NY Times and SF Chronicle Best-Selling Writer Award-Winning Editor www.byronlaursen.com