labor
Richmond City Workers Can Unionize, Following Council Vote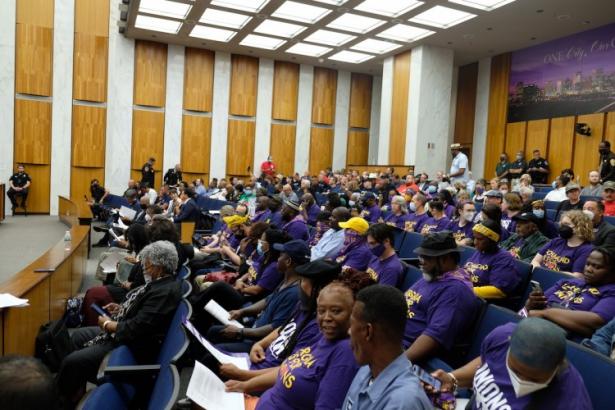 Dozens of city workers attend a Monday Richmond City Council meeting, where members approved an ordinance to allow collective bargaining for city employees,(Photo: Patrick Larsen/VPM News)
City of Richmond employees now have the right to negotiate as a group for benefits, wages and more after city council voted to approve a collective bargaining ordinance Monday night. 
The decision comes after months of behind-the-scenes negotiations among council, Mayor Levar Stoney's office and workers' unions. All present members of council voted in support of the ordinance. Second District councilmember Katherine Jordan, who co-sponsored city council's original proposal, was absent. 
The vote was met with applause from those in attendance. "And now the real work begins," said council president Cynthia Newbille. 

Fourth District councilmember Kristen Nye, who introduced the ordinance along with 8th District councilmember Reva Trammell, also spoke at the meeting. 
"It really means a lot to me that so many folks came out to support this legislation tonight," Nye said to the audience, comprised mostly of city workers. "It's fair and it's the right thing for us to do for you all." 
The vote follows a trend of increased union activity across the country. Workers at an Amazon fulfillment center in Staten Island became the first to unionize one of the online marketplace's facilities in April. Closer to home, Starbucks employees at five area stores voted to unionize this spring, and the Richmond City School Board voted to approve collective bargaining for teachers and staff. 
In an interview before the Monday vote, 27-year city employee Felicia Boney, a member of the SEIU Local 512 organizing committee for city employees, said it was a big moment. 
"This gives us a great foundation to build our union on," Boney said, who was wearing the signature purple shirt of SEIU members. 
Also in purple was public library employee and fellow SEIU organizing committee member Ben Himmelfarb, who said while most of the work around city organizing has been accomplished within the past year, the desire among employees to bargain as a group is not new. 
"The organizing that's been done stands on the shoulders of people who have been here for decades, including people who have tried to organize in the past for better working conditions and better public services," Himmelfarb said. 
Now that Virginia law has changed, Himmelfarb continued, things are different. 
The now-official city ordinance identifies five bargaining units for its employees: police, fire and emergency services, labor and trades, professional, and administrative and technical. Each will work and bargain independently, which union leaders said will help account for differing and unique interests among workers. 
The final agreement — which appears similar to what city council originally proposed last year — is broad, covering those five units and allowing workers to bargain over wages, unpaid and paid leave, vacation and holiday time, insurance coverage, working hours, retirement plans and other conditions of employment. This is in contrast to Stoney's plan, which only covered the labor and trades unit, and limited what benefits workers could bargain over. 
"It's actually not bad," Boney said about the agreement that passed Monday. "It's a lot better than the previous ordinances that they submitted." 
The new text also clarifies the city will not engage in negotiations related to its civilian review board, which is intended to serve as a supervisory body overseeing Richmond police and investigate reports of officer misconduct. City council has not passed an ordinance creating a civilian review board yet, but it has considered recommendations from a city task force and a proposal from the mayor about forming the body. 
The Commonwealth Institute, a nonprofit advocating for economic and racial justice, published a report claiming one in 12 full-time city employees "could not afford to support themselves on their salary in the City of Richmond at a modest yet adequate standard of living." Three in four city employees could not afford that standard of living if they had two children, according to the institute. 
Mel Borja, a policy analyst who cowrote the study, told VPM News that collective bargaining is a proven tool to get wages up. 
"National data shows that collective bargaining tends to boost pay up 5 to 8 percent," Borja said. "It improves working conditions, because workers actually have a say on the job." 
Brian Peyton, president of Teamsters Local 322, agrees. 
"It's gonna give them a seat at the table," Peyton said. "It's going to give them the ability to be treated with dignity and respect." 
State legislation allowing cities and counties to adopt a collective bargaining ordinance took effect in May 2021. Under the law, local employees can only organize and bargain if local government passes an initial agreement. 
The process of organizing 
Now that the ordinance is on the books in Richmond, workers can begin the process of self-organization and eventually begin negotiating with the city. 
Cynthia Hudson, a Sands Anderson attorney and a former chief deputy attorney general of Virginia serving as outside counsel for the city, gave an overview of that process last week during a special meeting at city hall.  
She emphasized that the city's proposal is a jumping off point: "[T]his council could enact and approve fully a collective bargaining ordinance ... today or tomorrow, and you still would not have a city of Richmond workforce that is a unionized or organized workforce." 
To get to that point, those bargaining units will have to elect their own representative unions. That process will likely take months to accomplish, as it has in cities like Alexandria.  
For an election to be held, a union must show interest from at least 30% of employees in any bargaining unit it seeks to represent. However, a union must receive more than half of the vote to win representation rights. 
"It is not a management-driven process; it is definitely not a governing body-driven process," Hudson said last week. "It's a very democratic process." 
Even then, the process isn't complete. The union selected to represent the bargaining unit then works out contracts with city management. 
But all those contracts have an impact on the city's budget, and city council still has power of the purse, according to Hudson. That means it has the final say on any bargaining unit's contract come budget season. 
Unions will also have to contend with Virginia's "right-to-work" law. Under the law, workers can't be fired from a job because they're not a union member. But it also means that workers within a unit can receive the benefits of collective bargaining without paying dues to the union representing their unit. 
Labor unions nationwide are generally critical of "right-to-work" laws, saying they cut down on needed resources to effectively organize and represent workers by discouraging union membership. 
Council and city government will have to adjust as well. Hudson recommended training around bargaining for managers throughout city government and encouraged councilmembers to set up training for themselves. 
The city will have to hire a labor relations administrator who will serve as a "neutral" party, according to Hudson. She said the person in that position will set ground rules for elections, bargaining, dispute management and help guide both sides through the bargaining process, among other duties. 
Himmelfarb and Boney are working to build a union with SEIU Local 512.  
"From the beginning, our organizing has been about bringing together workers across departments, and we have the biggest organizing committee," Himmelfarb said, distinguishing among unions that could in the future represent city workers.  
He and Boney admitted they don't know how quickly workers will be able to get organized, but said they were hopeful that SEIU would be elected to represent at least one city bargaining unit. 
There's no timeline for union elections, but the city must hire its labor relations manager within 120 days of passage, according to the ordinance.