Bernie to Bolsonaro: Stop Undermining Democracy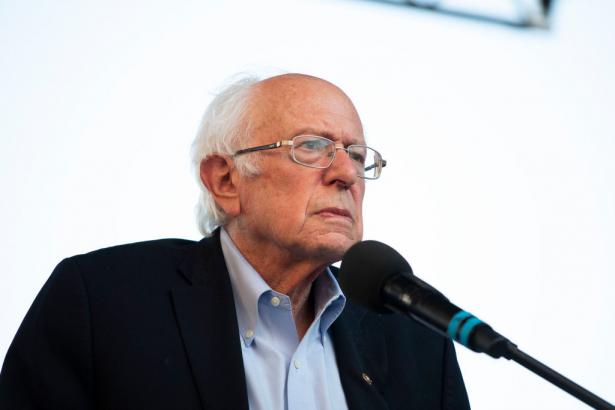 Senator Bernie Sanders (I-VT) speaks in Pontiac, Michigan on July 29, 2022., (Bill Pugliano / Getty Images)
On November 8, 2019, former Brazilian president Luiz Inácio Lula da Silva was released from prison after serving over five hundred days on dubious corruption charges that have since been dropped. Lula's imprisonment had galvanized much of the international left, including many of its most recognizable figures. Jeremy Corbyn, Jean-Luc Mélenchon, Noam Chomsky, Argentine president Alberto Fernández all expressed enthusiastic support for Lula during his incarceration. His most vocal supporter in the US government during that dark time was, perhaps unsurprisingly, Senator Bernie Sanders.
Sanders has long championed the kind of working-class political project that Lula led for decades as the national face of the Workers' Party (PT), which governed Brazil from 2003 until 2016. "During his presidency," Bernie tweeted upon Lula's release from prison, "Lula da Silva oversaw huge reductions in poverty and remains Brazil's most popular politician. I stand with political and social leaders across the globe who are calling on Brazil's judiciary to release Lula and annul his conviction."
In a remarkable political turnaround, Lula now seems poised to win the presidential election this October, besting the far-right incumbent Jair Bolsonaro in every poll taken this year. And once again, Sanders is lending his voice to a growing chorus of observers in Brazil and abroad concerned about the fate of Brazilian democracy.

Bolsonaro has been all but announcing his intentions to subvert Brazilian democracy for months. In addition to calling for a greater military role in the vote-counting process, he has openly debased his country's electoral institutions in the hopes of throwing a race that does not currently favor him into disarray. On July 18, he convened foreign diplomats stationed in Brazil and expounded on absurd and already debunked conspiracy theories about vulnerabilities in Brazil's voting system. Thanks to Bolsonaro, in Brazil, like the United States, the idea that the voting system is routinely manipulated by corrupt officials and unscrupulous partisans has become a delusion of the right-wing hive mind. This cynical strategy has produced actual violence and could well lead to more.
Last month, Sanders and key staffers met with a delegation of Brazilian activists who urged Congress to pay attention to Bolsonaro's actions and the presidential campaign in the world's fourth-largest democracy. The visit was organized by the Washington Brazil Office (WBO), a new progressive think tank. (Full disclosure: I am a faculty fellow of the WBO and coeditor of its weekly election newsletter.)
Sanders has since said he will present a "Sense of the Senate" resolution after Congress is back in session next month to demonstrate "support for a free and fair election and call on the U.S. to break ties with Brazil if it's led by an illegitimate regime." The visiting activists, who work in areas like environmental protection, LGBTQ rights, indigenous resistance, and racial justice, also met with Maryland congressman Jamie Raskin, a vocal opponent of the January 6, 2021 Capitol riot.
Predictably, Bolsonaro supporters are decrying the WBO as a puppet of George Soros and — even more cynically given the US history of backing right-wing coups in the region — a fresh attempt at election manipulation by Washington. Still, Sanders seems to recognize the delicate nature of a US politician commenting on an election abroad. Asked why he is pushing "a non-binding resolution when he could put forward a bill with more teeth," as Politico put it, Sanders replied that "this is a start . . . it's important for the people of Brazil to know we're on their side, on the side of democracy and we can go further." The senator is surely wary of playing into Bolsonaro's self-victimizing narrative that he is being targeted by a nefarious cabal of international leftists.
But solidarity is not imperialism — it is its antithesis. "It would be unacceptable for the United States to recognize and work with a government that actually lost the election," Bernie argued after the meeting organized by the WBO. "It would be a disaster for the people of Brazil, and it would send a horrific message to the entire world about the strength of democracy." With Lula comfortably ahead in the polls, there is little ambiguity in what Bernie is saying: the former president — who left office in 2011 with an approval rating in the eighties — should be allowed take power if so elected.
In a pleasant surprise, the Biden administration appears to be on the same page. In May, Reuters reported that CIA director William Burns explicitly urged top Brazilian officials to stop questioning their country's ability to carry out a free and fair election. That the CIA would apparently weigh in on the side of democracy struck many as a welcome shift from its long history of supporting right-wing autocrats around the world. Others found the news either unconvincing, self-serving, or ridiculous.
The point, however, is not that the CIA are suddenly "the good guys," as some skeptical commentators put it disbelievingly. It's that the CIA — and, by extension, the Washington establishment — currently sees no benefit to its interests in President Jair Bolsonaro's antidemocratic meddling. That's objectively good news not only for the Brazilian left, but the vitality of Brazilian democracy.
There is a broad front emerging against Bolsonaro, both in Brazil and internationally, and it will have to continue from now, during the campaign, through Brazil's inauguration day on January 1, 2023. Sanders, a lifelong champion of progressive and left-wing causes abroad, is a natural partner in this struggle. His forthcoming resolution is a welcome reminder that these bonds of solidarity must be built and maintained in union halls, international left organizations, and yes, even the corridors of power in Washington.
Andre Pagliarini is an assistant professor of history at Hampden-Sydney College and a faculty fellow at the Washington Brazil Office.