Minor League Baseball Players Have Joined a Union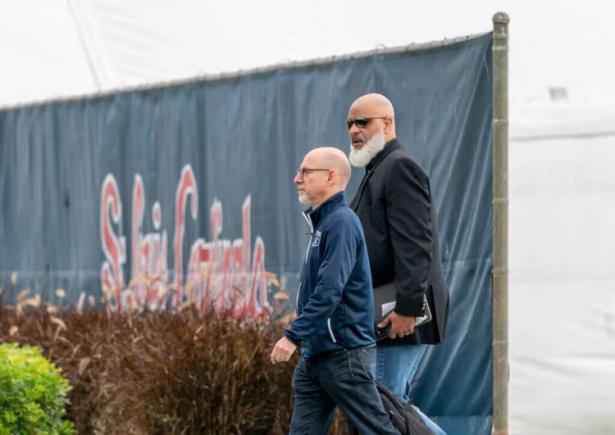 Bruce Meyer and Tony Clark, Greg Lovett / USA Today
In just a week-and-a-half's time, more than 50 percent of minor leaguers have returned signed union authorization cards, Major League Baseball Players Association officials told The Athletic. Now, with that majority's support, the MLBPA has taken another significant step: it has asked MLB and the 30 teams to formally recognize the MLBPA as the minor leaguers' collective bargaining representatives, Players Association officials said. 
MLBPA deputy executive director Bruce Meyer made that request for voluntary recognition in a letter sent to deputy MLB commissioner Dan Halem on Tuesday morning. The Players Association sent over what's known as a card-check agreement, where the league would agree to voluntary recognition, contingent on independent verification of the cards. From here, the next move might belong to commissioner Rob Manfred and the owners, who have yet to publicly comment on the fast-moving unionization effort. MLB did not immediately return a request for comment from The Athletic on Tuesday.
The MLBPA has long represented major league players. In news that took many in the industry by surprise, the Players Association sent out authorization cards to minor leaguers on Aug. 28. The next day, the MLBPA announced it was adding staff members from the non-profit Advocates for Minor Leaguers, a group that spearheaded the organizing process.
"It doesn't surprise me that as many guys have signed, especially talking to the people that I've talked to," said Trevor Hildenberger, a 31-year-old who has pitched 134 games in the major leagues and is in the San Francisco Giants' system as a minor leaguer. "'Elated' is a good word. But I'm not surprised.
"I have full confidence in the fact that this is an inevitable reality, that the minor leaguers are going to be in the union, and we're going to collectively bargain with MLB for better working conditions. I have no doubt in my mind that we're going to reach our goal."
If minor leaguers do form a union, the contract they bargain with MLB would be separate from the one major leaguers have. Both groups of players would be unionized under the MLBPA umbrella. 
"This is my eighth year," said Andres Angulo, a 25-year-old catcher in the Baltimore Orioles' system who helped organize his clubhouse. "Last year, I went home with $500 in my pocket. And I don't think that's something that I want for my life. But I'm still in baseball, just because I have a dream to make it to the big leagues. But I don't think that's fair for us."
Unions can be formed in different ways: an employer can voluntarily recognize a union, as the Players Association wants MLB to do here; or the National Labor Relations Board can hold an election. The MLBPA is expected to file for an election if the league does not grant voluntary recognition.
Before an election can be held, more than 30 percent of employees have to show support. The MLBPA distributed the authorization cards in large part to demonstrate minor leaguers could clear that bar, and they are said to have done so easily.
To ultimately win an election, support from 50 percent or more of players would be needed. Player opinions could theoretically change between now and an election, and there could be wrangling between MLB and the MLBPA over who qualifies as a member of the minor league bargaining unit. But the player response to the authorization cards suggests the end result of an election could well be a union.
One MLBPA official described the number of cards returned as a significant majority, but did not specify an exact percentage. "Minor leaguers have spoken and it is time to start the bargaining process," that official said. 
Some members of the organizing effort's leadership group have talked to more than a hundred players since the start of last year.
"I'm thrilled," said Joe Hudson, a 31-year-old catcher in the Tampa Bay Rays' system, who, like Angulo and Hildenberger, is a part of that group. "It's looking really good. We're very excited. This is something that a lot of people have worked long hours for for a long time — tirelessly, honestly. We've had midnight Zoom calls — multiple — over the past month or so, just tying some loose ends and making sure everyone's on board."
It was a couple of months ago, Hudson said, that the process "really snowballed and accelerated when the MLBPA got involved." 
"I sat on a couple of Zoom calls and saw Tony Clark," Hudson said. "He's an ultimate motivator, he's very intimidating. But you know, when he said, 'Hey, this is what we're doing, this is how we're going to do it,' that was incredibly motivating. … It was honestly just like kind of a very, very standard Zoom call that (former Advocates executive director Harry Marino) had organized. All of a sudden Tony was on there, it was like, 'Oh, shit, this is getting real.'"
More than 5,000 players would be a part of the new bargaining unit. Because the Dominican Summer League is based outside of the U.S., players in that league are not automatically a part of the unit, but the MLBPA told players it intends to try to bargain over their working conditions as well.
In an FAQ shared with players online, the MLBPA wrote that "All players at every level of the domestic minor leagues," from the complex leagues through Triple A, were being asked to sign authorization cards. "The MLBPA … will also later seek to bargain on behalf of minor league players in the DSL."
Angulo, who is from Colombia, said organizing players from Latin America came with its own challenges compared to organizing players born in the U.S.
"I think it's a lot different," Angulo said. "For us, being a minor league player is a huge opportunity, you know? You know the situation in our countries. … At first they (the Latin American players) didn't want anything to do with it because they were scared about losing their jobs, or the team finding out that they were doing something bad against the teams. Because the first part is that they don't speak the language, so they don't even know — like, they have no clue what's going on."
Over time, Angulo said many Latin players have come to see the effort as positive.
It was not immediately clear how long the Players Association might wait for a response from MLB before moving for an election. There's no requirement to wait a particular amount of time, nor is there a requirement to move for voluntary recognition at all prior to an election, although groups trying to unionize commonly ask for recognition. Employers often prefer to force an election, which is held by secret ballot. 
MLB's approach to the minor leagues has already created a lot of negative publicity for major league owners and drawn the attention of members of the U.S. Senate Judiciary Committee. The sport is also only months removed from a different, public labor dispute over the major league collective bargaining agreement. An owner lockout that ran from December into March nearly shortened the 2022 regular season, and did push back Opening Day.
Given that history, it's unclear whether Manfred and the owners now have interest in an anti-union campaign. Manfred has been widely panned for saying in July that he rejected the premise that minor league players are not paid a living wage.
MLB in recent years has chosen to raise minor-league player pay, but not to a range most players and their supporters find satisfactory. It begins at $400 per week at the lowest level of the minors, up to $700 a week at Triple A. MLB is also in the process of settling a minor-league wage lawsuit for $185 million.
Like many who organize unions in different industries, minor leaguers are "going up against a powerful corporation, organization," as Hildenberger put it. It was long believed that minor leaguers would be a particularly unlikely group to unionize because the minors are intended to be a stepping stone. Players, therefore, have often been said to have reason to stay quiet, rather than challenge major league organizations.
"I'd be lying if I told you I wasn't scared," Hudson said. "But at the end of the day this was something that my heart told me was the right thing to do. I would absorb any risk that came with it. Because I wanted to be one of the guys that took this leadership role. Because I've been through it, I've been through it all. I can't tell you how many times I've seen teammates who've had to sleep in their cars or clubhouses to save money. I know what it's like to not be able to afford rent, or your next grocery bill or a tank of gas. I've seen grossly inadequate food options for players before and after games.
"It's about respect, dignity and basic fairness."
Evan Drellich is a senior writer who covers the business of baseball for The Athletic. He was previously a reporter for the Boston Herald, the Houston Chronicle, MassLive.com and MLB.com. He lived the television and radio life at NBC Sports Boston and WEEI. Follow Evan on Twitter @EvanDrellich