Should I Join Mastodon? A Scientists' Guide to Twitter's Rival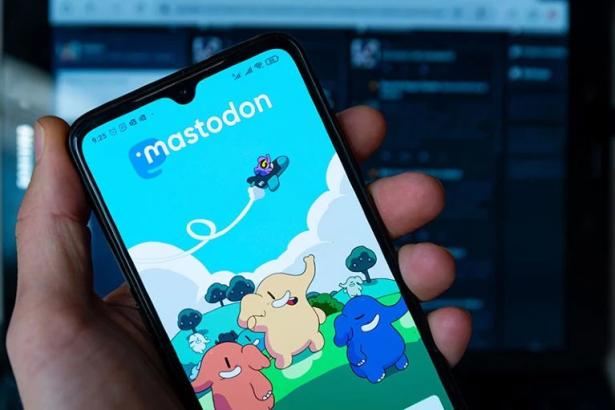 Mastodon has seen an influx of new users since Elon Musk took over Twitter.,Credit: Davide Bonaldo/SOPA Images/LightRocket via Getty
Beset by bugs, shorn of around half of its staff and with an idiosyncratic new owner who is changing the rules on a whim, Twitter is turning from a must-use social-media platform into one that many people, including scientists, are becoming wary of.
A raft of other social-networking platforms are cropping up in its place, offering similar functionalities. Chief among them is Mastodon, an open-source alternative created by German software developer Eugen Rochko in 2016. Bolstered by positive news coverage, it's becoming the most popular alternative to Twitter. Since 27 October, almost half a million new users have flocked to the service, roughly doubling its user base.
As Twitter users wonder whether, and when, they should make the leap, Nature looks at the benefits and drawbacks for researchers.

What is Mastodon and how is it different from Twitter?
Named after an extinct elephant-like creature that last walked Earth more than 10,000 years ago, Mastodon is an open-source microblogging platform. The main difference between Mastodon and Twitter is that whereas Twitter is centrally controlled by a single company, Mastodon is decentralized.
This means that individuals or organizations can set up a server (called an instance) and host users on it. Those servers often represent geographical locations or areas of interest. Once they have joined a server, users can chat with others on that server, or post into the federated universe (or fediverse). Messages posted to most servers can be read by the wider Mastodon community, unless a user opts out.
Unlike Twitter, where missives are limited to 280 characters, you can post up to 11,000 characters in a single Mastodon message — known as a toot. Another difference is how users encounter content: Twitter's algorithmic recommendations are nowhere to be seen on Mastodon. Who you follow and what they share dictates what you see.
What do scientists on Mastodon think of it so far?
Until the recent influx, the Mastodon community has been small and carefully curated — and mostly made up of hobbyists with a geekish bent. Because of this, interactions on Mastodon feel a bit different from those on Twitter. "Mastodon is really great for conversations, and it seems a lot more intimate," says Catherine Flick, who researches computing and social responsibility at De Montfort University in Leicester, UK.
"Coming into Mastodon is a bit like going for drinks after a conference," says Flick. "You get to chat to everybody; people who understand academia and the ground rules for academic conversations." She compares it favourably with Twitter, where it feels like everyone is listening in and the world is watching. Ian Brown, a cybersecurity researcher at Getúlio Vargas Foundation in Rio de Janeiro, Brazil, thinks that a considerable number of Mastodon users are probably academics.
Because people tend to subdivide into distinct servers, Mastodon also makes it easier for users to speak to like-minded people. "When I go on Twitter, it's more performative," says Flick. "On Mastodon, it's a natural state of conversation."
That conversation comes with caveats, however. There has been tension on Mastodon caused by the new arrivals, many of whom bring habits formed on Twitter. Journalists who are used to sharing their work without engaging too often in conversation have been chastised by longer-term users, and some early Mastodon adopters fear that the new arrivals will shift the etiquette to be more robust, similar to that on Twitter.
What are the downsides for researchers?
One of Twitter's strengths that Mastodon is not replicating as well is users' ability to broadcast their message to a wide range of people, says Brown. This is important for scientists who are interested in communicating their research to large, non-specialist audiences. "That's one of the really democratizing effects of Twitter and social media more broadly," he notes.
It is possible to go viral on Mastodon, if enough people repost your toots. But the whole platform is set up for conversation among peers, rather than for reaching a large number of people — something that the academic community has noticed and is discussing. The 'quote tweet', which allows users to reshare a post with an added comment, does not exist on Mastodon.
For researchers who are used to the criticisms of academia that often come with quoted tweets, Mastodon can be refreshing, says Brown. But it's also a challenge to prove that your research has a public impact when you're preaching to the converted, he adds. "I suspect that's a critical-mass thing," says Flick, who thinks that this will change over time as more people sign up.
Anything else?
There are other issues that might give users pause. Mastodon categorizes conversations around hashtags much more frequently than Twitter, partly because of its lack of algorithmic recommendations. But there isn't an obvious way to corral conversations about a particular academic paper, using a DOI reference as a hashtag, because of the way that the platform's technical architecture works. (A user has reported the issue and has asked for the functionality to be introduced.)
For that reason, Brown suggests that scientists switching to Mastodon don't rush to delete their Twitter accounts. "At the very least, they might still use both services," he says.
doi: https://doi.org/10.1038/d41586-022-03668-7
---
Chris Stokel-Walker is a news and features freelance journalist whose work appears in The Times & Sunday Times, The Economist, Bloomberg, the BBC and WIRED, among others, specializing in digital culture and YouTube.
Nature is a weekly international journal publishing the finest peer-reviewed research in all fields of science and technology on the basis of its originality, importance, interdisciplinary interest, timeliness, accessibility, elegance and surprising conclusions. Nature also provides rapid, authoritative, insightful and arresting news and interpretation of topical and coming trends affecting science, scientists and the wider public. Subscribe to Nature HERE.