labor
Hundreds of Video Game Workers at Microsoft-Owned Studios Are Trying To Unionize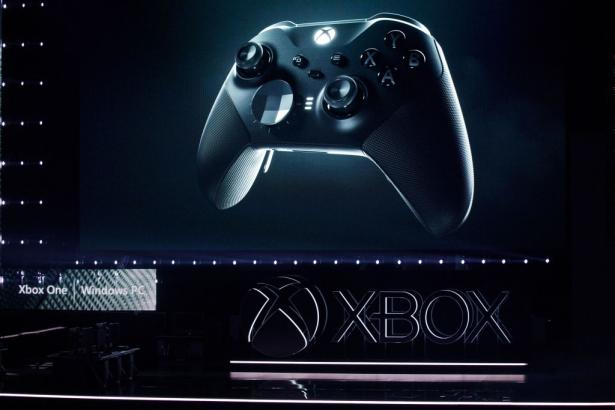 Three game studios owned by Microsoft will vote on whether to unionize with the CWA.,(Patrick T. Fallon / Bloomberg via Getty Images)
This month, three hundred video game workers at fourt game studios owned by Microsoft are voting on whether to unionize with the Communications Workers of America (CWA). The studios involved in the effort, which all belong to the holding company ZeniMax Media, recently acquired by Microsoft, include Bethesda Game Studios and Bethesda Softworks in Rockville, Maryland, ZeniMax Online Studios in Hunt Valley, Maryland, and id Software in Dallas, Texas.
ZeniMax Media developers, like game workers across the industry, complain of overwork during the "crunch" time that occurs as games approach their release dates, inadequate wages, and a lack of input into important management decisions. Jacobin's Sara Wexler spoke with quality assurance (QA) testers at Bethesda Softworks and id Software about their organizing efforts and what they're hoping for from a union.
---
SARA WEXLER

What sparked the decision to unionize?
JUSTIN VAN DEUSEN
You could say it was a process of elimination. My company, Bethesda Softworks, has systemic problems that have not or could not be resolved through conventional channels. We opted for the solution of collective bargaining because it felt more constructive than merely coping or leaving the company.
ZACHARY ARMSTRONG
Several different factors started to converge, especially this year, as rising costs of living in all of our studio locations started to become more and more apparent. It was clear that our pay was not at all keeping up with what we what we needed to live. Those of us in Texas, like the Dallas studios for example, don't have quite as high a cost of living. But the writing's on the wall for us too, and if we don't do something soon, then we will be in a situation where we can't afford to work. Pay is a really important thing for us.
SARA WEXLER
When did the organizing around unionization start?
JUSTIN VAN DEUSEN
The 306 people who are organizing are divided into three groups. I'm part of the largest group, which covers Bethesda Softworks and Bethesda Game Studios in Rockville. That's roughly 188 people. We started before the other two groups, which are sixty-eight people at ZeniMax Online Studios for Hunt Valley, Maryland, and fifty people at id Software in Texas. We started talking September 2020. We discussed a variety of options and organizing is what it ultimately came to.
ZACHARY ARMSTRONG
The movement for all of us to unionize started in Rockville in 2020. Then, as these issues started to become more and more apparent in Texas as well, this year we started to join that effort.
SARA WEXLER
How did these groups come into contact if you're all in different states?
JUSTIN VAN DEUSEN
Mostly through work Slack, and some of the parasocial groups around work that aren't technically part of work. There were people on Slack that were excited, expressing solidarity or sympathy. Other groups were sort of expressing sympathy with that, like, "Wow, that sucks," or "We have issues here too." When that happened, people from our group reached out to those groups. You see someone on Slack complaining, and you might look them up, check out their Facebook, and be like, "Hey, I want to talk about organizing."
SARA WEXLER
Where in the unionization process are you right now?
JUSTIN VAN DEUSEN
Microsoft has agreed to remain neutral in the unionization drive. So we're not going through the conventional ways, through the National Labor Relations Board. If we can prove to Microsoft that we have a majority of people interested in unionizing, it has agreed to recognize our union.
So we are going through a thirty-day process right now. Leading up to this, we had people sign cards electronically. And Microsoft has set up a portal that's open for thirty days where people can anonymously say if they agree or disagree with the idea of a union. That will finish around December 31; within a few days of that, we'll know if we're unionized or not.
SARA WEXLER
What are the demands you hope to win by unionizing?
JUSTIN VAN DEUSEN
We have a lot of issues on our plate, and they're pretty diverse. I don't have the Bureau of Labor Statistics data in front of me, but our pay is low relative to QA workers in general. I know people that have left our company and are making like $20,000 or $30,000 more elsewhere.
We have little transparency on what our pay is determined by. Earlier this year, we had a big meeting where the company said we were getting pay adjustments based on market conditions. And they pretty much refused to give anyone beneath management level any idea what market statistics they were using. We have people from Eastern Europe helping us out — are we comparing ourselves to living standards in Eastern Europe?
Generally, we have little transparency and no input on critical decisions like return to office; we've been working from home since COVID-19 blew up. People with valuable skills and talents don't get promotions as often as they should. Neither the process to get promoted nor the explanations for resulting promotions are as open as they ought to be.
Our issues stem from management being unwilling or unable to grant us a seat at the table when it comes to matters that impact our department directly and ultimately the company as a whole.
ZACHARY ARMSTRONG
We're hoping to raise our wages to meet a standard of living that reflects the respect we deserve and the value that we bring to our company. We're hoping to gain better access to training and to keep talent and to maintain talent in the department for longer so that we don't have such high turnover rates. We're hoping to avoid overtime work and "crunch" as much as possible. Those are the three big pillars for us.
SARA WEXLER
What role do you see the union playing in your workplace going forward?
JUSTIN VAN DEUSEN
I expect the union to survey our collective problems with work, propose solutions, and negotiate a contract with ZeniMax inspired by those solutions. After that time, I expect it to reserve our seat at the company's proverbial table when it comes to decisions that impact QA and our ability to carry out our jobs.
ZACHARY ARMSTRONG
The role that I see for our union is for it to elevate our voices and for us to be heard consistently, without our voices being brushed aside and dismissed. Our union will represent us when we bring issues to the table. Our union will represent us when we bargain for better contracts. And our union will represent us when the inevitable occurs, when an individual has a need for representation in their interactions with management.
SARA WEXLER
Could you explain what "crunch" is? Have you or your coworkers have experienced this?
ZACHARY ARMSTRONG
Not just QA testers but all developers in many studios in the game industry experience it. Crunch is extended overtime as projects start to near their release date, and more and more work is necessary to get the project to release, because it hasn't been scheduled out evenly over the course of the project's lifespan.
This can vary from department to department and from studio to studio. But in the games industry as a whole, it can go anywhere from sixty to eighty hours a week. I've heard stories from folks who have essentially slept at their desks. That isn't necessarily something that has happened at our studios, but crunch is a practice that occurs at all of our studios at ZeniMax.
JUSTIN VAN DEUSEN
I absolutely have experienced it, and I would expect most of us who have worked here for at least three years have experienced that. I think the most extreme I've ever done was sixty hours a week. Since then, there was the notorious Fallout 76, where there were several months of overtime work, but it wasn't as bad as sixty hours a week.
We have dates set up that we need to hit — certain milestones for development and submission. If it looks like we are not hitting those dates, and we can't move the dates, or at least management claims it can't move the dates, that's when overtime or crunch happens. We try to make those dates that management has, seemingly, in some cases, arbitrarily decided by doing as much overtime as we can.
SARA WEXLER
Is overtime pay different?
JUSTIN VAN DEUSEN
Yes, it's time and a half, for as long as I've been here, since 2016. And it is double on holidays.
So we do have a policy. It has been broken in the past, depending on the situation or, frankly, because of the apathy of management or leadership. But in theory, we're not supposed to work both days of a weekend. Again, that's the norm, and that does get broken from time to time.
SARA WEXLER
Do you think your unionization efforts will influence other workers in the video game industry to follow suit?
JUSTIN VAN DEUSEN
I don't like to speculate, but we could establish that unionizing can be done even when you have hundreds of workers at locations spanning half the country. If one group can do it, what's to stop others?
ZACHARY ARMSTRONG
We really hope so. One of my dreams for this union is that it's not just a way for us to uplift our voices and for us to be heard but that it's a way for all of the game workers across all studios, especially in our country, to be heard and to come together and unionize themselves. I want us to be an inspiration.
I don't want us to be the end of the road; I don't want us to be the largest game workers' union in the tech industry. I want us to be just the first big one.
CONTRIBUTORS
Justin van Deusen is a senior quality assurance tester at Bethesda Game Studios in Rockville, Maryland.
Zachary Armstrong is a senior quality assurance tester at id Software in Dallas, Texas.
Sara Wexler is a member of UAW Local 2710 and a PhD student at Columbia University.
The new issue of Jacobin is out now. Subscribe today and get a yearlong print and digital subscription.