Tidbits – Dec. 22, 2022 – Reader Comments: Georgia Victory, Electoral Politics, Electoral Strategy; Rail Workers; Doctors and Unions; After Dobbs; Ending 'American War': Promises, Realities, Impact of U.S. Peace Movement; Cartoons, More …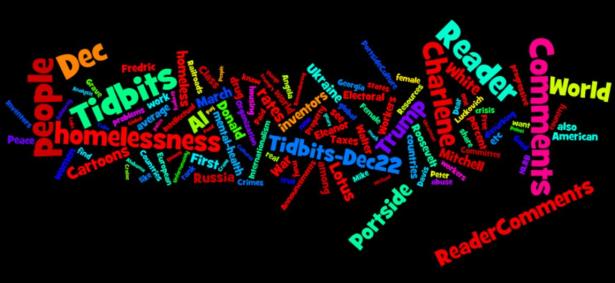 Tidbits - Reader Comments, CARTOONS and Resources - Dec. 22, 2022,Portside
Resources:
Re: Jan. 6 Committee: Four Grave Crimes of Donald Trump
 
He should also be charged with the deaths of the Capitol police that he was responsible for.
Luke Hiken
Posted on Portside's Facebook page
Trump's  Federal Income Taxes Paid  -- As Reported by Fox News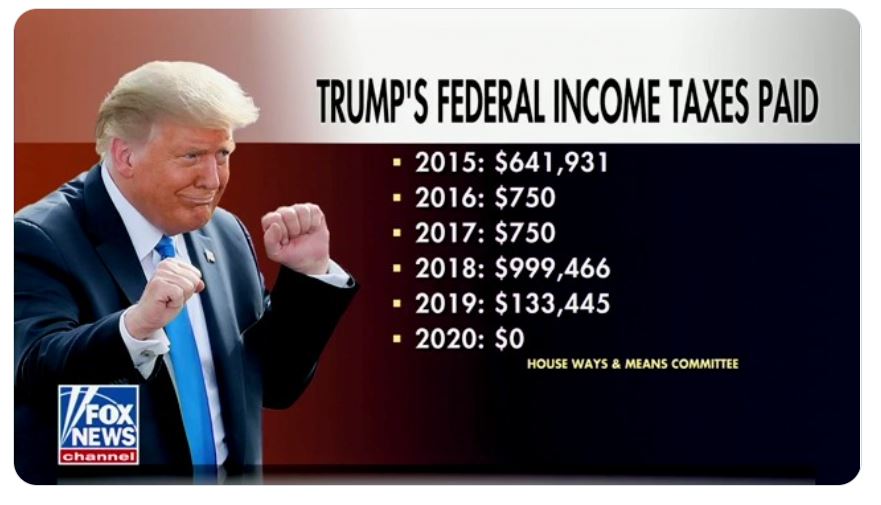 Retweeted by Lalo Alcaraz
December 21, 2022
Aaron Rupar
Re: The Obvious Answer to Homelessness
 
"It's not surprising that people wrongly believe the fundamental causes of the homelessness crisis are mental-health problems and drug addiction. Our most memorable encounters with homeless people tend to be with those for whom mental-health issues or drug abuse are evident; you may not notice the family crashing in a motel, but you will remember someone experiencing a mental-health crisis on the subway.
I want to be precise here. It is true that many people who become homeless are mentally ill. It is also true that becoming homeless exposes people to a range of traumatic experiences, which can create new problems that housing alone may not be able to solve. But the claim that drug abuse and mental illness are the fundamental causes of homelessness falls apart upon investigation. If mental-health issues or drug abuse were major drivers of homelessness, then places with higher rates of these problems would see higher rates of homelessness. They don't. Utah, Alabama, Colorado, Kentucky, West Virginia, Vermont, Delaware, and Wisconsin have some of the highest rates of mental illness in the country, but relatively modest homelessness levels. What prevents at-risk people in these states from falling into homelessness at high rates is simple: They have more affordable-housing options.
With similar reasoning, we can reject the idea that climate explains varying rates of homelessness. If warm weather attracted homeless people in large numbers, Seattle; Portland, Oregon; New York City; and Boston would not have such high rates of homelessness and cities in southern states like Florida, Georgia, Alabama, and Mississippi such low ones. (There is a connection between unsheltered homelessness and temperature, but it's not clear which way the causal arrow goes: The East Coast and the Midwest have a lot more shelter capacity than the West Coast, which keeps homeless people more out of view.)
America has had populations of mentally ill, drug-addicted, poor, and unemployed people for the whole of its history, and Los Angeles has always been warmer than Duluth—and yet the homelessness crisis we see in American cities today dates only to the 1980s. What changed that caused homelessness to explode then? Again, it's simple: lack of housing. The places people needed to move for good jobs stopped building the housing necessary to accommodate economic growth."
Posted on Portside's Facebook page
The Cause of Labour is the Hope of the World  --  Walter Craine holiday greeting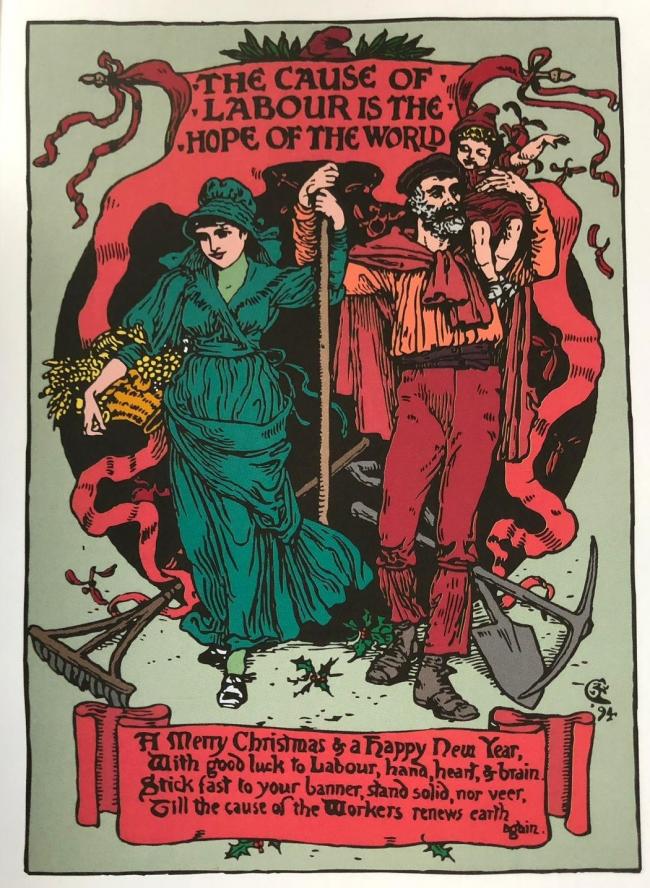 First published in 1894 in Justice, Walter Crane's The Workers' Maypole declares 'the cause of labour is the hope of the world'
Radical Object: Walter Crane's The Workers' Maypole (1894)
By Laura C. Forster
May 1, 2020
History Workshop Online
Re: Supporting Global Class Struggle Through Labor Internationalism
(posting on Portside Labor)
 
Why no mention of the global union Industriall  https://www.industriall-union.org/ - It unites labor organizations all over the world. For instance my Union the United Steelworkers is a member and it has already helped us in some struggles in the US!!
Scott Marshall
I can't tell you how happy I was to receive the pack of cards picturing you in all those poses: astronaut, cowboy, superhero, etc. You finally revealed your true self: a con man extraordinaire.
For four agonizing years you imitated being presidential, and not doing a very good job of it.
Unfortunately, you have announced your intention to reenter the Oval Office, and resume the charade you were forced to terminate two years ago. Please don't take offense when I say I hope you don't make it. I much prefer the real Donald J. Trump.
Sincerely,
Seymour Joseph, a fan of the bizarre.
Posted on Facebook
Today's Passenger Railroads -- cartoon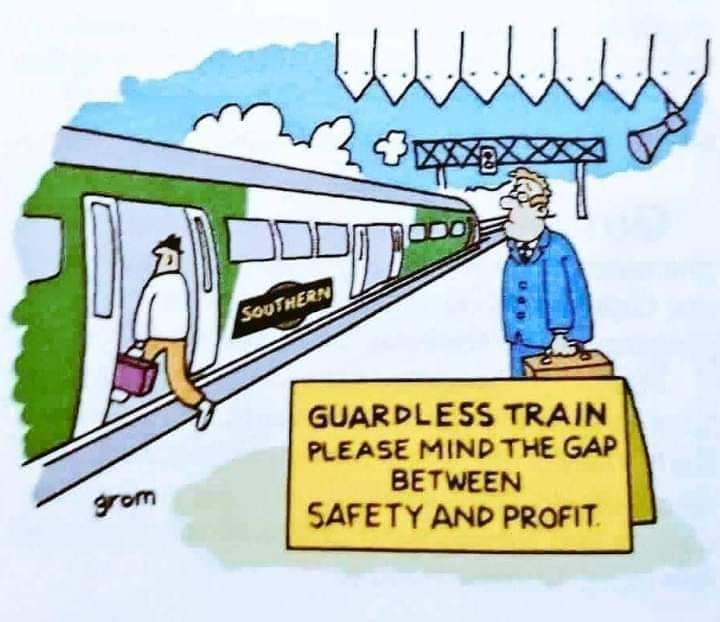 Re: NLRB Improves Back Pay Formula
(posting on Portside Labor)
 
"Levine demonstrates that the NLRA and related programs were a direct response to both unemployed workers' demands for federal relief and employed workers' resistance to decreased wages and increased hours. These concessions were linked to the Democratic Party's realignment with and assimilation of the working class, which, ironically, resulted in organized labor's support of the existing political and economic order. Ultimately, these policies and shifts laid the foundation for a new and more accelerated phase of industrial development after World War II."
Michael Handelman
Posted on Portside's Facebook page
Re: Charlene Mitchell, Leader of the Campaign To Free Angela Davis
 
Remembering Sister Charlene Mitchell for her support in the companion to  Free Puerto Rican Political Prisoners. Rest in Power. HayAmor love
Esperanza Martell
Posted on Portside's Facebook page
      =====
Legendary organizer and radical socialist feminist thinker and activist Charlene Mitchell has passed at the age of 92. I was one of thousands of fortunate people who were lucky to have the opportunity to know, learn from, and work with Charlene in her long activist life. I missed her path-breaking 1968 campaign for President as the candidate of the Communist Party (buttons below), but had the opportunity to work with Charlene, among other things, in the Nat'l Alliance Against Racist & Political Repression, on her 1988 campaign for U.S. Senate (see the still completely relevant "Do you have to be rich to live in New York?" flyer below), and in the work that resulted in the creation of the Committees of Correspondence in the early 1990's. I arranged for Charlene to speak in Albany on police brutality in 1991 (see "How Many Videotapes Will it Take" flyer below). Charlene may be best known for leading the successful, against enormous odds, international campaign to free Angela Davis in the early 1970s. Charlene was a great leader, a brilliant strategist, and a warm, caring person. She will be sorely missed.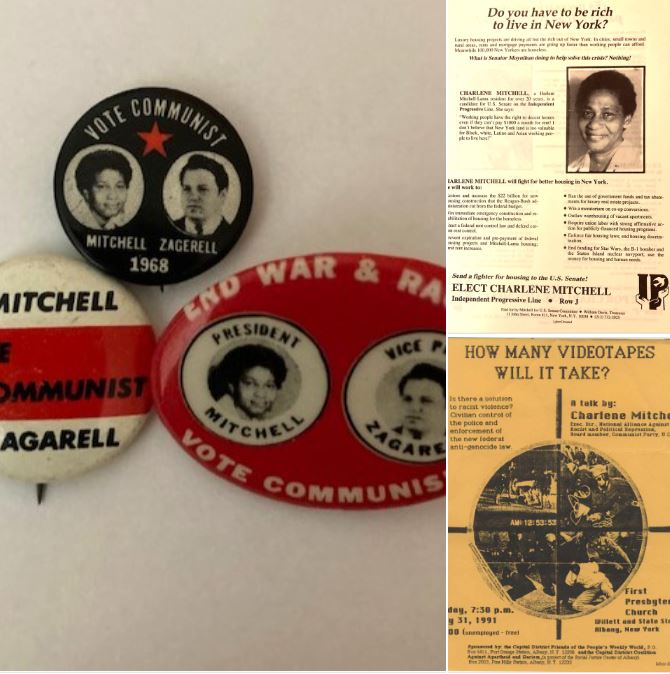 Mark Mishler
Posted on Facebook
Checkin' it twice  --  cartoon by Mike Luckovich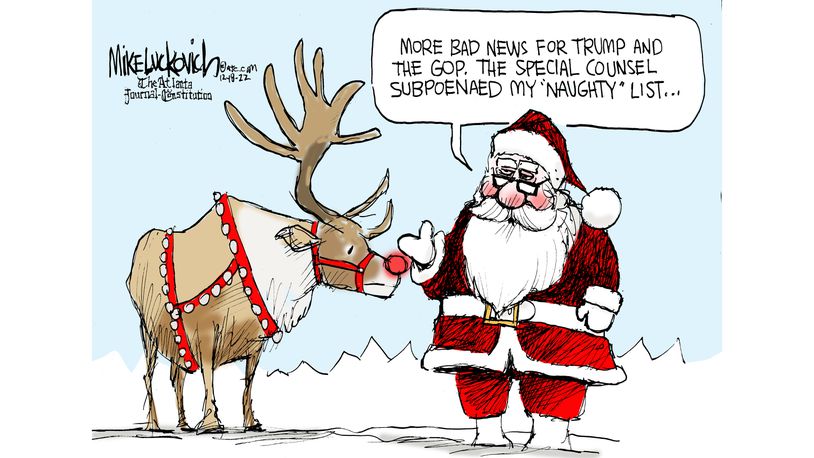 Mike Luckovich
December 18, 2022
The Atlanta Journal-Constitution
Re: First Things First: The Truth About Fredric March
 
Fredric March was a civil rights hero.
I remember reading with shock in the 1950s World Book about membership in the Ku Klux Klan - the real KKK, not just a group that had that name and then later changed it - of Justice Hugo Black. A progressive friend (Denis Goldner) suggested he should be removed from the Supreme Court. Yet Black in fact became one of the greatest of progressive justices there.
The University of Wisconsin, where my papers will be housed, along with those of Marc Blitzstein, should admit their error and re-assert their progressive pride in Fredric March.
Leonard J. Lehrman
ljlehrman.artists-in-residence.com
      =====
Frederic March, and his wife Florence Eldridge, were fighting for social justice at a time when it was a lot more difficult to do than just joining a Twitter mob. They were widely slandered by American fascists for their efforts. People who know nothing about who they were, or the era in which they lived, are in no way qualified to judge them.
Eleanor Roosevelt
Posted on Portside's Facebook page
Re: The Ukrainian Left View on the Prospects of Peace Negotiations
 
one wonders how this ukraine "left" peace differs from the right's?
Kathy Lipscomb
Re: Putin's Russia, Front and Rear
 
Pure propaganda. No, there was not "a series of heavy defeats" There was a series of tactical changes some of which benefited Ukraine and some benefited Russia. But overall in that period Ukraine lost 3 to 5 times more troops than Russia, clearly not heavy defeats on Russia's part.
Alan Gregory Wonderwheel
Posted on Portside's Facebook page
Re: AI Is Finally Good at Stuff, and That's a Problem
 
This was a very interesting and disturbing article.  The author's conclusion was particularly disturbing.  She states that this stage of AI development is causing "us" to have to decide which tasks we want humans to do and which we want AI to do.
Unfortunately, it is not "us" who will decide.  It is the capitalists who will use AI wherever they wish to increase profits.  This is not a debate that "we" will be a real part of.  I find it even disturbing that people are playing with the AI online and helping people like Peter Thiel do their research which in the end will only replace workers and create new military uses for AI.
Peter Berkowitz 
Re: The White Lotus's Second Season Was a Triumph of Subtle but Biting Class Analysis
(posting on Portside Culture)
 
Good review - thank you!  Both White Lotus seasons were a treat - sharp and sophisticated with gorgeous cinematography.
E. Krell
Baltimore MD
Re: Drinking Cultures Around the World
(posting on Portside Culture)
 
Interesting survey of drinking listed by country. And the brief mention of 'dry' countries. BUT....and I find this hard to accept from Portside - what are the laws and practices in cultures/countries in Africa? Indonesia? etc. etc. etc.? In the parts of the world where people have darker skins than those from Europe or European ancestry.
Claire O'Connor
Re: Nancy Pelosi's Daughter Makes Awful Documentaries Fawning Over the Establishment
(posting on Portside Culture)
 
Documentary film needs authentic working class voices, but the documentary-film establishment, with its emphasis on the "old film school tie" and its dependence on corporate funding is constructed to ensure that such films are not made -- and that any working-class voices that might be presented in bourgeois-made films are heavily strained thru a liberal-establishment filter. They will *use us* to tell *their stories* Never ours
Eleanor Roosevelt
Posted on Portside's Facebook page
Dear Portside ohana (Hawaiian for intimate community): 
Your work is absolutely critical for understanding the challenges and perils we face in this fast-changing world.  I routinely send your articles to people I know would find them of interest (or who need some "awakening").   Imua! (Go roward).
Noel in Honolulu
The Countries With the Most Female Inventors (World Intellectual Property Organization)
This chart shows the share of women inventors among applicants for international patents in selected countries (2021).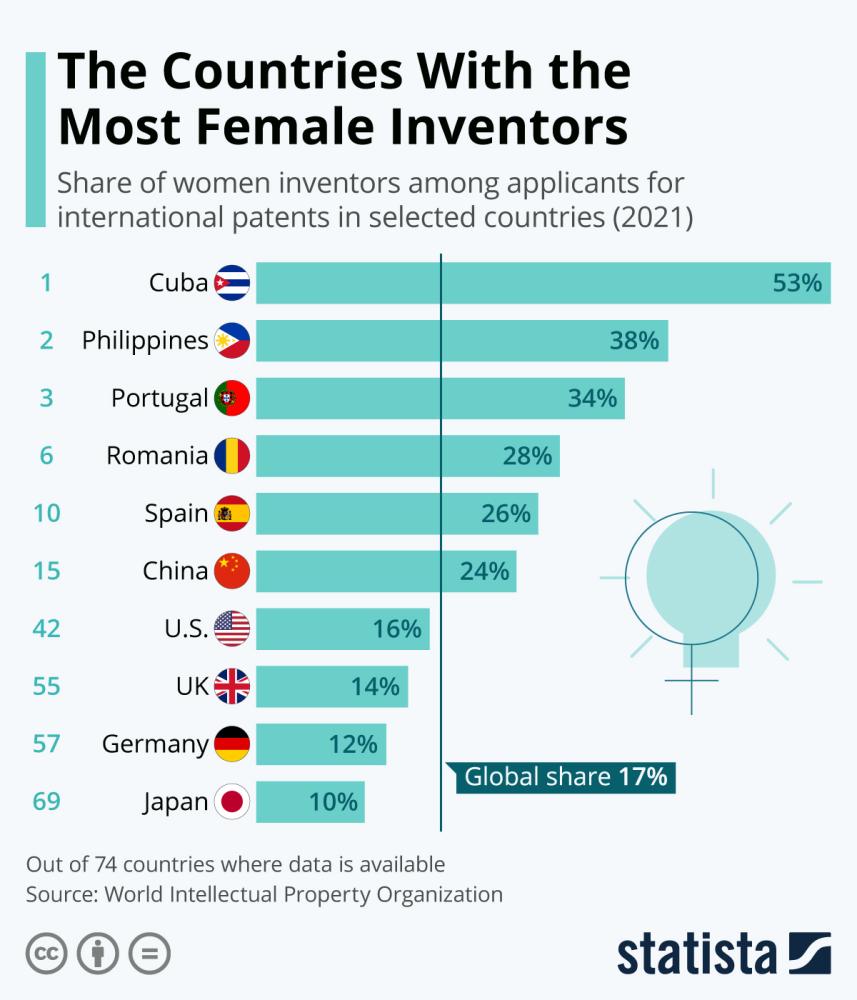 by Katharina Buchholz,
February 10, 2022
Statista
The share of female inventors among applicants for international patents was highest in Cuba and the Philippines in 2021, according to data by the World Intellectual Property Organization. Worldwide, the share of women applicants stood at only 17 percent. Cuba, which only irregularly reports figures to Wipo, very much exceeded the global average with more than half of all registered patent applicants being women in 2021, as did the Philippines, where last year 38 percent of inventors were female.
Portugal was the highest-ranked European country in rank 3, followed by Romania in rank 6 and Spain in rank 10. Spanish-speaking countries were featured heavily among the top 10 and also included Costa Rica, Peru and Chile.
Ranking above average was China at 24 percent of female inventors. Other major European countries like Germany and the UK, but also Italy and Sweden, stayed behind the global average. The United States and France ranked about average.
One of the poorest performance was given by Japan with only 10 percent of women inventors. Similarly low scores were achieved by India, the UAE and Indonesia.